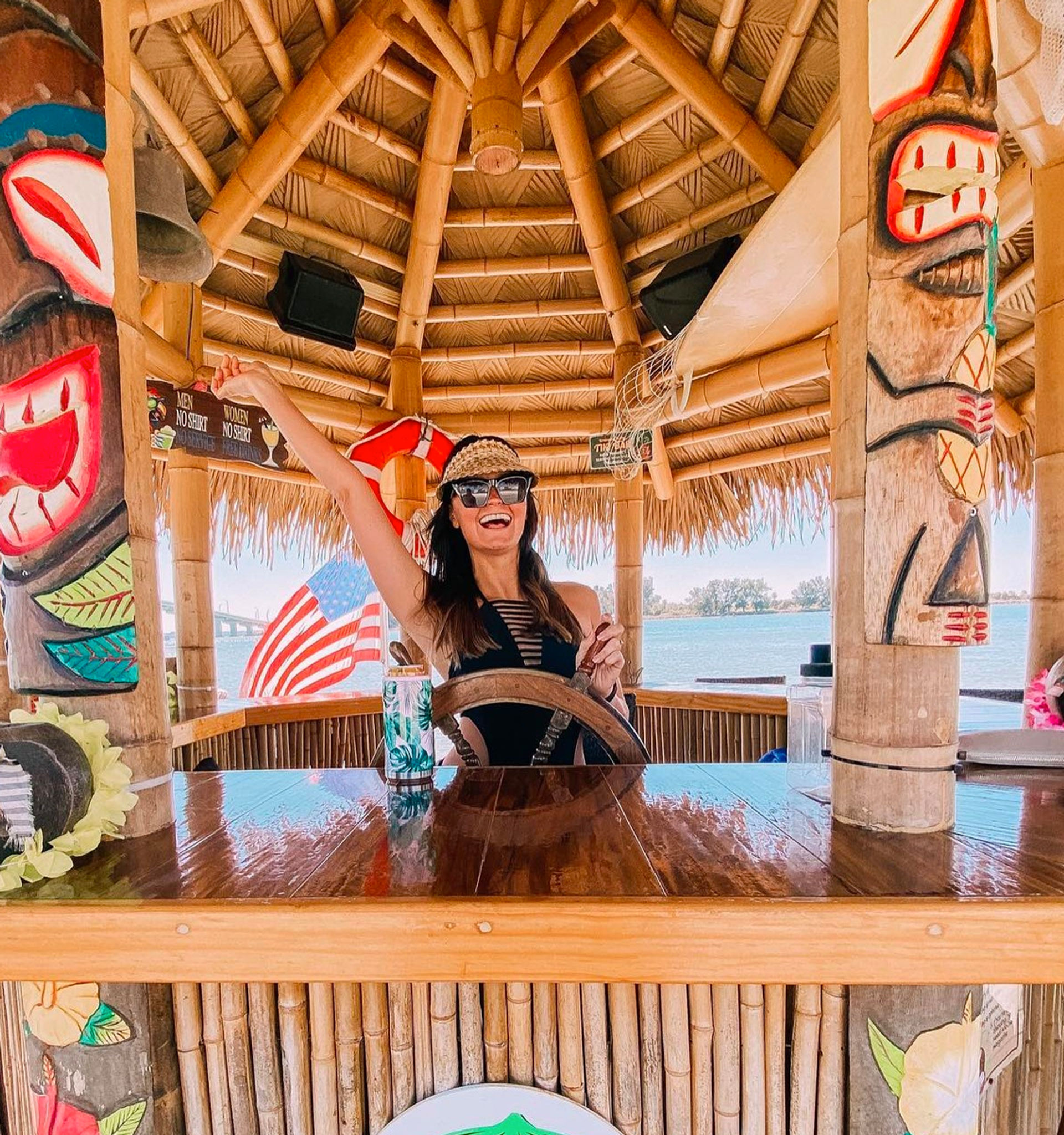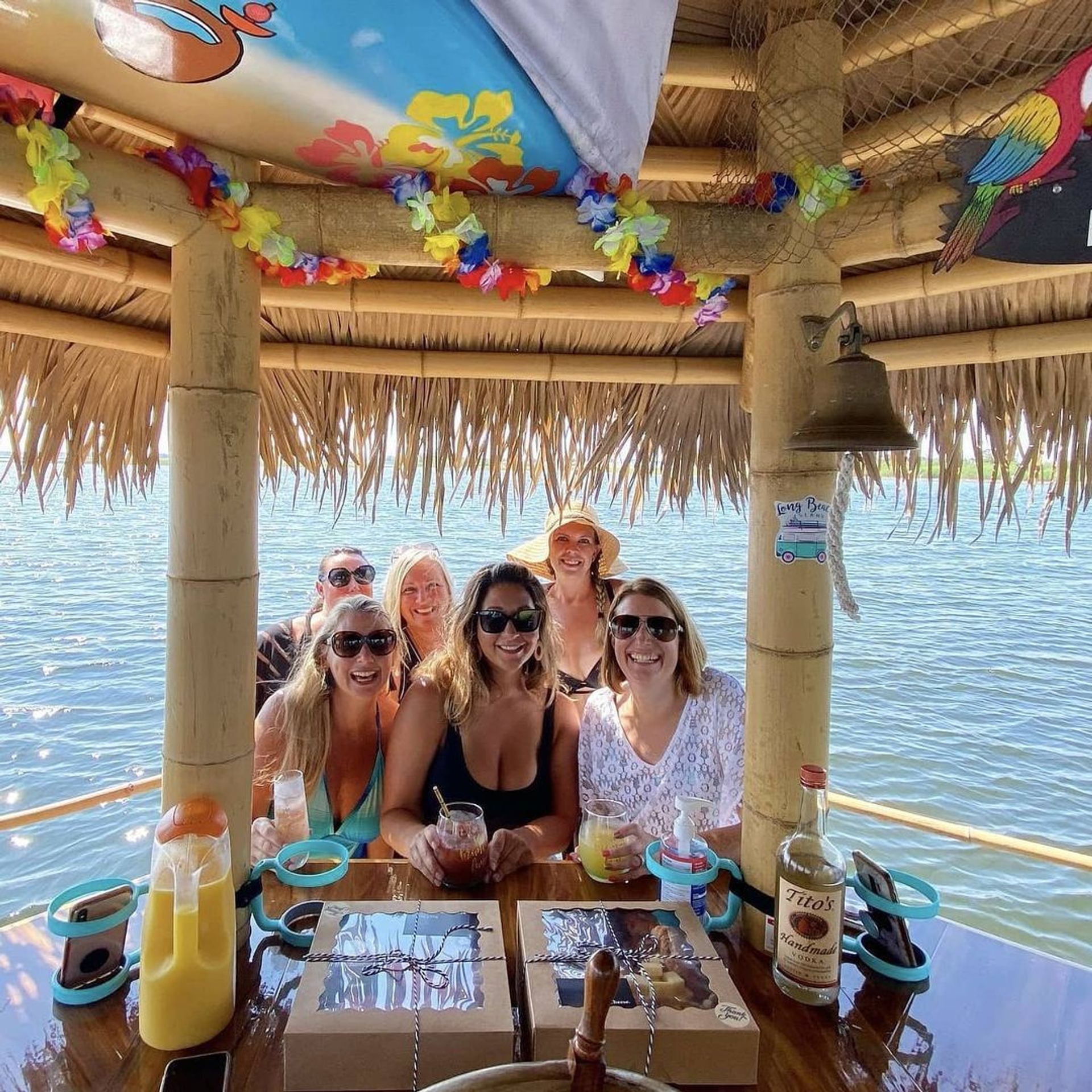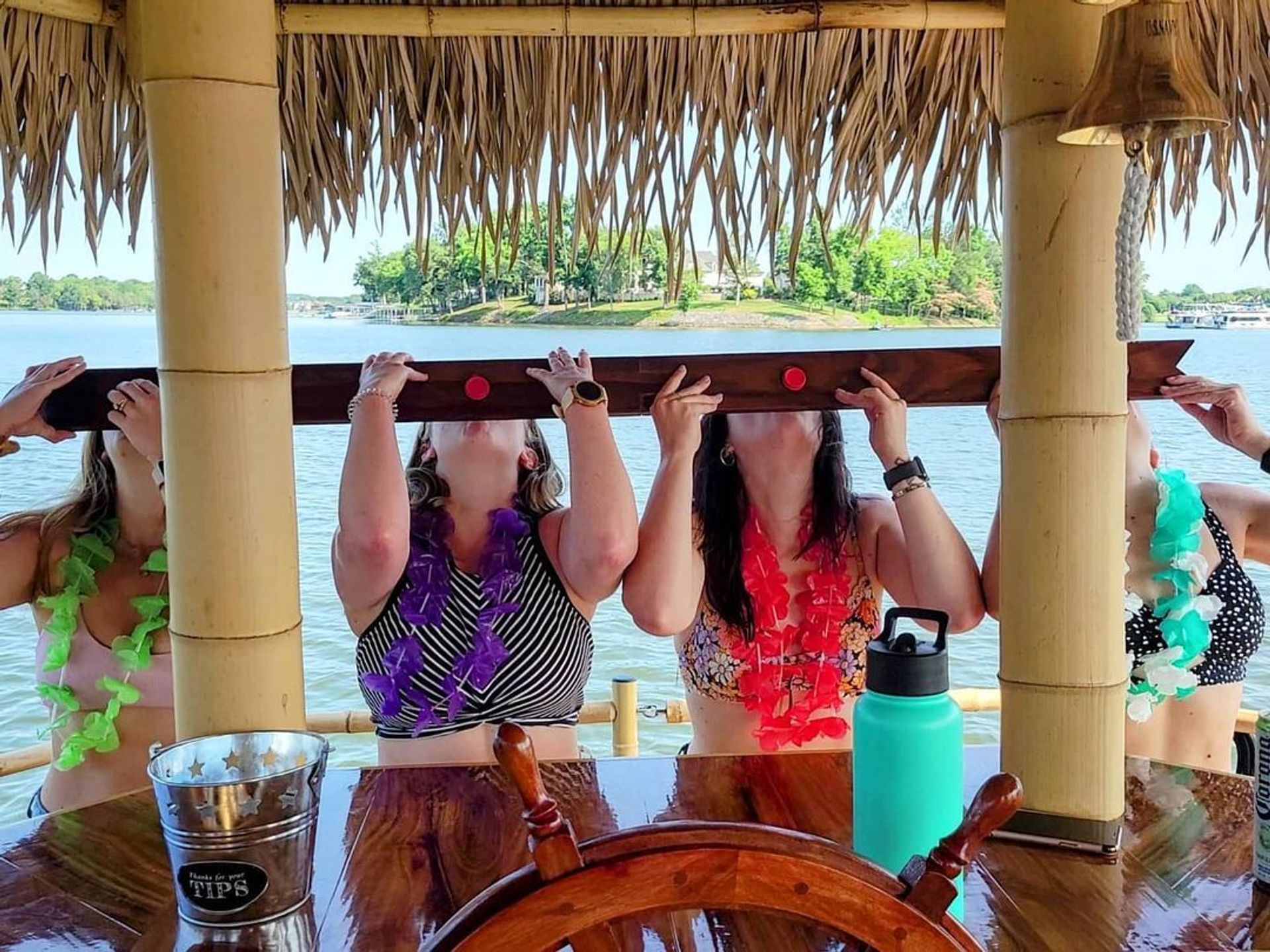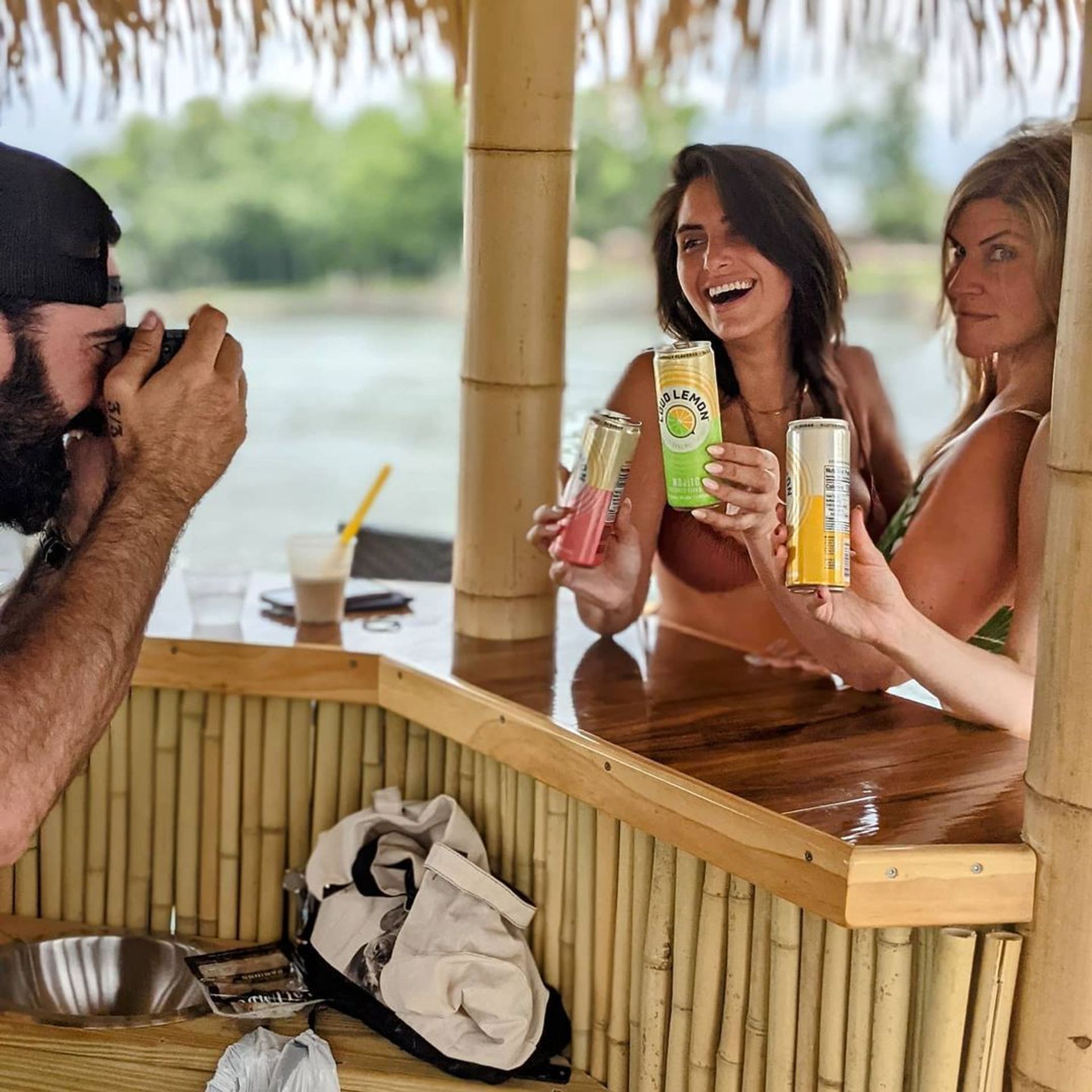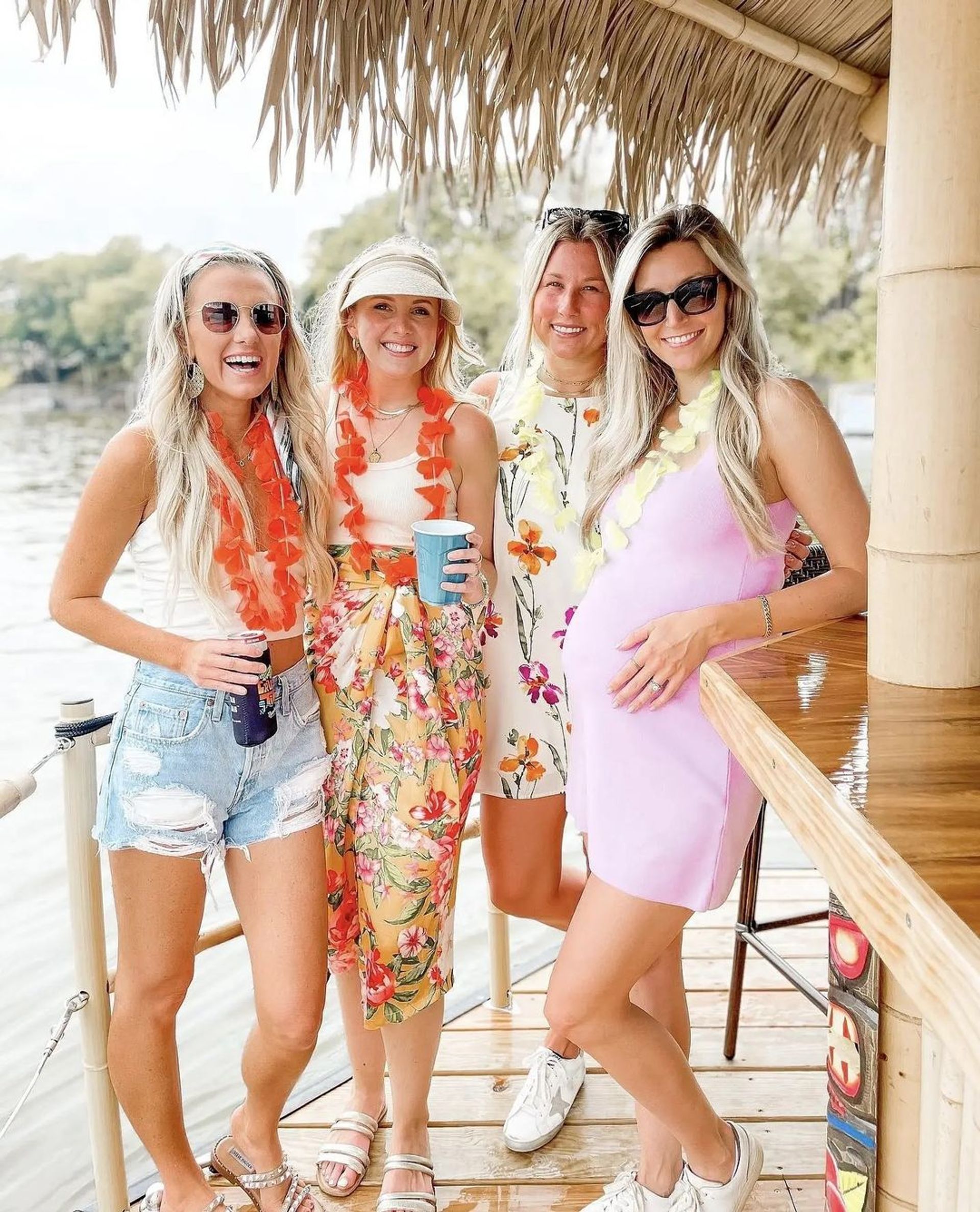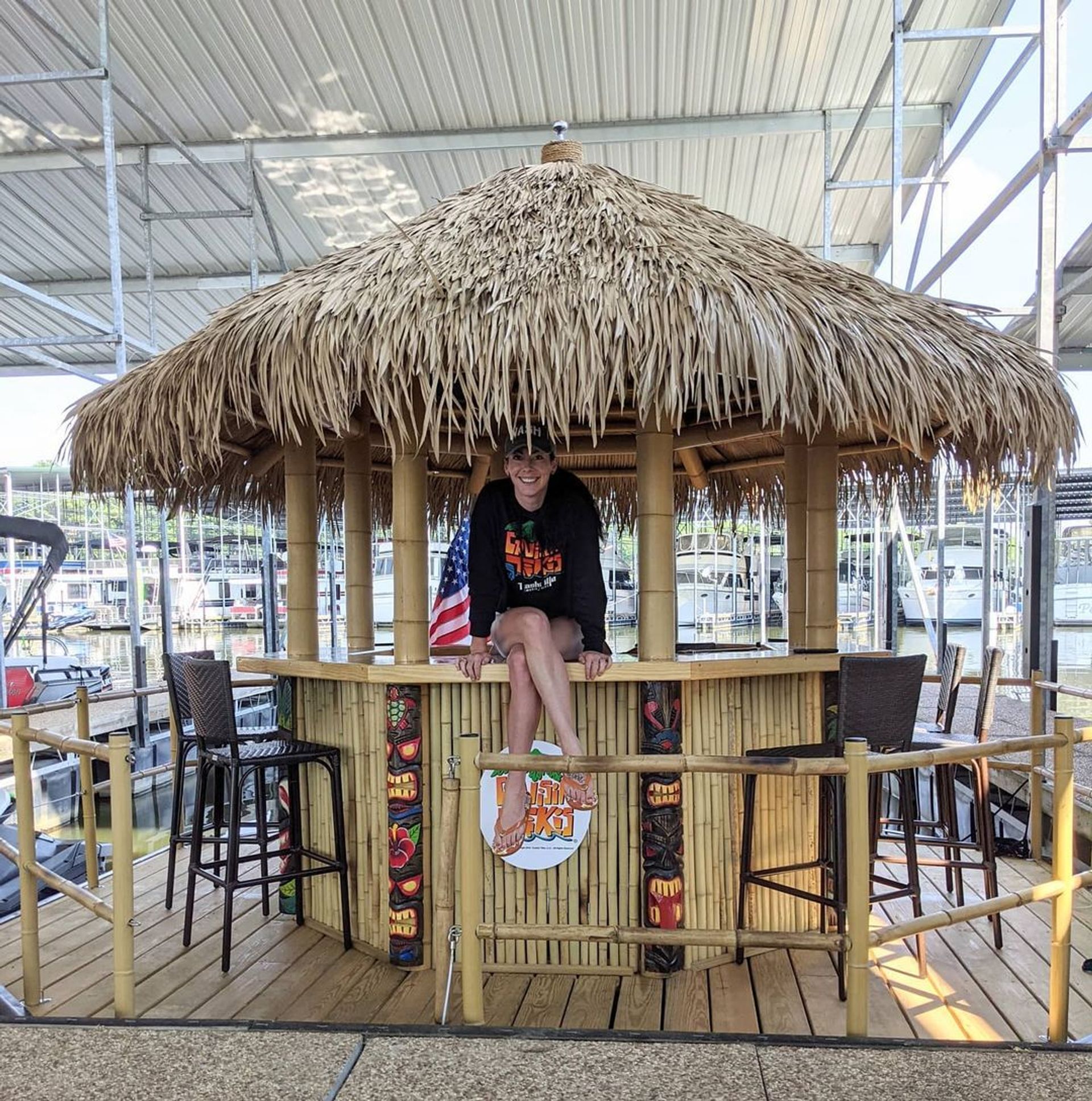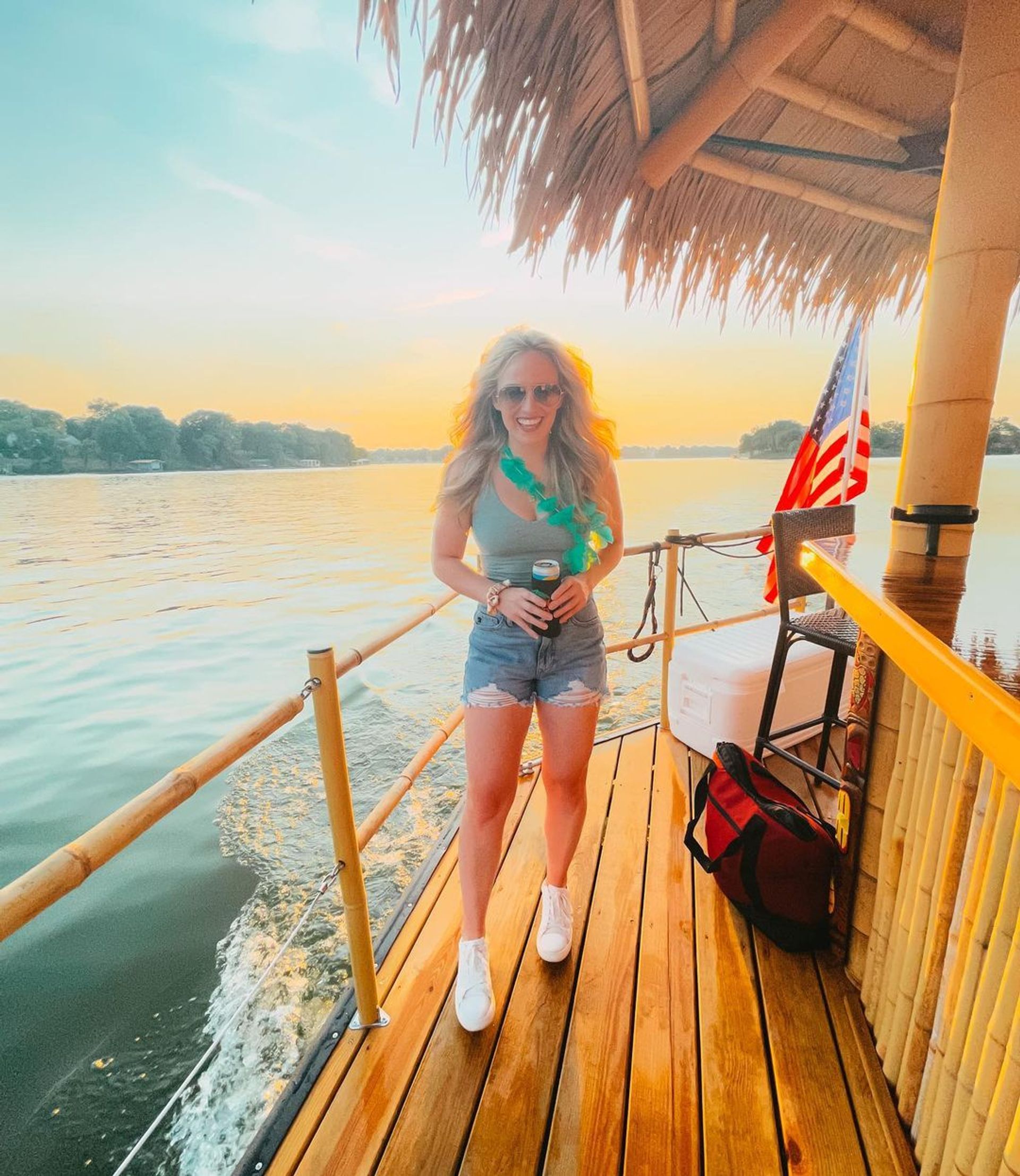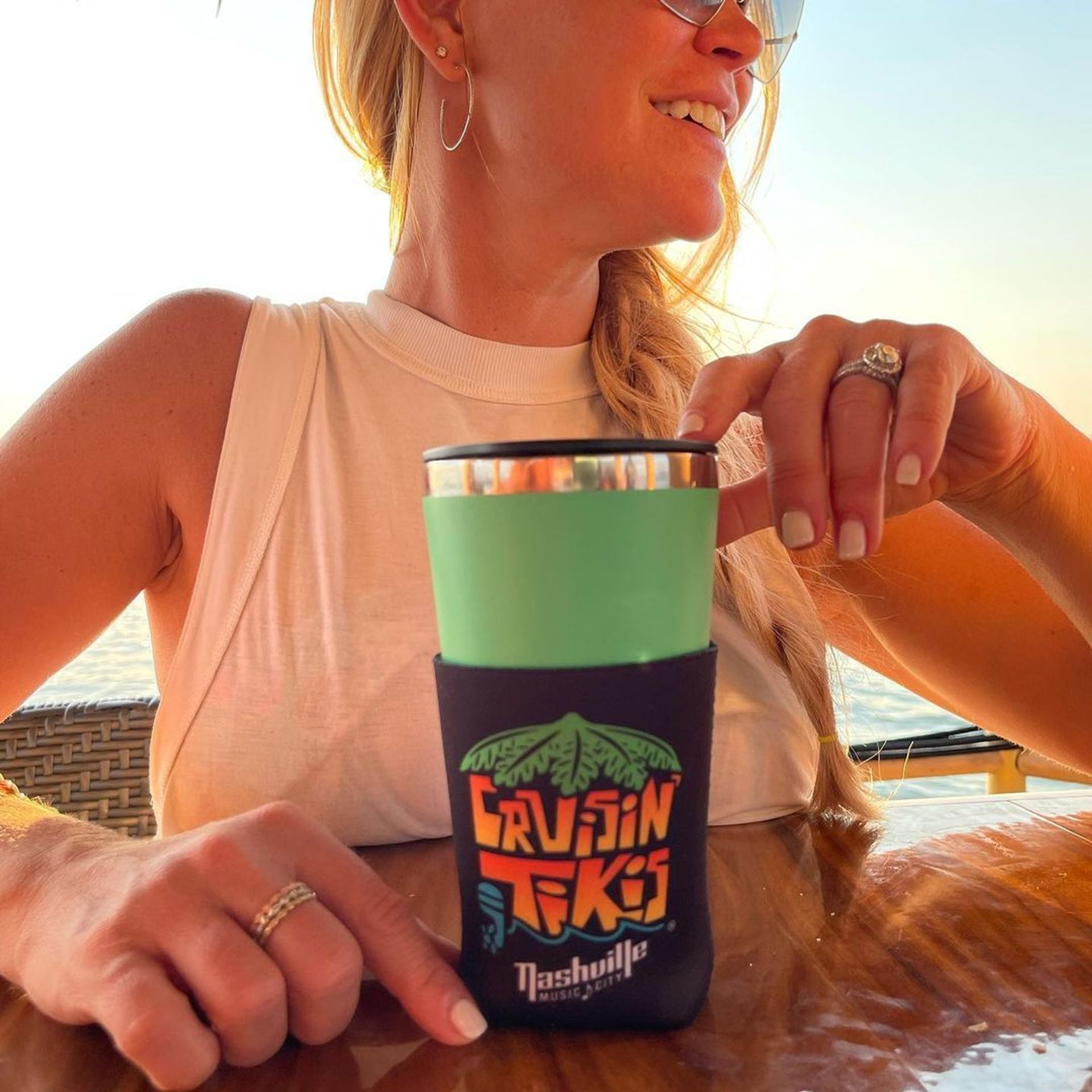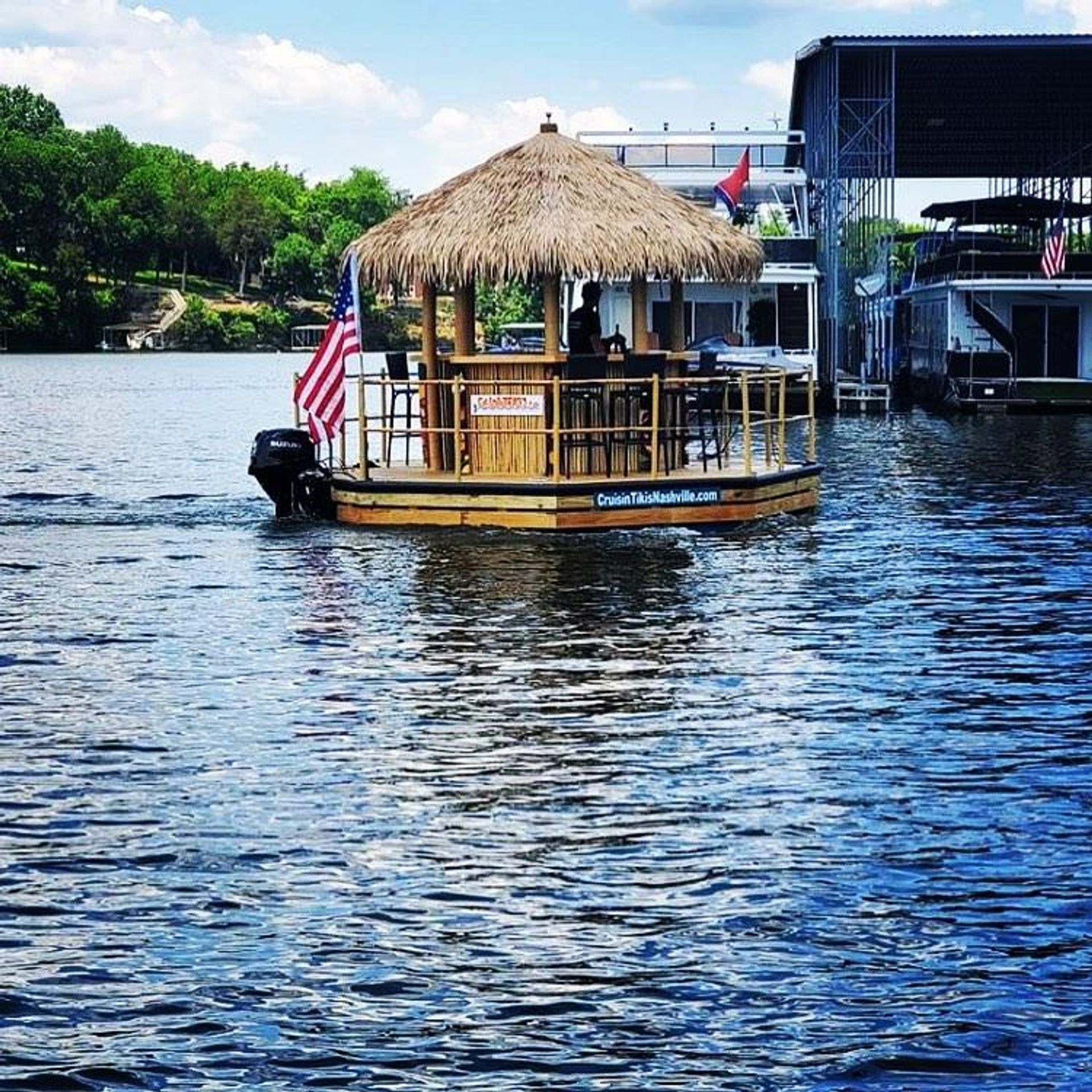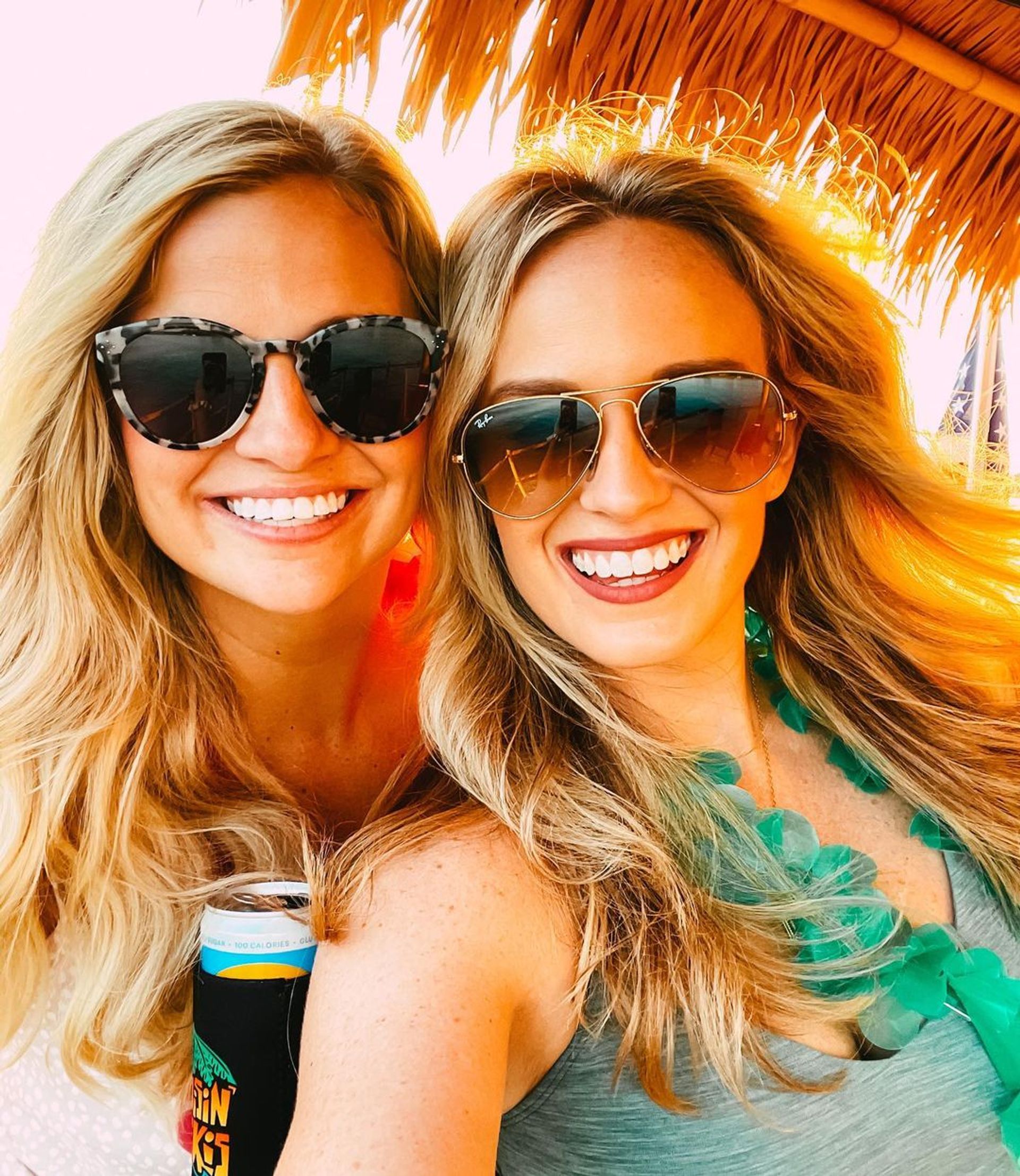 Floating Tiki Bar BYOB Cruises and Party Cove Excursions (Great for Small Groups and Big Parties)
About this experience
What you'll do:
Why go bar hopping when you can hop on the bar? All aboard the Cruisin' Tikis Nashville boat party that'll have your Instas pouring over with cute group selfies. Bring the party crew's favorite bevs and queue the playlist, we're taking off on a unique tour of Music City. Up to 6 passengers (plus the included captain) can hit the water on this floating party hut.

Choose from 4 Nashville tiki experiences:
Sip mimosas with your crew on the 90 minute Morning Mimosas Tiki Cruise, setting sail at 9am each morning (mimosas are not included)
Let the day drinking begin on the 90 minute BYOB Tiki Fun Cruise (BYOB); starting times from 11am-4pm
Watch the sun go down while the party heats up on the stunning 90 minute Sunset Tiki Cruise (BYOB); starting at 6pm (summer) or 6:30pm (fall)
Drink, float, and swim around the lake's best party coves for 3 hours during the private Party Cove Excursion (BYOB); starting times from 11am-3pm
Book individual seats on our public tours or choose a private reservation for your group. See pricing options below.
Why we love it for your party:
Picture-worthy theme (the Instas practically post themselves)
Mimosas or BYOB? It's a toss up (sip through the morning in style or choose a BYOB cruise)
Shade for every seat (beat the southern heat with this comfy ride)
Bluetooth speakers (every group has a DJ...we just provide the stereo)
Pro captain included to steer this thing (so you can focus on your TikTok moves)
About this experience partner:
Let's go cruisin' on a tiki bar! It's nothing short of an amazing experience taking a cruise on a tiki boat while enjoying Nashville. Buckle up, we're cruisin' one margarita an hour!

**Cancelation: Customers will receive a 100% cruise credit with 72 hours or more notice of cancellation. Those that cancel within the 72-hour window will receive a 50% cruise credit. Customers will receive a full refund or credit in case of operator cancellation due to weather or other unforeseen circumstances.
Location
727 Marina Pvt Dr, Gallatin, TN 37066, USA
Cancellation Policy

generous Cancellation Policy
Full refund on cancellations with 7+ days notice. No refund within 7 day window.
What other parties are saying
Heather S.
Had the absolute best time on the floating tiki for a bachelorette party. Kyle was a great captain! Can't wait to visit again!
Holly L.
So much fun! Kyle was great
Kacie J.
The Floating Tiki Bar was an absolute blast! Our captain/dj/bartender was so fun and cruised us all around the lake. Great for an afternoon activity to get some sun before going out. One of those experiences that you can't get many other places!
Leanne
Sooo much fun! Bring a sweater because it's quite windy. Be ready to play a lot of games and to be a bit typsy. Definitely a fun experience
Floating Tiki Bar Cruise did not disappoint! It was the definitely the highlight of our bachelorette trip!
kassidy f.
Had so much fun for my BACH with our captain Jake!! The houses on the lake are gorgeous . He blew up all our tubes for us and kept our drinks on ice! Would definitely recommend for any future BACH parties for sure!!
Floating Tikis was a blast for my group of friends! We were able to play our own music and enjoy the cruise with our own drinks. Then we got into the water and floated and had a great time. The captains are the best and it's overall an amazing experience!
Mindi H.
We had the absolute best time! The views were spectacular, the music was energetic, and the laughs were endless! Our guide, Jesse, was nothing short of amazing! He provided us with the life-long memory of celebrating our bride on the lake! I would highly recommend booking an excursion with this friendly crew!
This was a fun experience. We had a little trouble finding where we should be parking and where to load the boat, but we loved that it was a small group and not a big cruise. We were able to play our own music and use their cooler to keep our drinks cold. Got some great photos of the water and behind the wheel of the boat.
Our Tiki Boat Tour was a blast! Not only did we get to play our own special playlist and float around a beautiful lake, but our tour guide was kind enough to take as many group photos as we asked for!
Tiffany L.
We loved that the captains were so accommodating and had everything prepared for our boat. Everything was as described on the post which was a relief.
We booked the Floating Tiki Bar BYOB Cruise for my sister's bachelorette. It was the perfect way to break up our day and do something that was off Broadway. BEcause we were there in June, it was very hot so being on the water there was a nice breeze which was great. We were also able to watch the sunset while we were on the cruise. Our captain was super personable and it was an overall great time. All of us would definitely recommend it!
Definitely recommend the team at Floating Tiki Bar BYOB Cruises and Party Cover Excursions. They are a must stop on your visit! They accommodate every request and make you feel right at home during your time on the water. Can't thank them enough for a great experience!!
My group loved the tiki bar because our captain took over and we got to enjoy the sun, drinks and music without worrying about anything but what drinks we were bringing. It was also something different to do in Nashville if you need a break from downtown and want to get outdoors.
Lindsay M.
Our group really enjoyed our Tiki Cruise! We had a fun captain who was knowledgeable and kind. The docking point is about a 40 min drive from downtown Nashville but it was totally worth it! Getting out on the water was a good break for everyone while it being something unique for us to do. Highly recommend!
The Floating Tiki Bar was so fun for our Bride-to-be! Our captain was a great party host and let us be as crazy as we wanted!! We got to provide our own music and drinks and all we had to worry about was having a good time. Highly recommend for bachelorette groups or anyone just looking to be on the water!
Our group really enjoyed the idea of the floating tiki boats, it's nothing we have by us. It was a fun, out of the box experience!
We had so much fun on the tiki bar! Our bride loved doing something a little different than the normal Nashville activities, and our guide was super fun. It was a little ways from the city, but it was cool getting out of the downtown area. Definitely recommend!
Book Your Experience
Choose a Booking Option
Private Party Cove Excursion (Groups 1-6)
Enjoy all things Old Hickory Lake has to offer, party sand bars, coves to float, and little of everything in-between during the party time excursion cruise.
3 hour experience.
See Availability
---
Private Party Excursion (7-12 Guests)
Starting at
$1,000
per party
Now offering tandem cruises for a our 3 hour party cove excursion. This mean we can support groups up to 12 people! The two tikis will cruise over to party cove next to each other and then tie up once they arrive to the cove/sandy area.
18% Gratuity is included in the price for 7 or more guests.
3 hour experience.
See Availability
---
Why Book With Batch?
All Your Parties on One Account
With over 30 cities and counting, you can plan all your parties on Batch. We'll save your information and preferences to make booking a breeze.
Party Planning at Your Fingertips
Download our app for access to party planning tools like polls, shared itineraries, and expenses.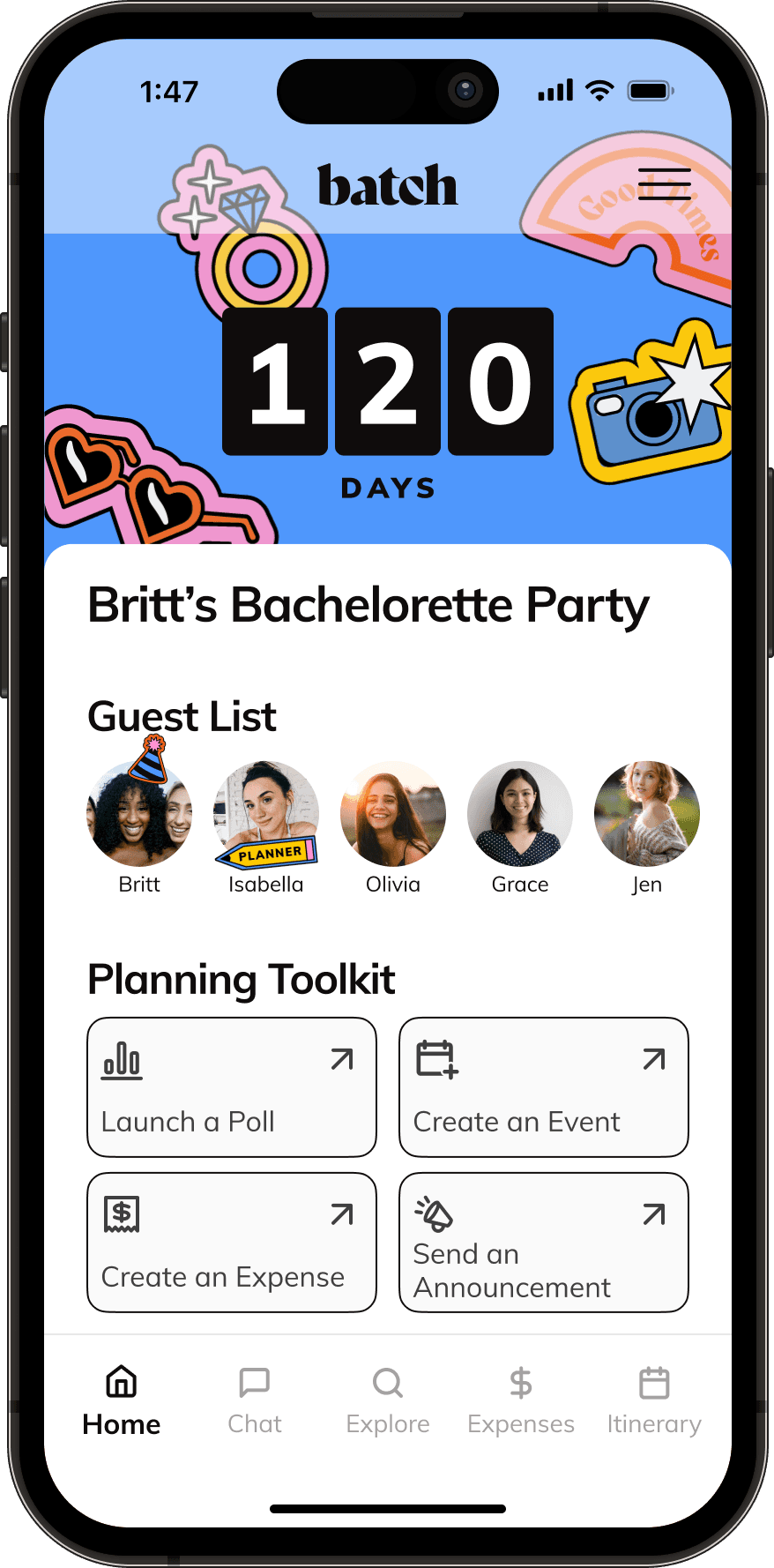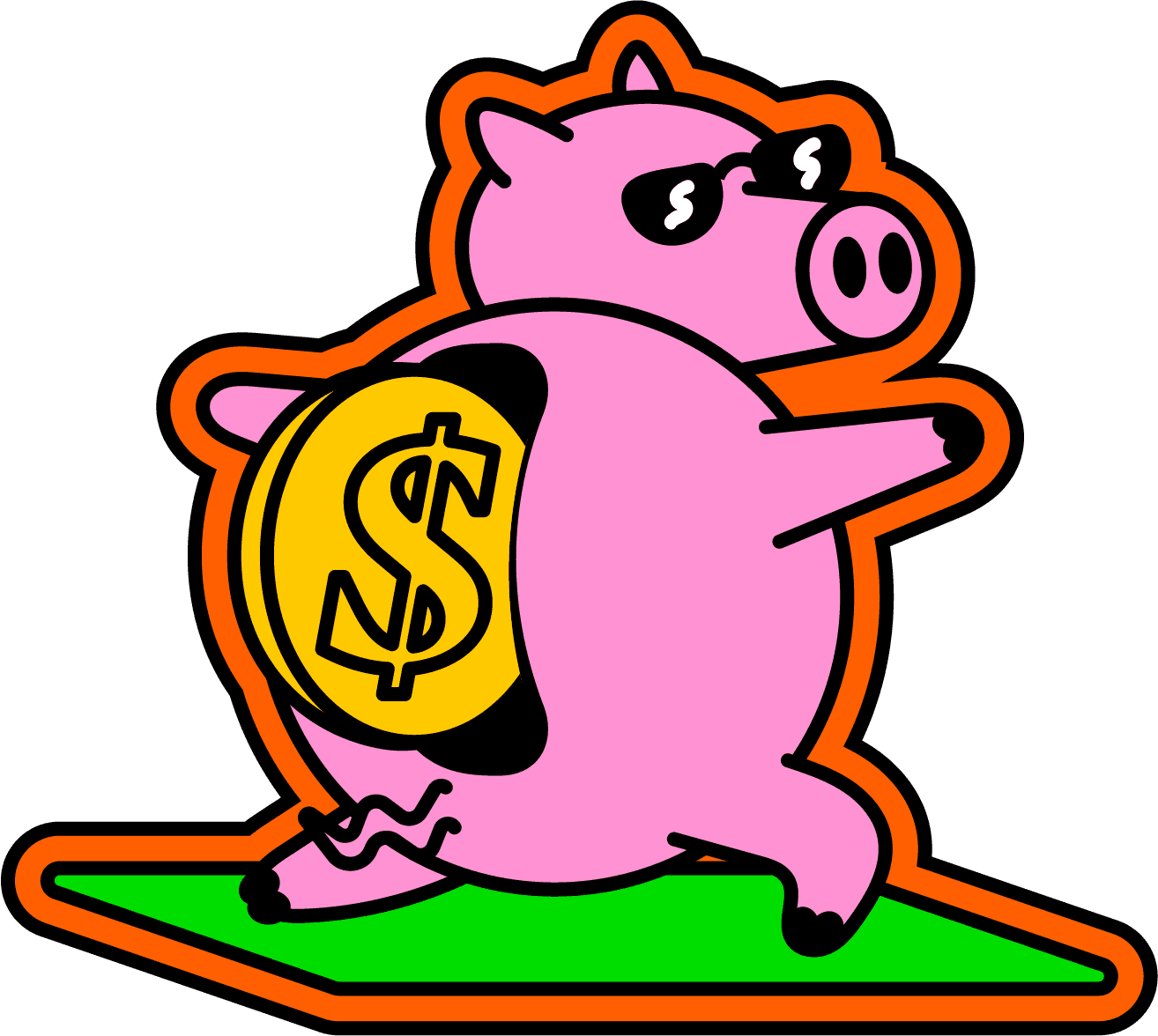 Book More, Save More
As a Batch member, receive exclusive discounts and first looks to our best party experiences! From transportation to private chefs, we're here to help.