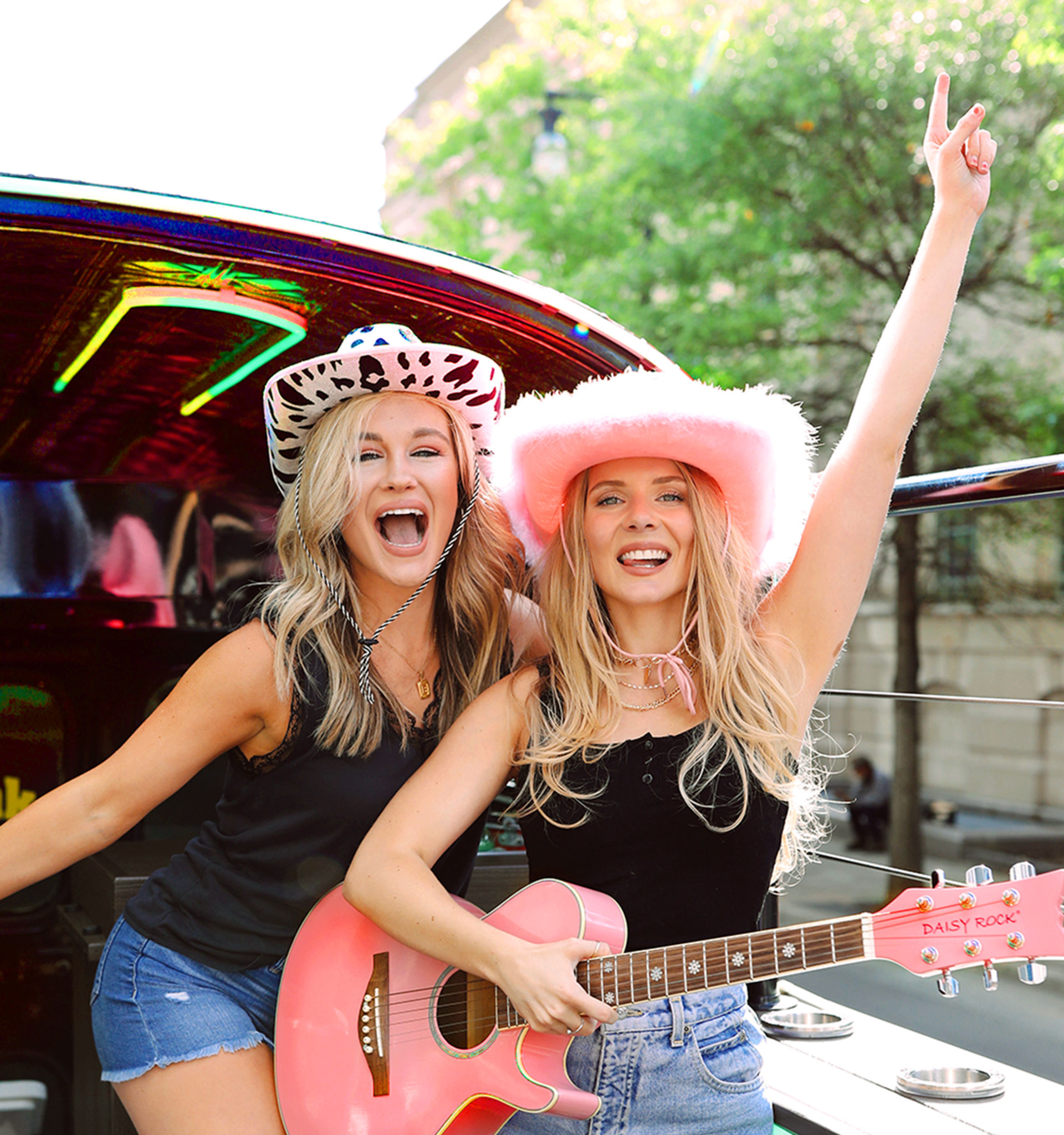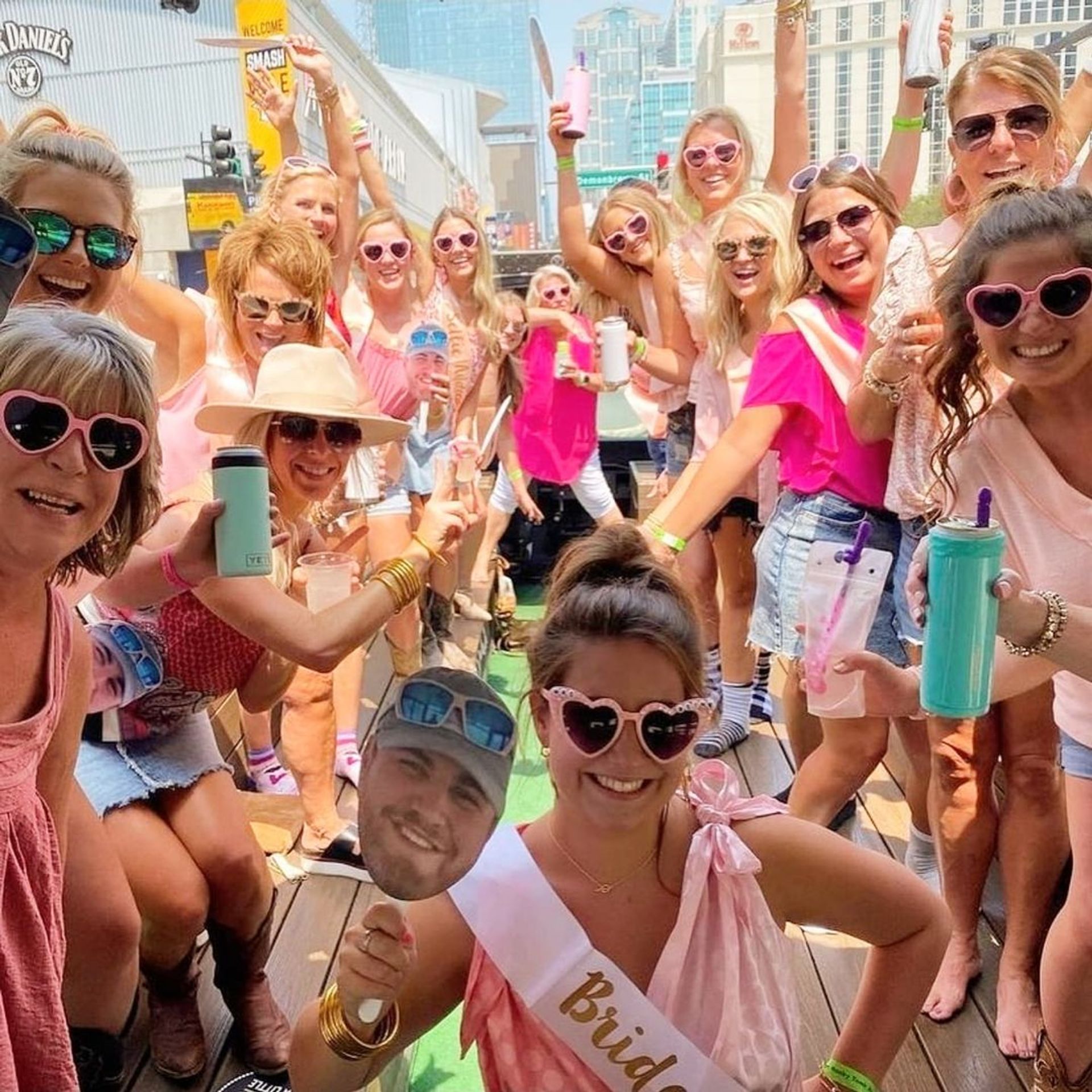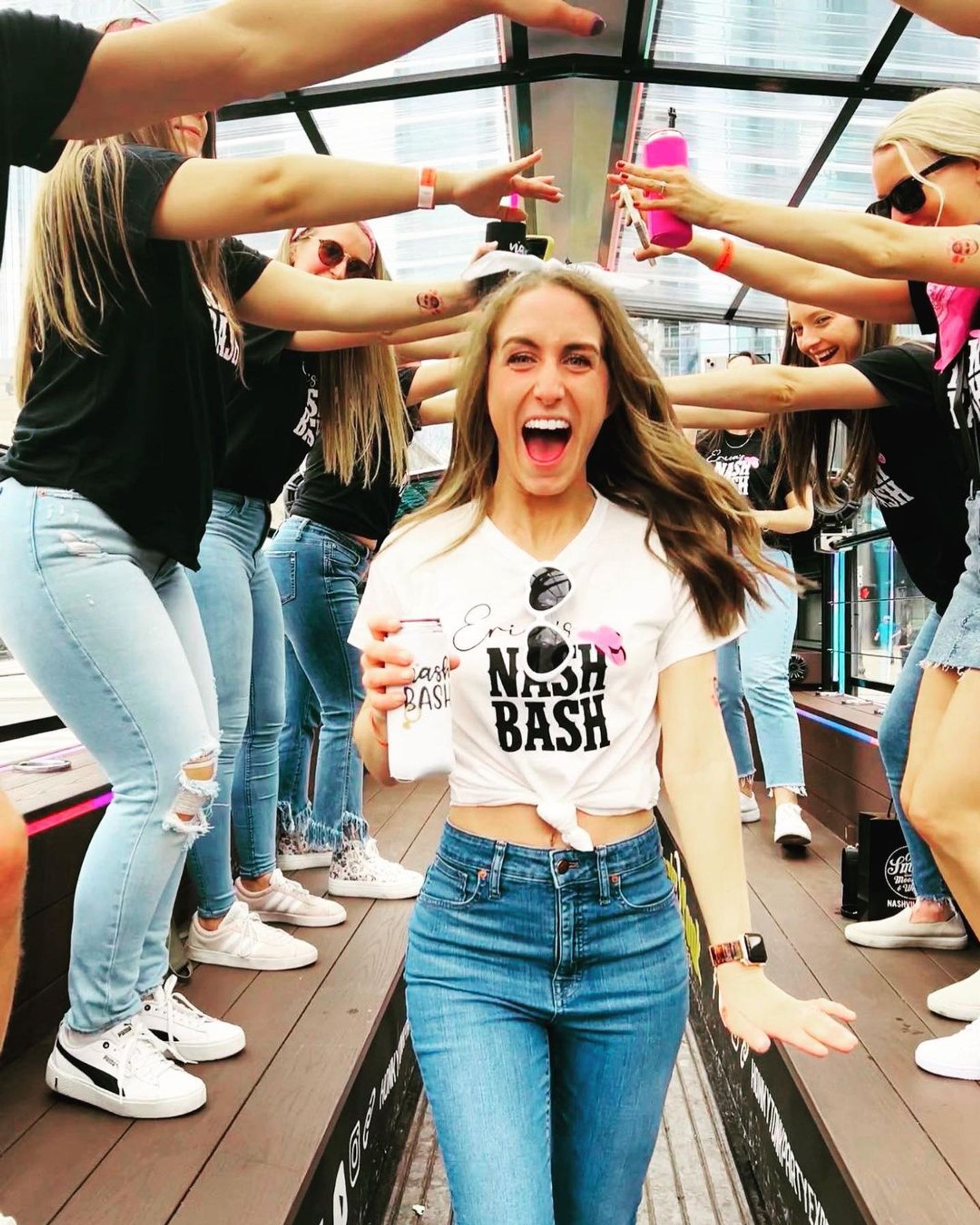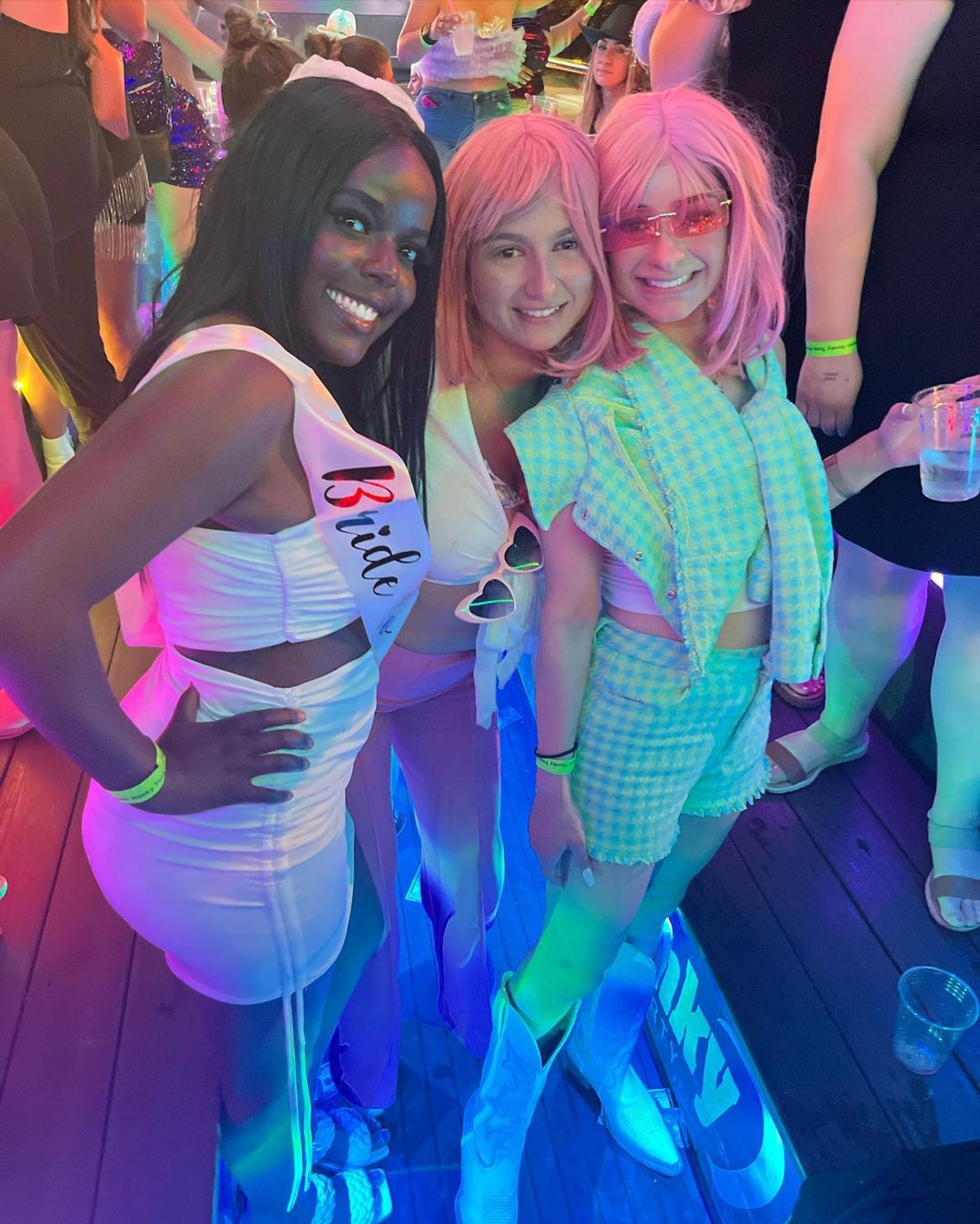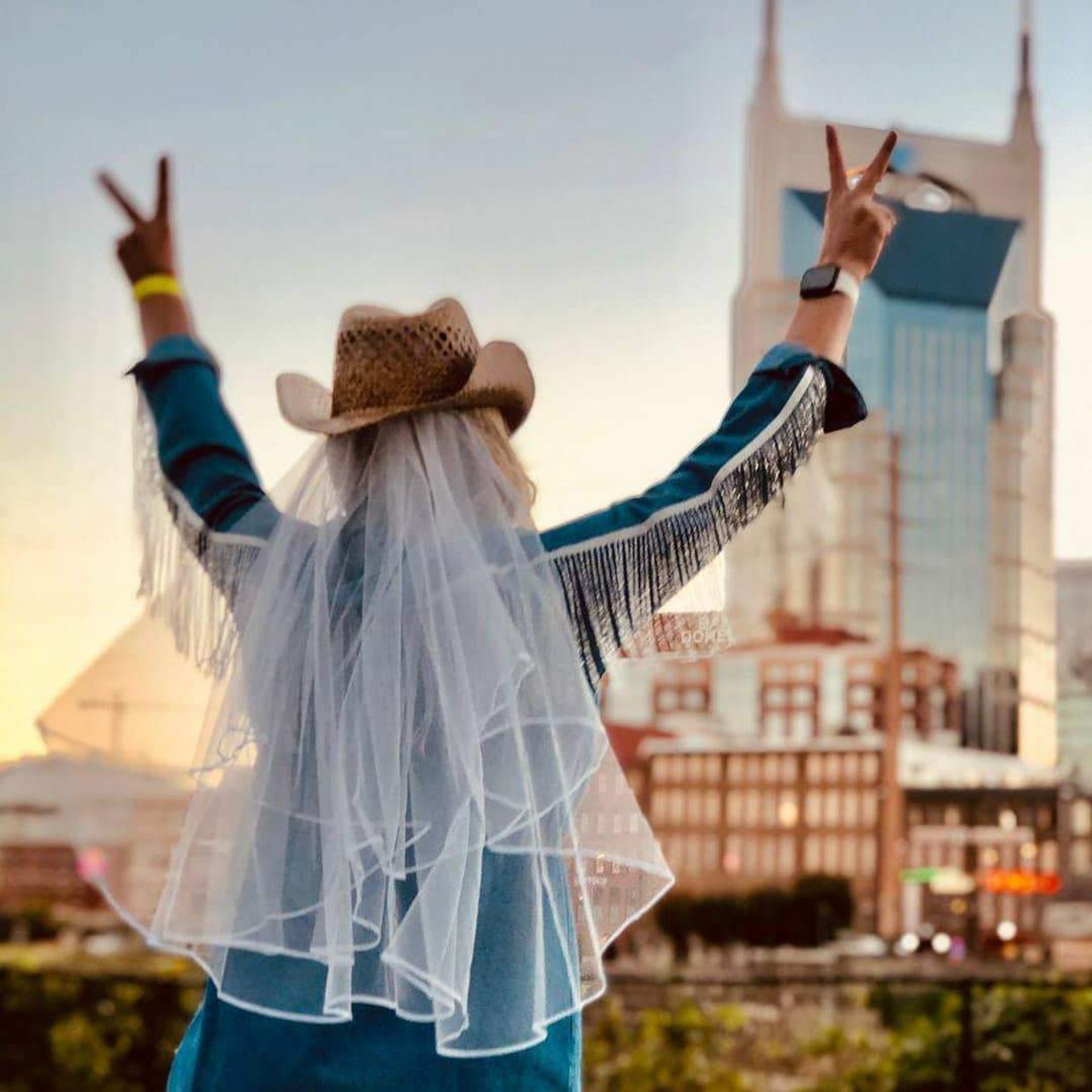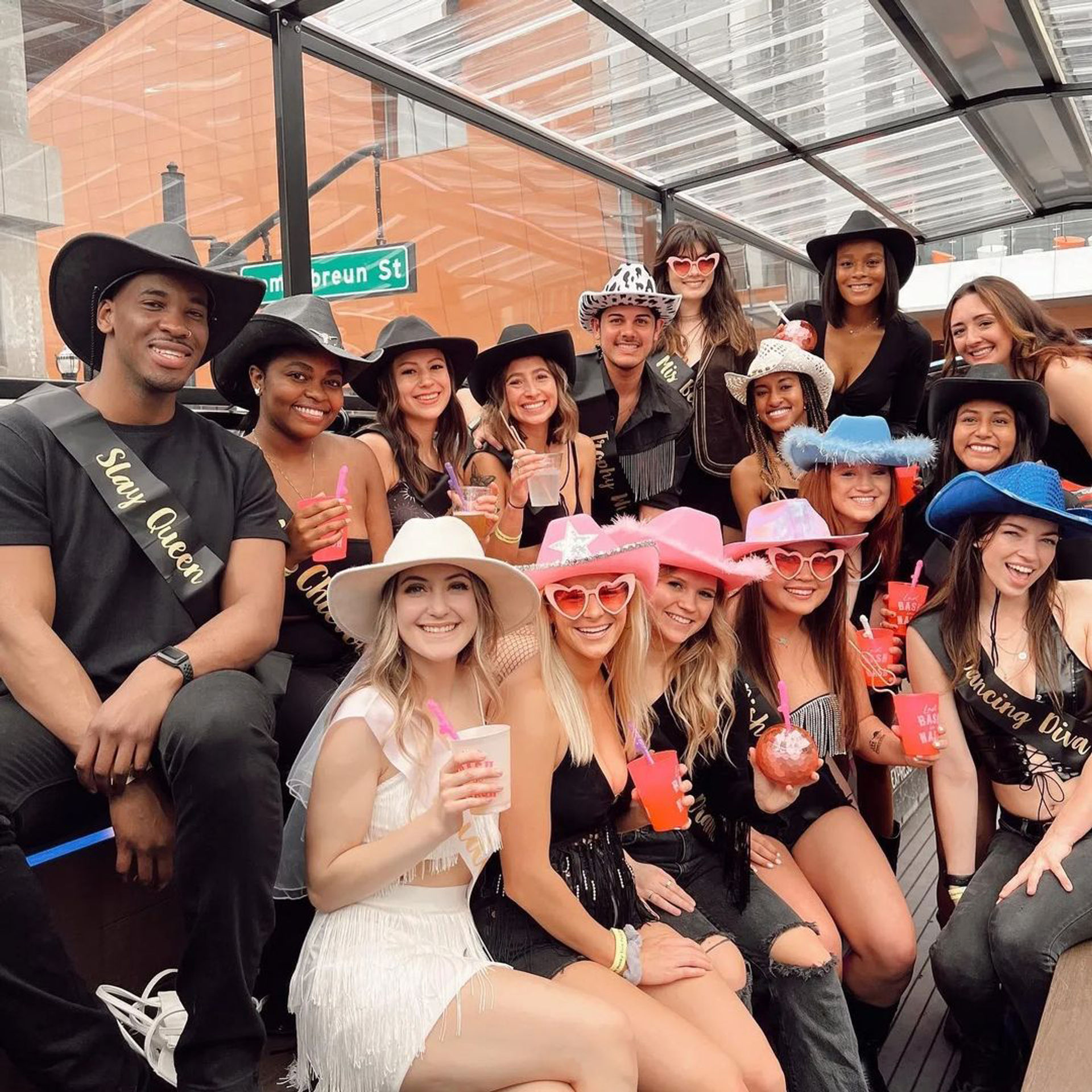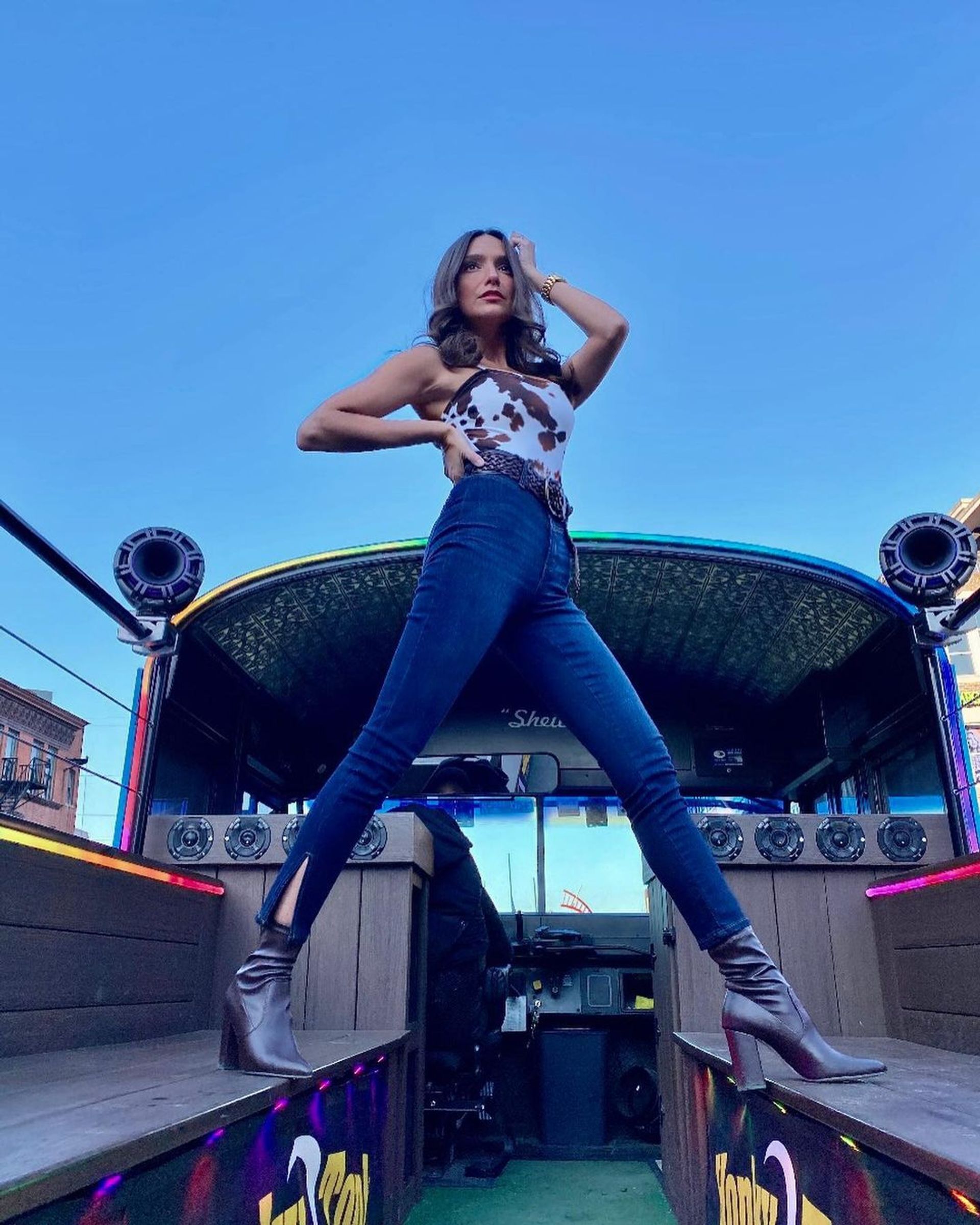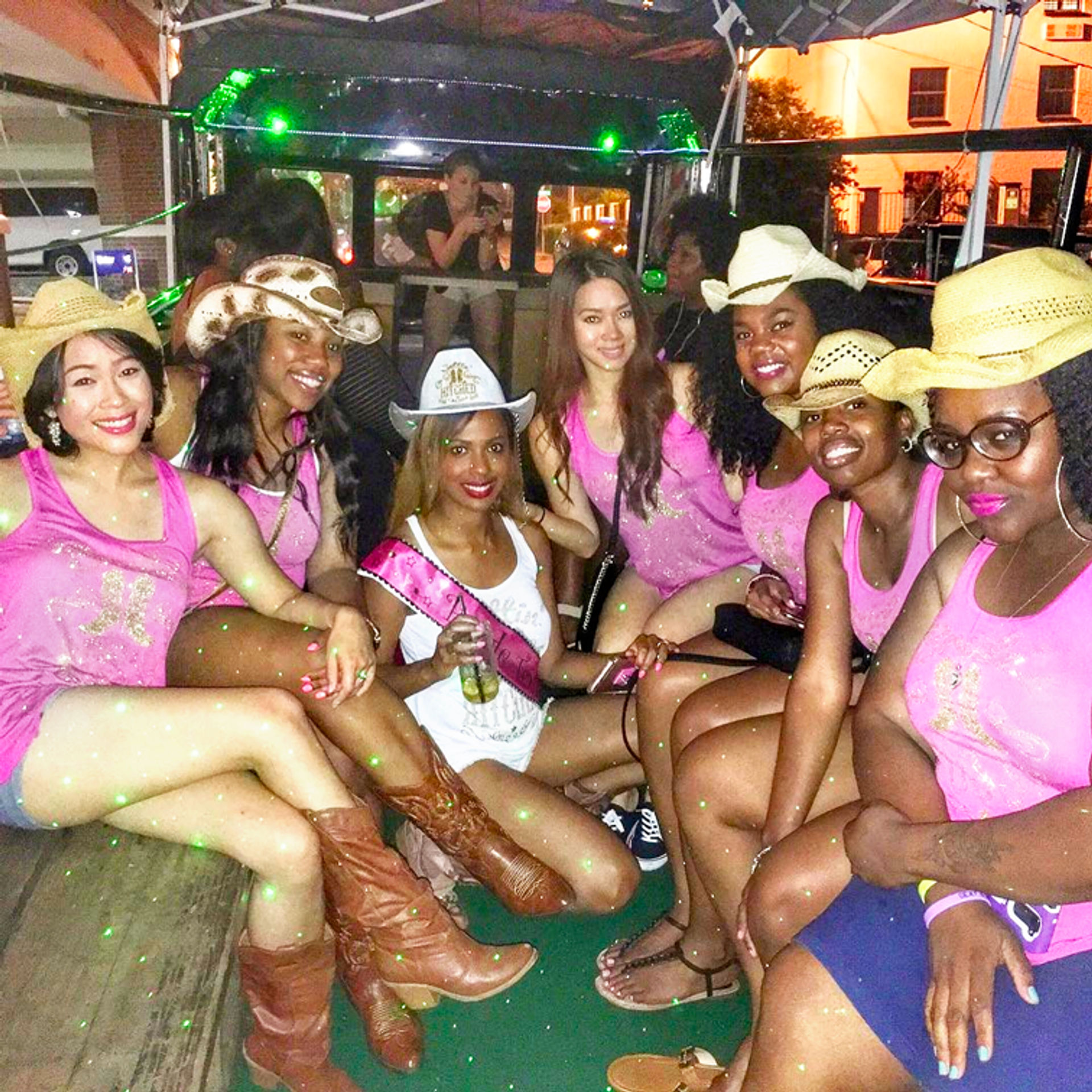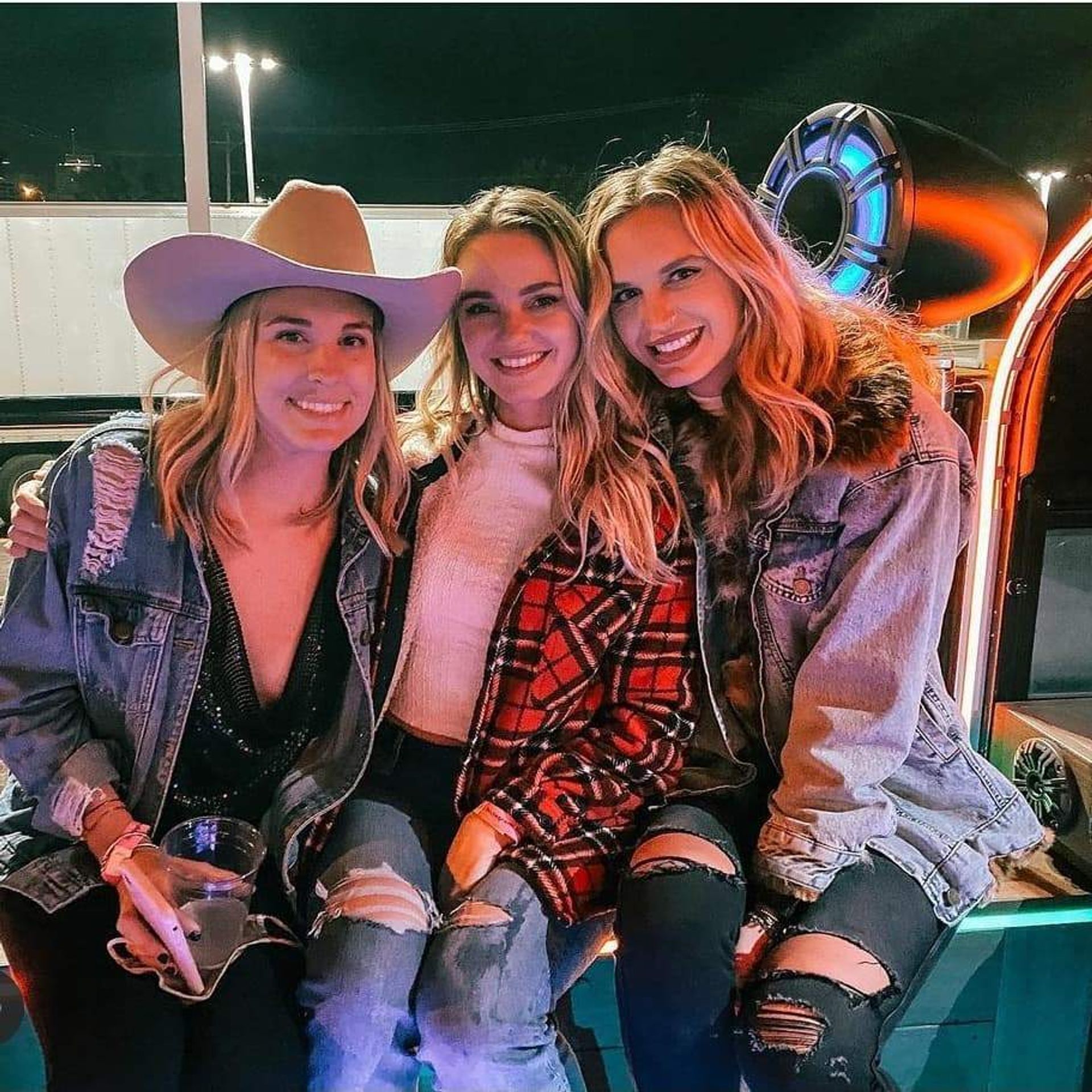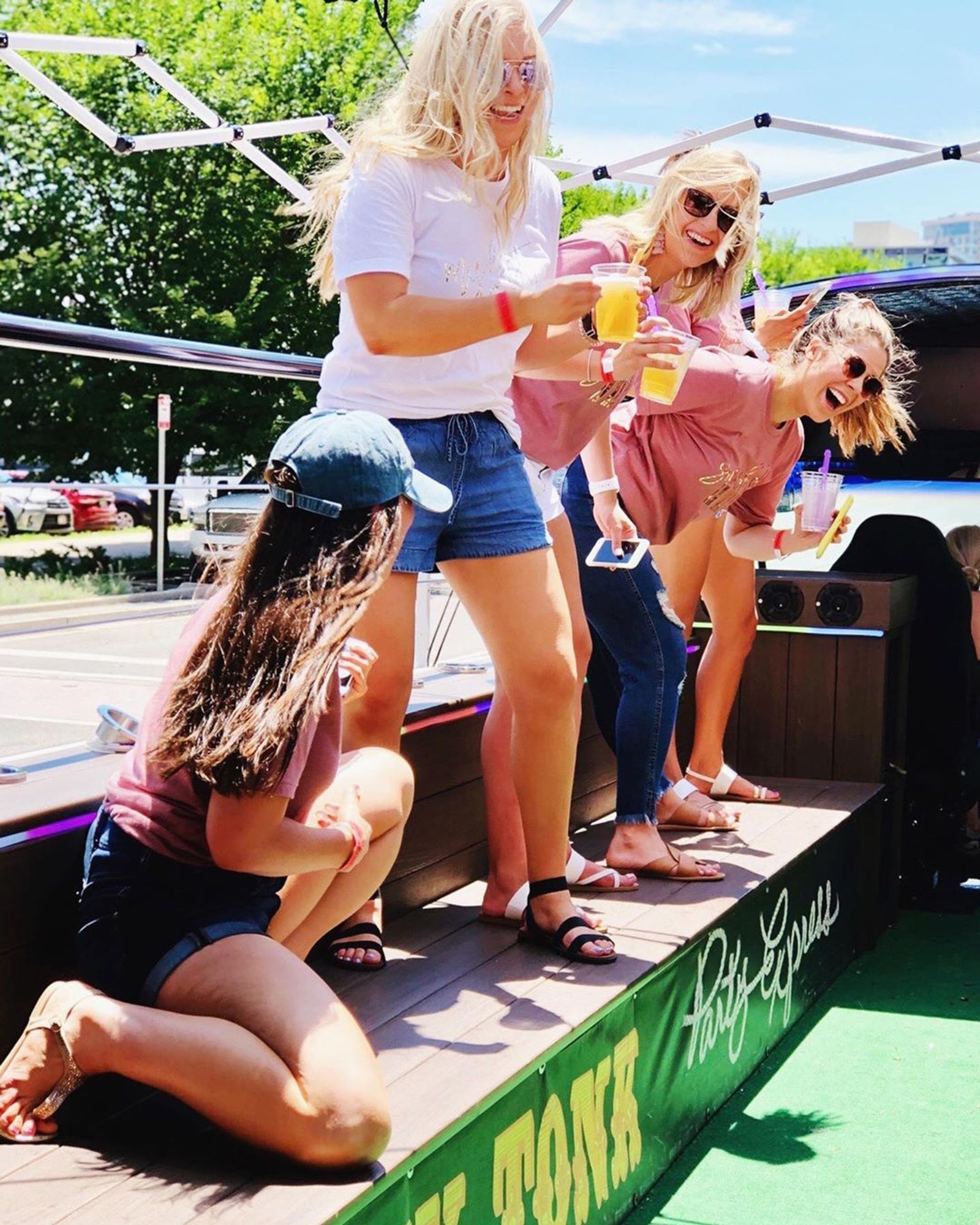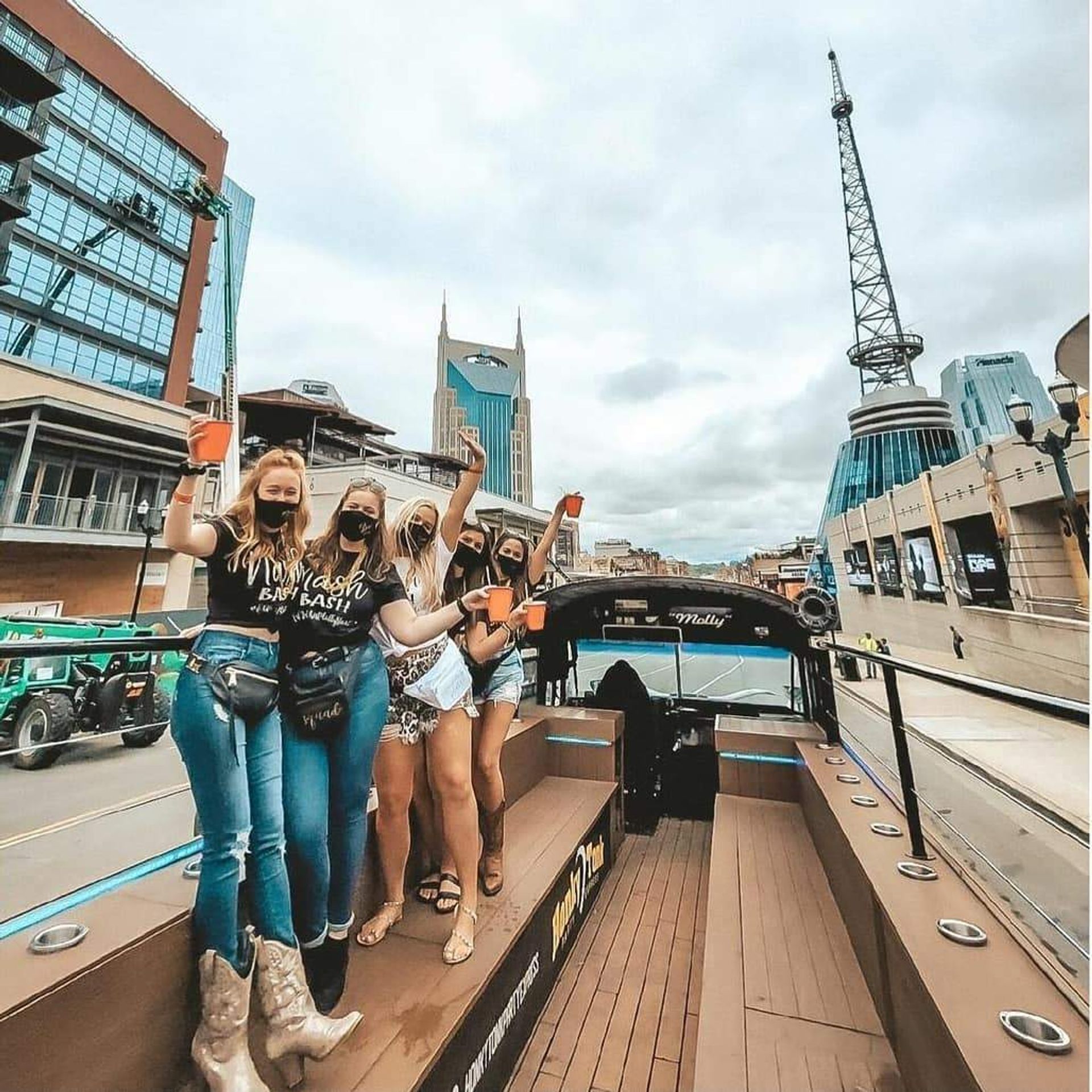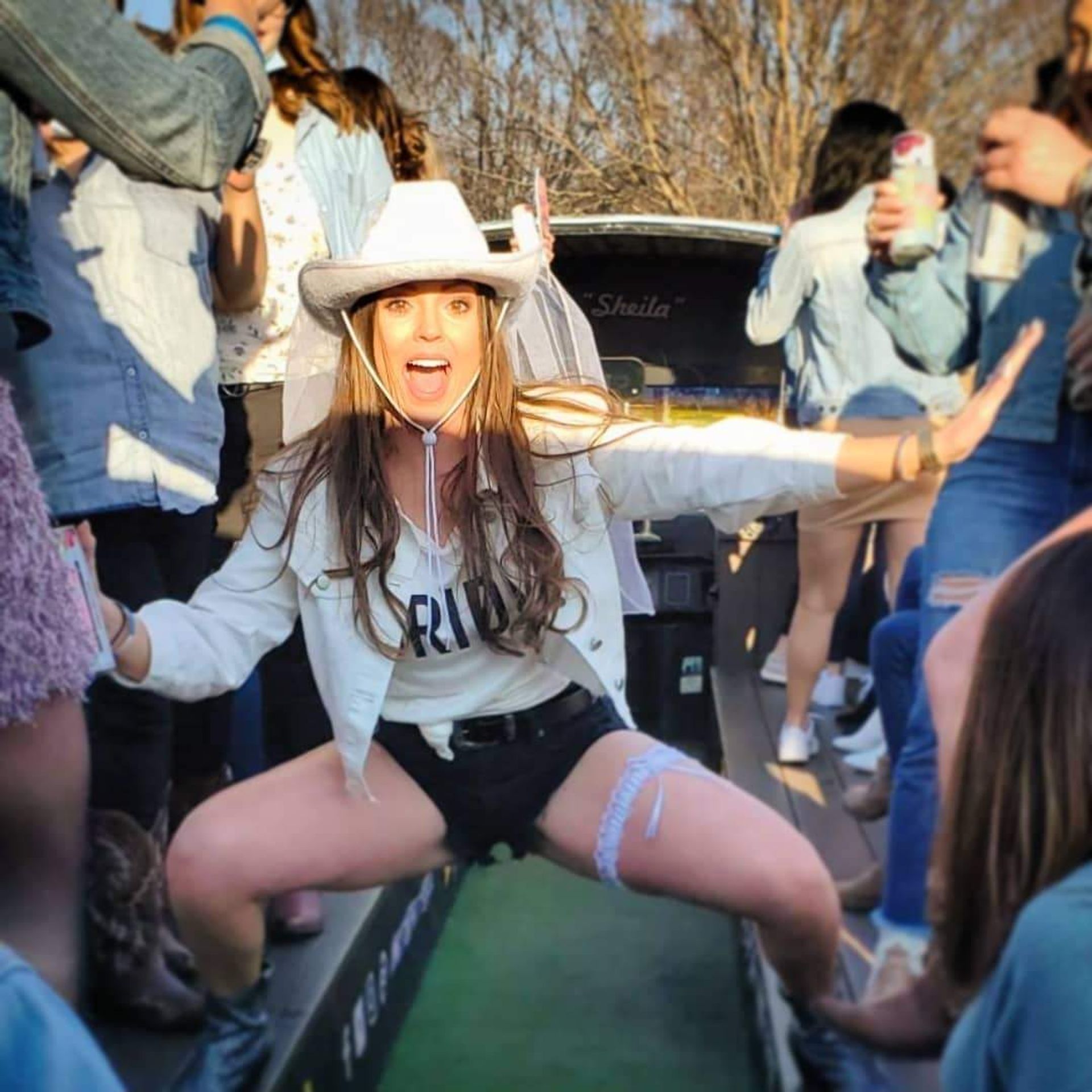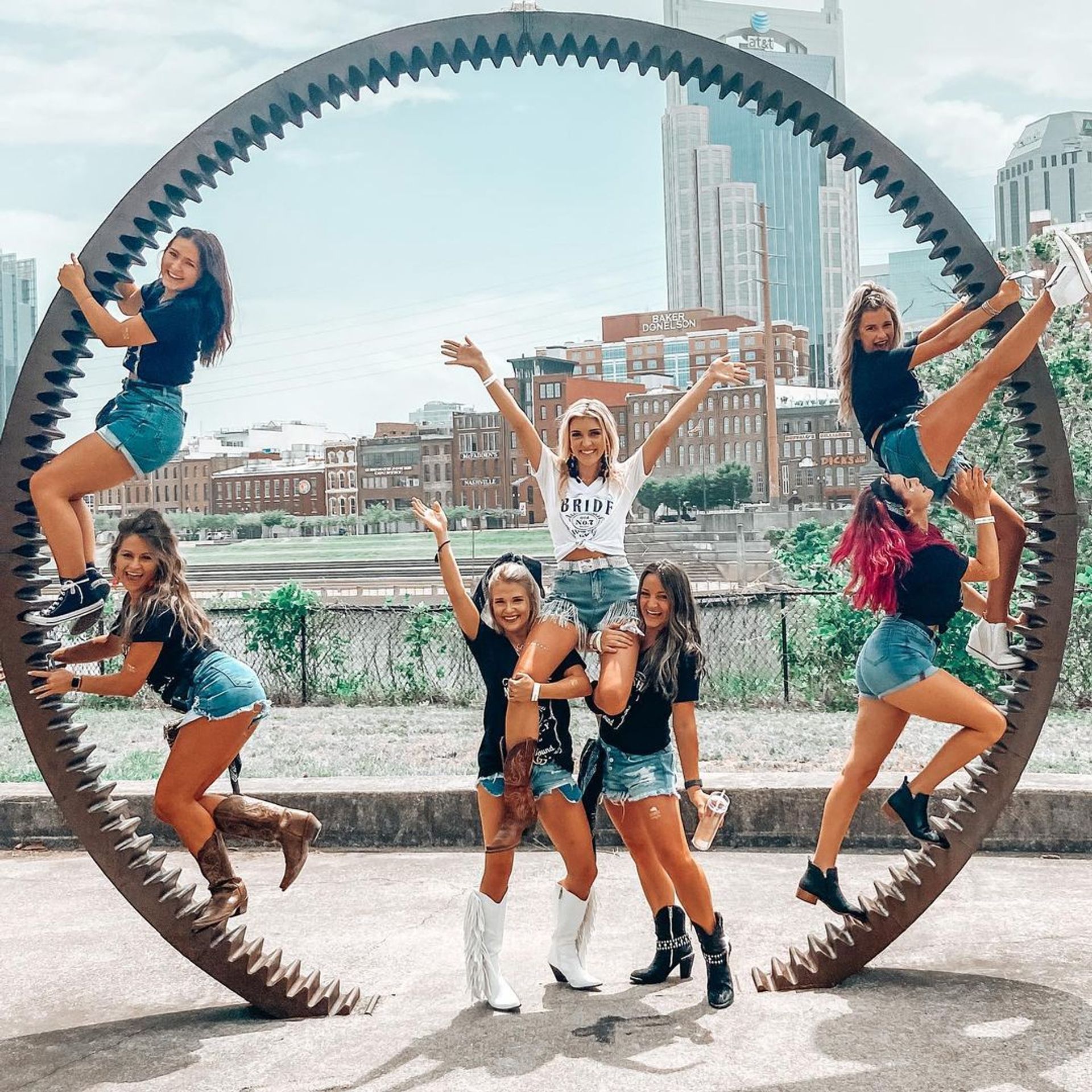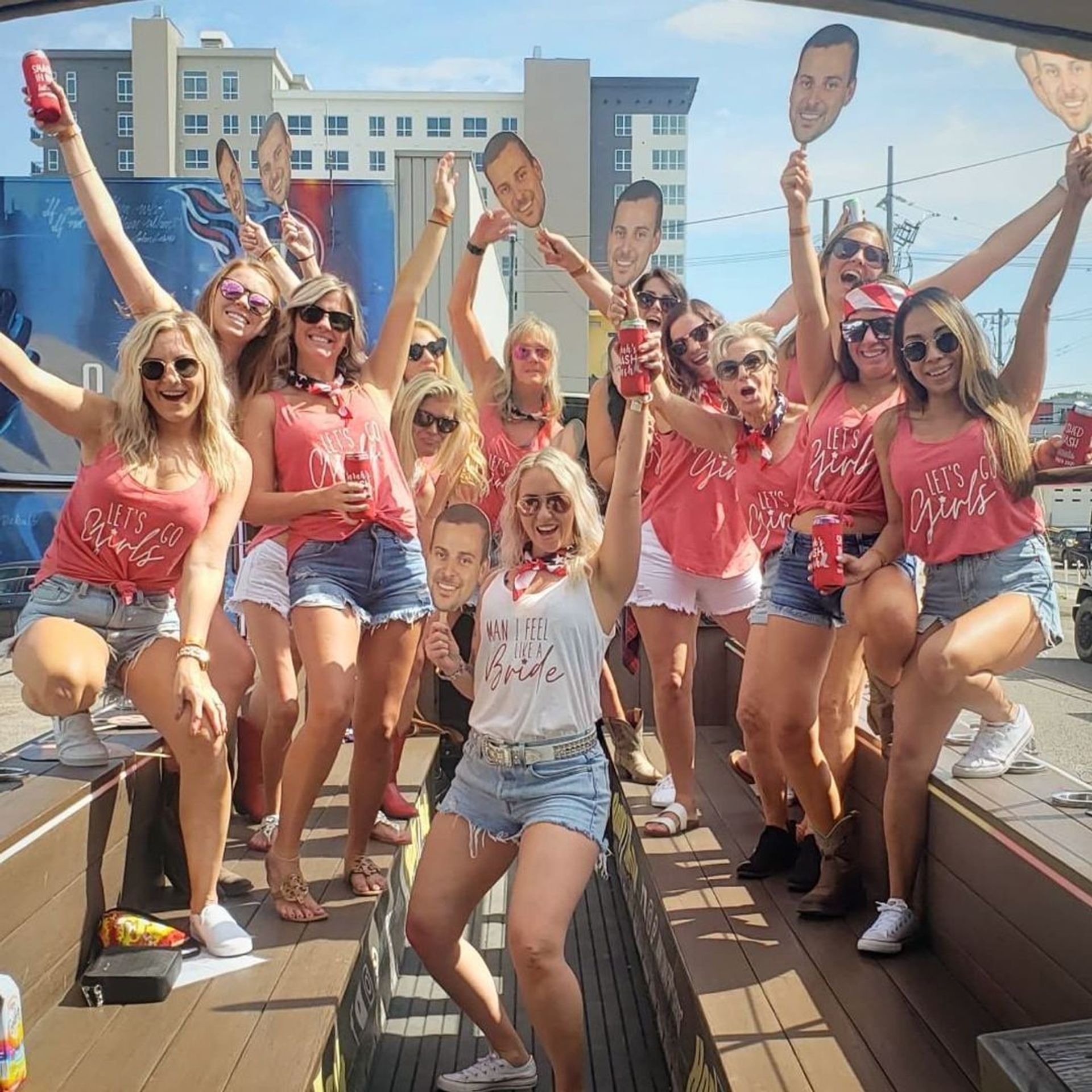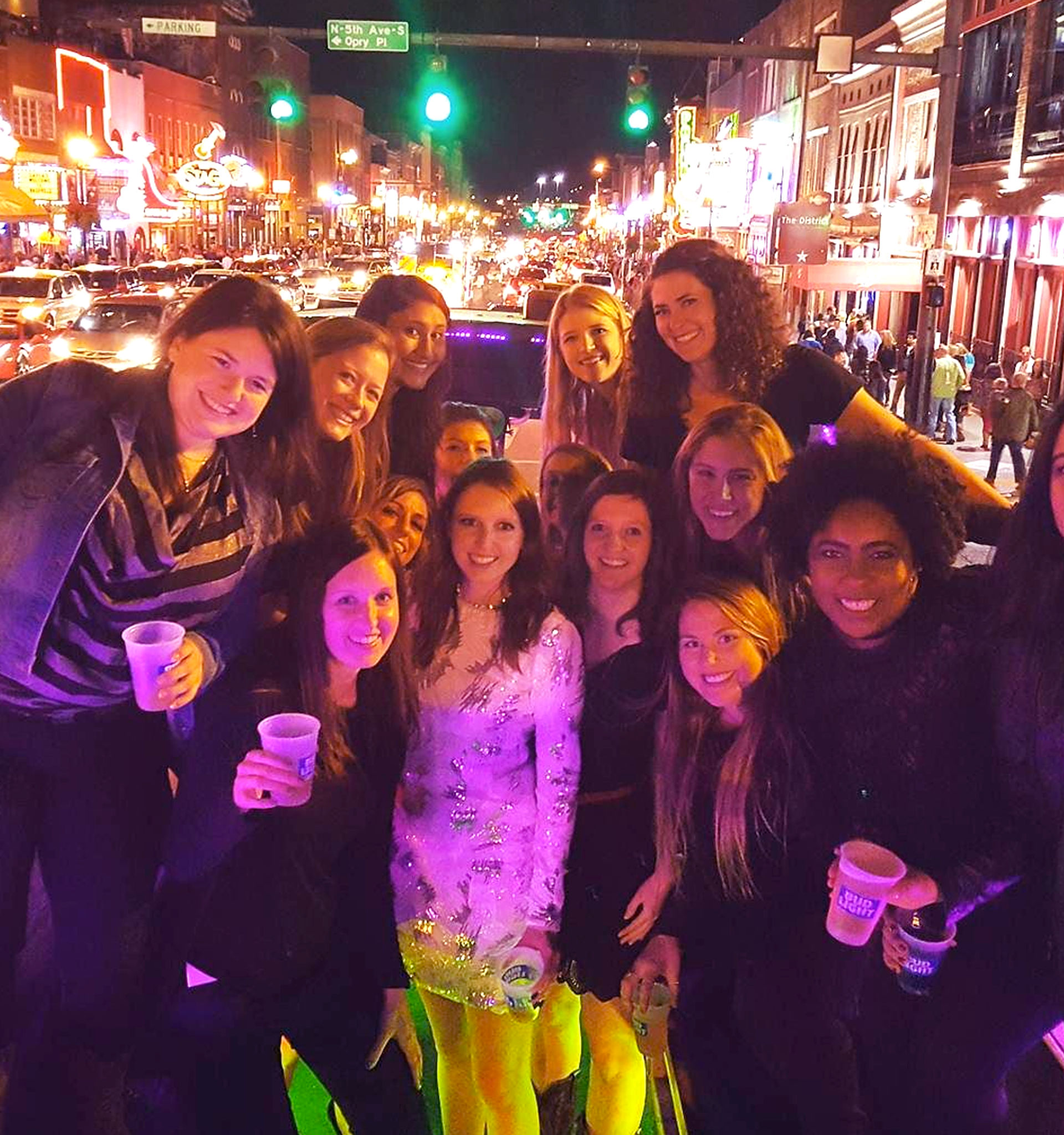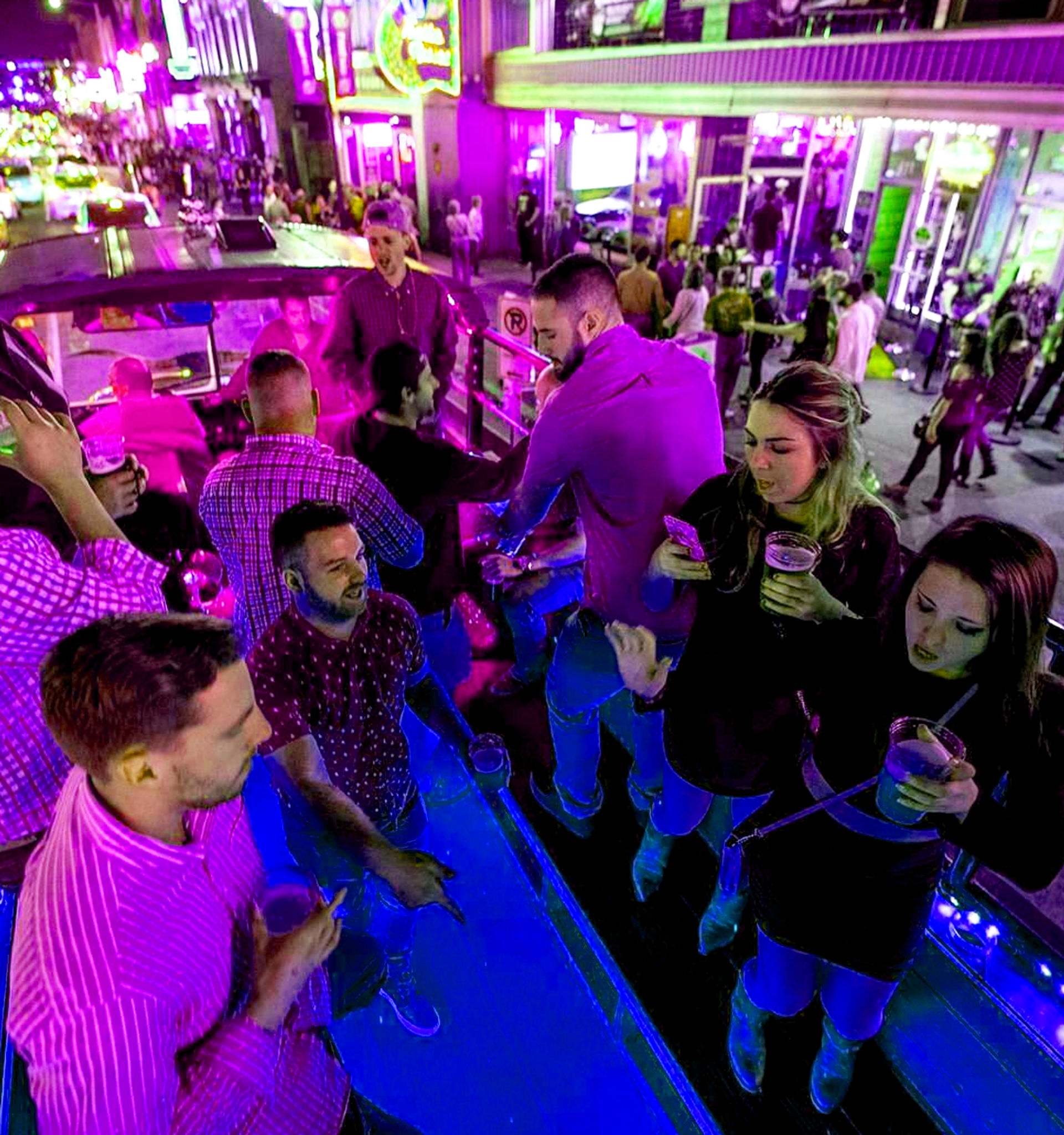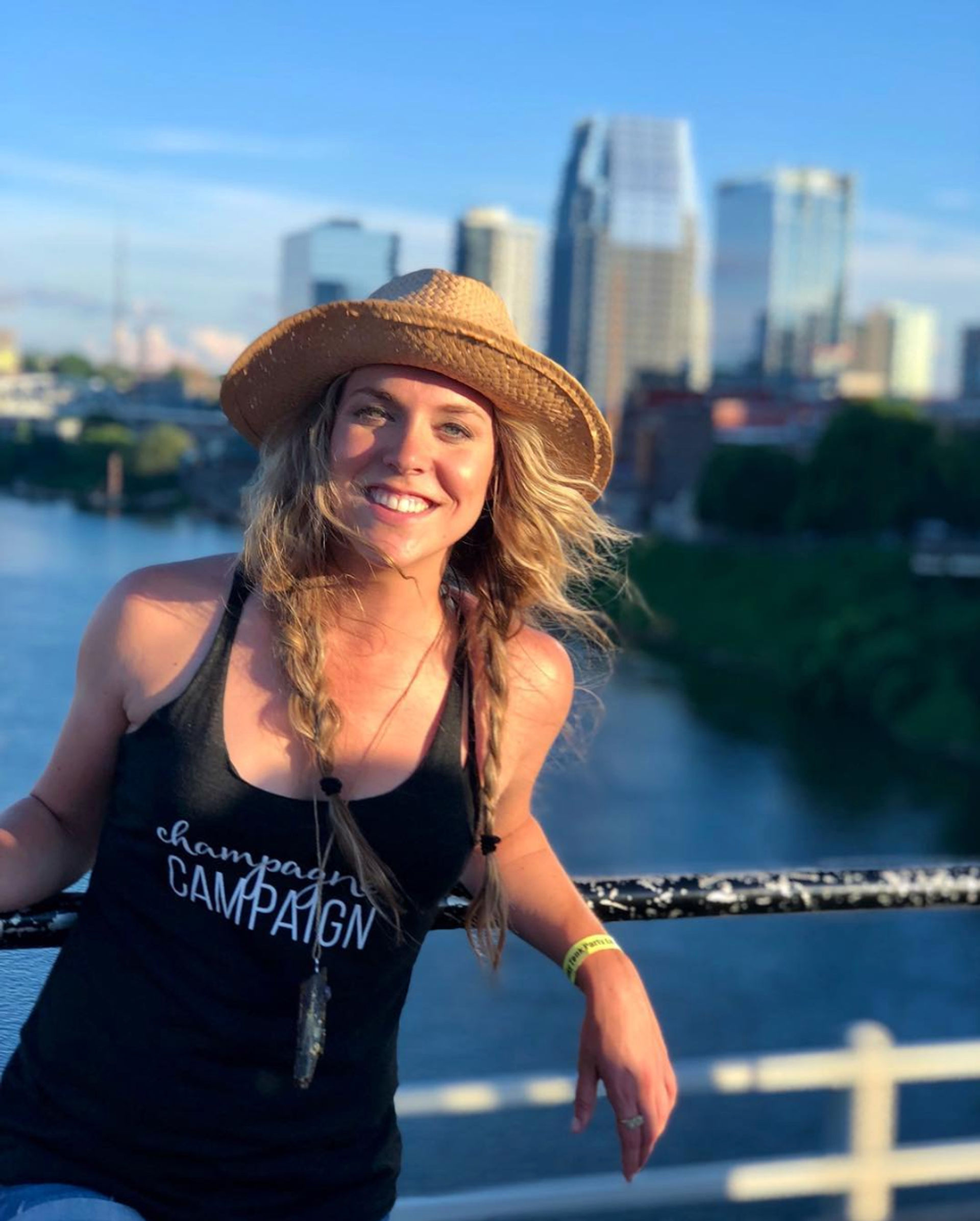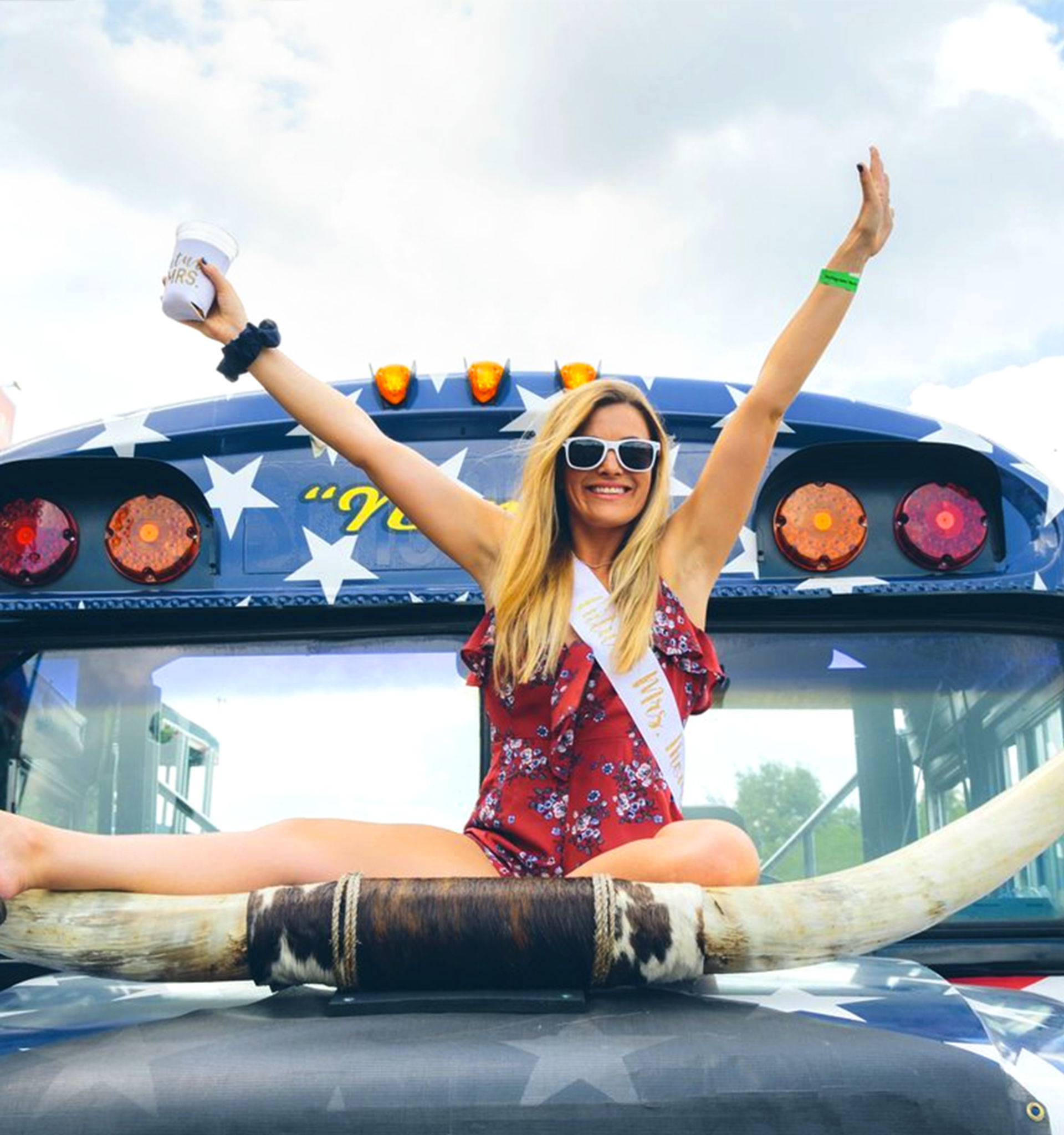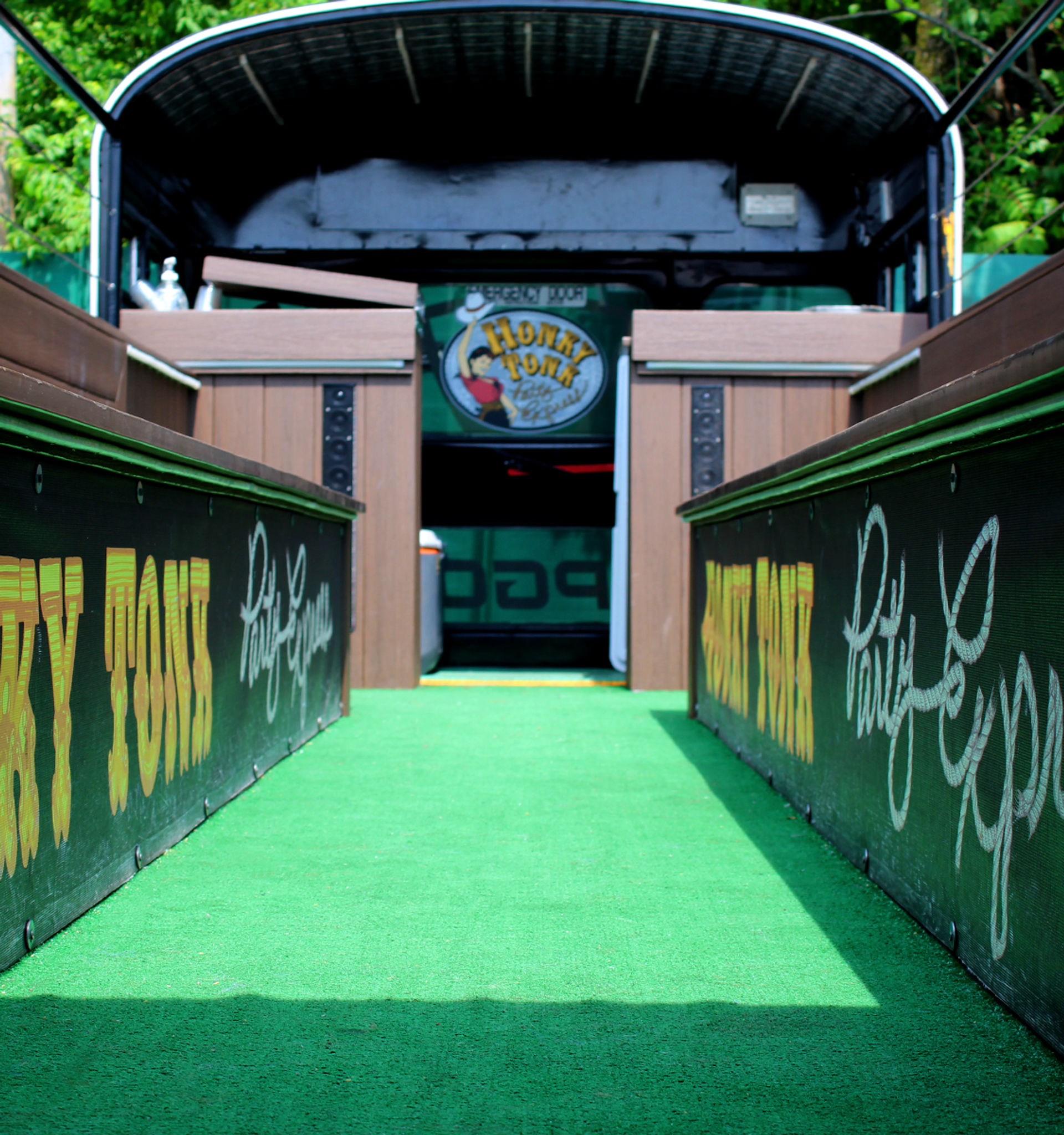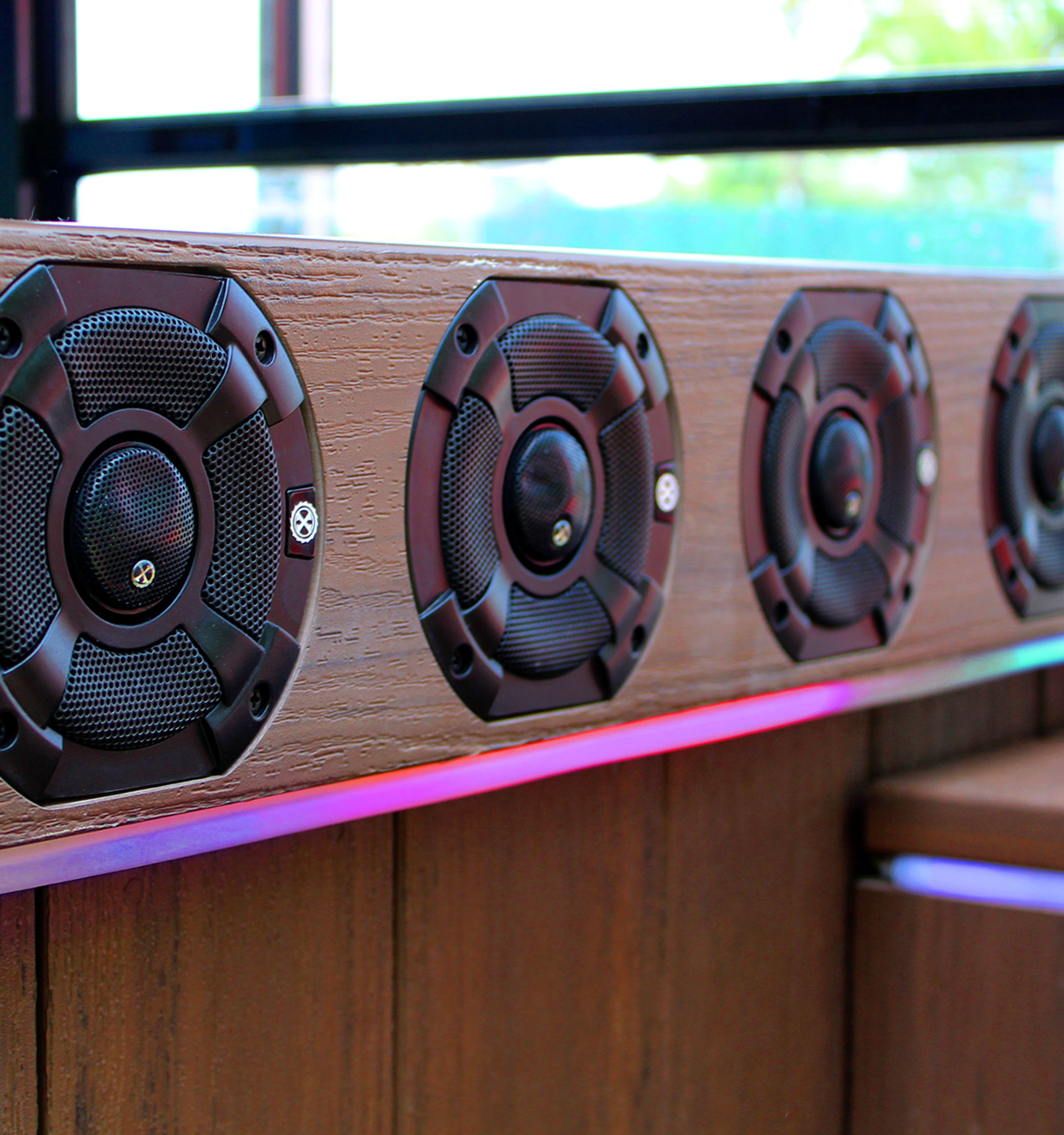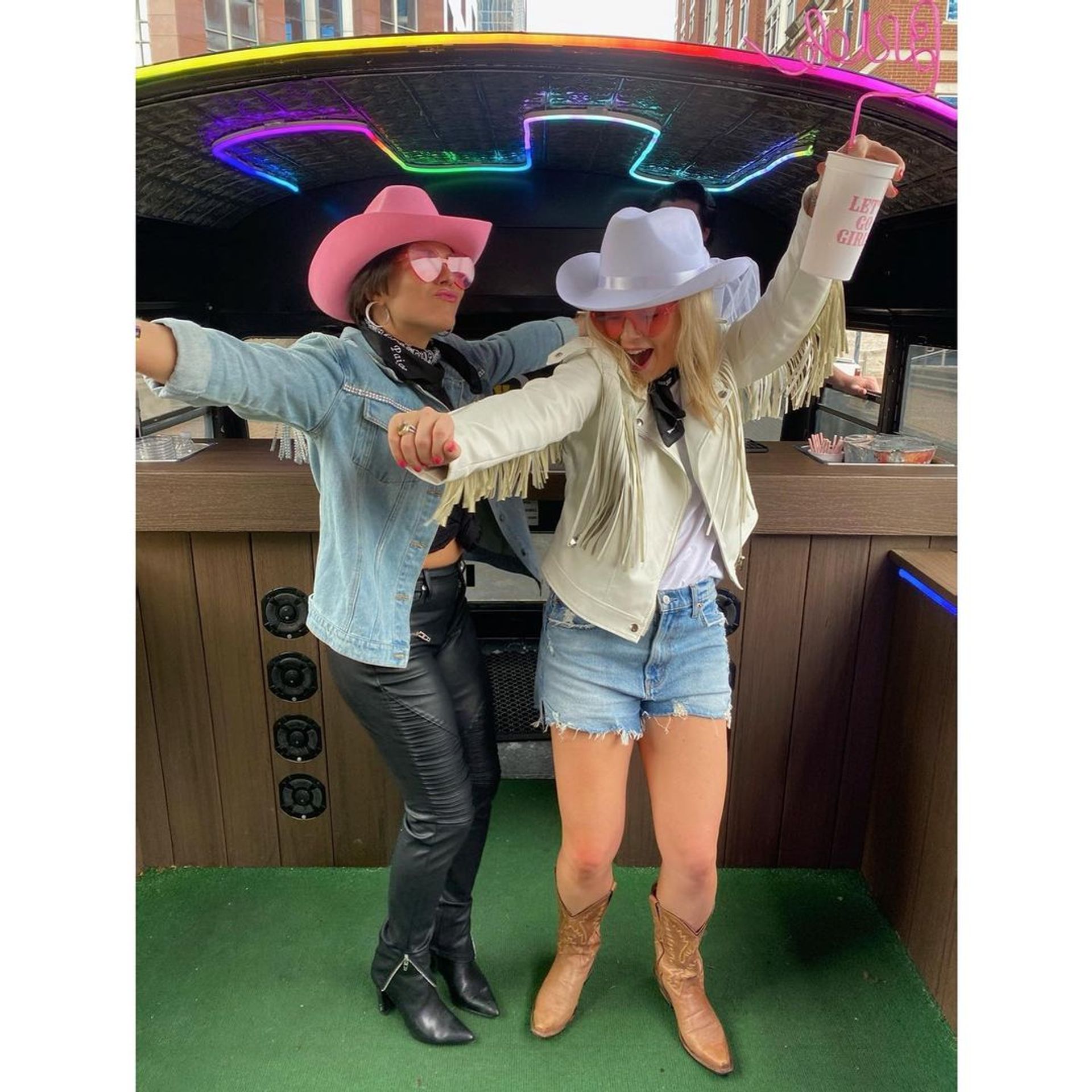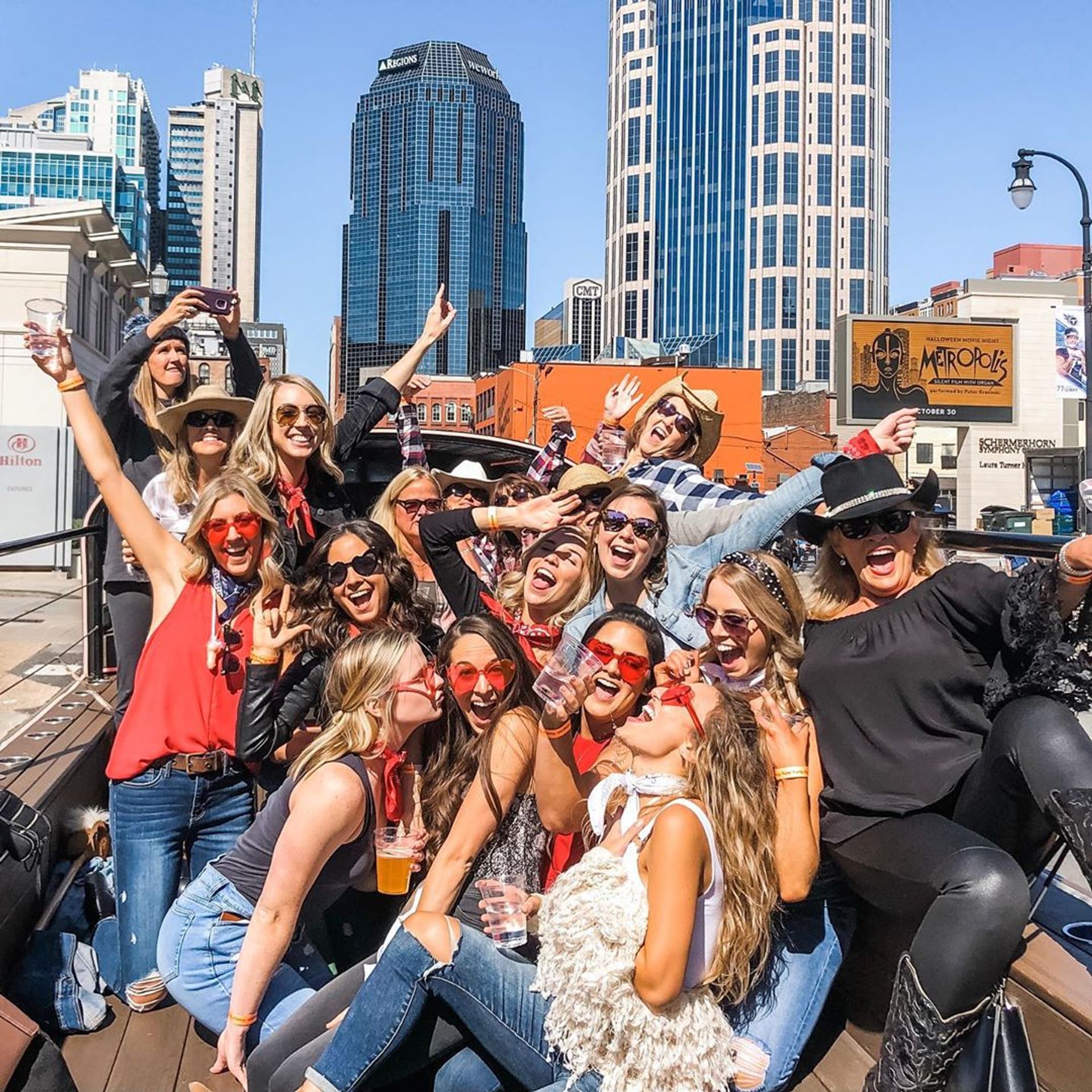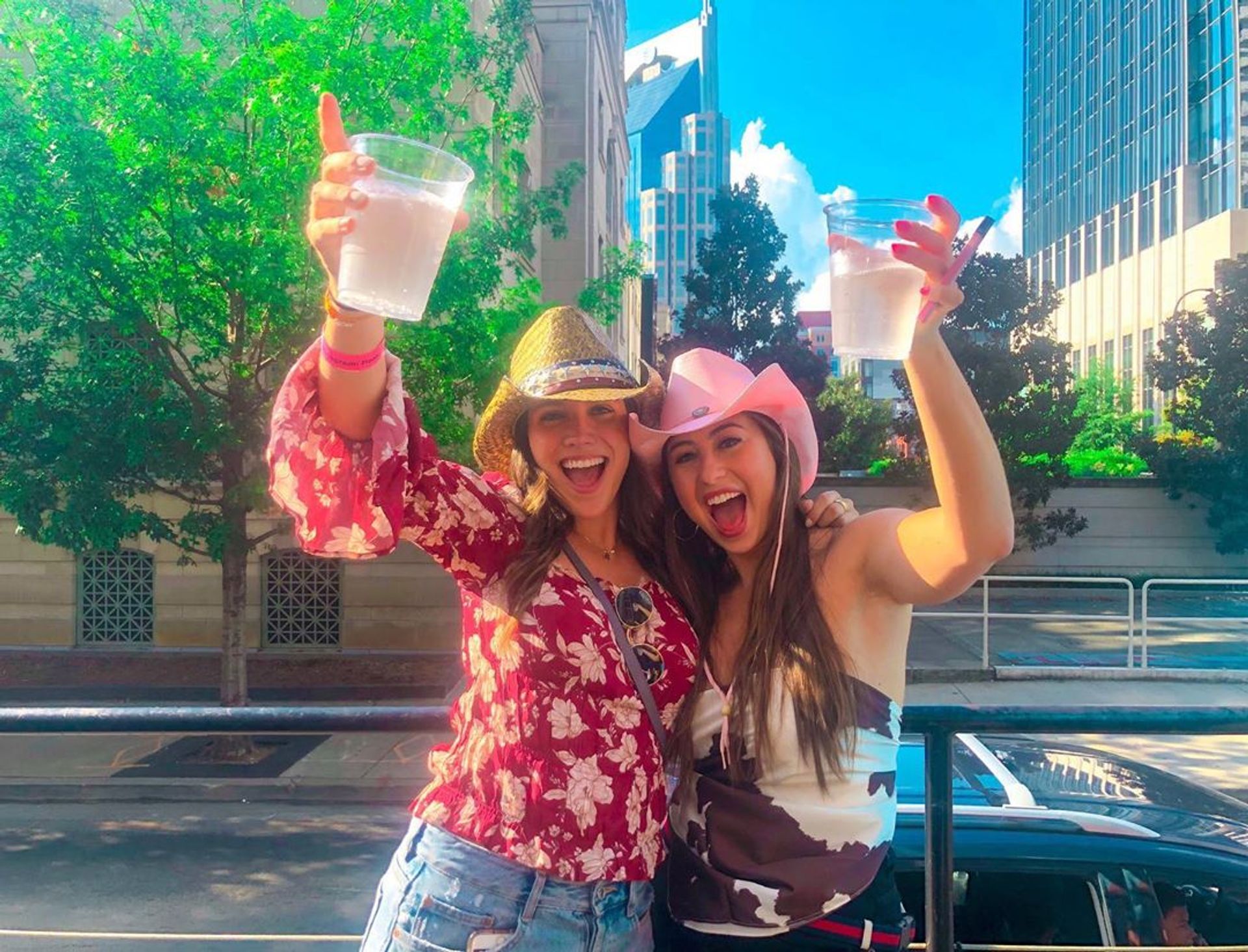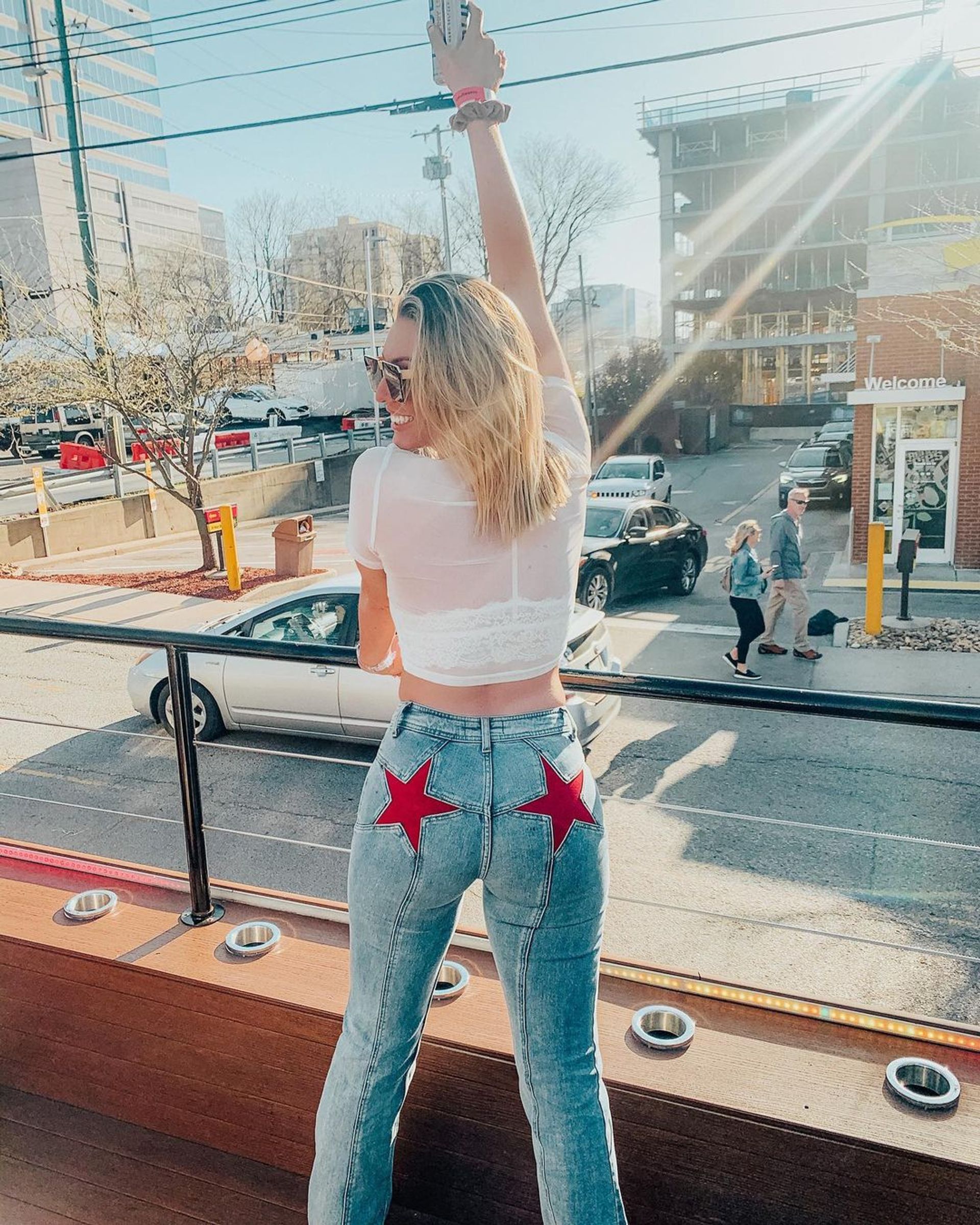 Honky Tonk Party Express — America's #1 Party Bus Tour
About this experience
What you'll do:
It's a BYOB party on wheels—need we say more? Your group will climb aboard America's #1 party experience: a 2-hour scenic tour of Music City on a custom-built party bus. Dance to your favorite beats with your own playlist, or use ours! And don't be afraid to jump up on those wooden platforms and stomp the yard like you're back in college—that's what they're there for.
Why we love it for your party:
VIP bartender included to serve your drinks (coolers, cups, and plenty of ice provided)
It's a dance party with cupholders (with an aisle for the party crew, wooden platforms, and LED party lighting)
Massive sound system (we were seriously impressed, and your group will be, too)
The ability to make it feel personal (decorations, booze, and music of your crew's choice)
FOMO proof (you'll leave Nashville knowing the party had a d*mn good time)
About this experience partner:
Honky Tonk Party Express is Nashville's #1 party bus company. With over 25 passionate employees, 10 party buses and a loyal following of clients, it's quickly become a staple of the Nashville party scene over the last 5 years. All buses are designed and built in-house by the HTPE team, ensuring each bus is in tip-top working order every day of the year. Once your group sees a few of these roll by, they won't want to miss out. And you won't want to be left on the street trying to handle a last minute booking. Secure your group's spot below!
Additional Information:
2 hours

Up to 25 party guests

BYOB; No kegs or glass please

Public tours are always 21+. Private tours can have guests under 21, but no alcohol can be on board.

All alcohol on the partybus must be 8% or under

Should you bring cash? Only to tip the staff to thank them for a superb job, and to purchase drinks during the bar pit stop if you wish

Rain or shine! Each bus has a temporary roof for rainy weather

Includes a stop for Nashville photo op and bathroom break

Please note: Due to recent laws established in Nashville regarding alcohol on party transportainment, a clear top has been added to enclose our buses and all Nashville party buses
Location
1343 Lewis St, Nashville, TN 37210, USA
Cancellation Policy
strict Cancellation Policy
This experience partner offers no refunds once the reservation is confirmed
Kierstyn G.
So much fun with a great bartender and a great driver!
Darian D.
Super fun! Definitely get the private bus if you have a bigger group.
Alyssa L.
This was by far the most fun our group had during our trip! I would recommend this to anyone!!
Kayla K.
Madison D.
Such a fun group experience! It was one of our favorite things we did in Nashville !
Amanda H.
Amazing amazing!!! This was the best night during our bachlorette! Driver and bartender made it enjoyable lots of laughs and dance moves riding around the city!
Kaysie H.
Would absolutely do the party express bus 100X over. Shoutout to Macy and Don for being the bomb.com!
Ella H.
We had so much fun! Definitely a highlight of our trip!
Courtney S.
My group and I had the absolute best time on our party bus! Jake our host, and Jamie our driver, were the ABSOLUTE best and we would request them again if we ever did a party bus in Nashville again. Only complaint is I wish it was 3 hours instead of just 2, 2 just didn't feel like enough time. Overall would highly recommend!!
Katherine C.
This is a MUST for all bachelorette trips. We had a great time ! I would recommend booking the private party so your bride and her party can enjoy the bus to themselves. We booked the private and we're so glad we did!
Madison N.
Jordan G.
Kristen
Kira M.
AnaKarla A.
Excellent for pregame. Do it at night so you don't get sunburn!
Sarah S.
Jessica M.
Jaylee H.
Tia B.
Michelle G.
Maryssa D.
This was a must do in Nashville! Easy to book and accommodating with multiple buses leaving at a time for parties. They drove us through downtown and stopped off at a fun little bar midway. We brought our drinks but they offer multiple options in their store before heading out. We had Ms. Angie and Ms. Key, they were the best duo! Our honky tonk was during the day in sweltering heat and we basically forgot about it because we had so much fun! Highly recommend.
Alexis M.
If you are even considering doing this, do it! Best part of the trip
Mariah K.
Klaira M.
Renee R.
Really fun! This is a must do when in Nashville
Vanya F.
Amber S.
Our experience was incredible!! We loved our driver, host, the stops, everything was planned well with the tour! We got amazing photos and videos thanks to our guy of our entire group which is so appreciated when traveling and celebrating!!!!
Emily P.
Gina S.
This bus was so fun! Was there for a bachelorette trip with seven girls. The staff was very friendly and attentive to make it the best experience
Hailley C.
Holly L.
Karissa B.
Definitely a must for a Bach. Such a fun time. The bartender was amazing. She took song requests. There's a bar/store at the pickup location to buy stuff. Will do again next time!
Hanna W.
This was SO MUCH fun. Our crew was fantastic and made the whole experience a lot of fun. These are very popular and now I understand why.
Helena R.
Great bartender and driver! Amazing views of downtown celebrating with friends!
Maria C.
We loved this! This is a must if your planning a bachelorette party!
roya a.
THE BEST THING EVER !! BOOKK THIS !! pay the extra money to get your own bus — it's totally worth it! our bartender was HILARIOUS and honestly made it a lot more fun for us. it was the best thing to end our trip with!
Michelle S.
SO MUCH FUN! Definitely recommend starting your trip with this ride!
Mackenzie B.
SO MUCH FUN! This was everyone's favorite part of our trip! Definitely do this while you're here!
Kaitlyn L.
BEST PART OF OUR TRIP. I highly recommend doing this no matter the size of your group.
Bimala
The vibe check was on point. I think any kind of Bach Parties would love this Party bus. If your thinking about it, this is it! We had a small group so we were paired with three other groups. So much fun 🤩 I feel like it was the highlight of our Bach trip.
Autumn C.
So fun!! They also have a store there before you get on the bus- has all sorts of party favors and alcohol to purchase.
Amanda C.
THE BEST THING WE DID!!!!! great service and an amazing time
Kalarina M.
Literally the best time of all time! I highly recommend!
Loren L.
So much fun! A must !! Definitely made the trip
Kelly R.
We did this on our first night in Nashville and it was the perfect way to start off our trip! Our bartender Ally was so amazing- she got us all hyped up and played such fun music!
Madison V.
Katelyn V.
Anna B.
Logan Q.
SO MUCH FUN! I would definitely recommend doing this as a daytime experience so you can actually see everything you drive by. They accommodated our large group of 18 well & we used their shuttle service throughout our entire trip!
Regan W.
DO THIS! The highlight of our trip! So much fun and worth every penny!
Nicole G.
This was one of the highlights of our trip! The staff was so sweet and accommodating! Highly recommend!
Amelia B.
Alli D.
Amazing! Athena our bartender/party starter was incredible! Had the most fun! Best way to see and experience Nashville! Our bus driver was also the best!!
McKenna S.
So easy to book through the app & even easier to check in at the actual bus barn area. The whole process is very smooth & it was a great time.
Brittaney Z.
Maci G.
FIVE STARS MUST DO if you're coming on a party trip!!!!
Melissa H.
This was by far our favorite thing we did in Nashville! We had Austin as our DJ/bartender and Angela as our driver and they were both the best! We didn't have a playlist, but Austin still took our requests and had a playlist made as well! We should've made a playlist to help him out though bc there's spots with little to no service. We had an absolute blast. Must do.
Rachel M.
People were pretty responsive. Trista was amazing!our group had so much fun and this was the highlight of our trip! Even our non-party peeps let loose and we're dancing and had so much fun! The checkin area was super cute with lots of photo ops and cute merch. We totally wanted to book this again with Trista for the next night! Our driver was the sweetest too! Definitely a must!!!
Reagan E.
Leigh S.
Jordan W.
This was probably the most fun we had on our trip! Our bartender, Kristie was great and we truly had a blast dancing and singing all around the city
Kenzie M.
Best experience ever! Highly recommend
Bri W.
Loved this bus! It was so much fun and our bartender Corbin and bus driver Jenn were so nice and fun!
Monica B.
This was so much fun! Definitely worth it to dance with your best girls.
Shelby W.
Amazing experience we had so much fun!! Will definitely be booking again next time in Nashville 💓
Hannah W.
This was by far some of the most fun our group had in Nashville over the weekend! Our bartender was awesome as well as the driver! Would 100% recommend to anyone!
Emily
You have to this with a large group! Lots of fun for 2 hours of dancing and living it up on the streets of Nashville
McKenna M.
This was one of the highlights of our trips! Due to cancellations of OTHER reservations, the honky tonk party express was soooo accommodating and helpful! the driver and bartender were both so incredibly nice and created such a fun time for us to enjoy! Friendly reminder: please make sure you tip them! the other group we were with did not and for the amount of fun we had it was sad to see! amazingly nice people and loved every second of it (felt like we were there for 5 minutes) totally worth it
Kristina B.
This was by far the best experience our Bach group had! There's a bartender on the bus that serves everyone their drinks, and also DJs for you. 10/10 experience. A must for any Bach party!
Breleigh L.
The Honky Tonk Party Bus was seriously so much fun! Our bartender Kayla definitely matched our energy and kept the music going the entire ride. Absolutely recommend! You won't regret it!
Allison K.
All bach parties should do this! So much fun.
Kendall M.
This was a great experience if you want to drive around town dancing on the bus with your group. The selfie stations before getting on the bus were a great touch too!
Georgia O.
Highly recommend! We had a group of 15 women and this was a really great way for all of us to party together on broadway saving money on drinks and not worrying about the lines and staying together
Andrea V.
We had the BEST time on our bach trip with the Honkey tonk!! Highly recommend this really gets the party started
Emily E.
Bartender Trista was AMAZING!!! Driver Tom was AMAZING! The highlight of our trip by far SOOOOO MUCH FUN
Melissa R.
This was the best activity we booked on our trip! We had an amazing time singing and dancing to music on the bus and people on the street. Our bartender Kayla was amazing, and played a great playlist of 90's/2000's throwbacks that kept us jamming! We got a nice breeze on bus. It was a cloudy day when we did it, so it wasn't too hot. We booked a 10:30am slot. It was worth waking up early to start the day on the party bus!
Kali E.
Our driver and bartender was top notch! Such a blast.
Megan
Bachelorette party's are a must. We had the most amazing experience and it was awesome to be up and down broadway on the bus blasting music and dancing. We would highly recommend doing this while in Nashville.
Kelsey H.
Seriously, such a fun time! We shut down our Nash trip with this final tour and it was such a blast! Bartender played music, and made sure no one was empty handed 🍹 Tour dropped is off in downtown so we could bar hop afterwards!
Taylor C.
The most fun experience we had in Nashville!
Samantha L.
This was incredible - highly recommend the private bus. We had 7 girls and the bartender was amazing, dancing and singing with our friends and everyone we passed was so much fun. One of the highlights of our trip.
Kelsea M.
Absolutely amazing Angie the driver and D the bartender were incredible! Worth every penny
Sydney L.
The host was so much fun. The environment was great. It was literally two hours of dancing and singing with my girls.
Lauren D.
I've done 3 different party buses in Nashville now, and Honky Tonk Party Express was BY FAR the best! We had an amazing time, the bus was clean, fun and safe. The operation at their pickup location was super smooth and we can not say enough amazing things about our host/bartender Kelly! We are all obsessed with her. She made it the best trip ever!
Brittany W.
Literally the BEST time—you won't regret any money spent here! It was a smooth process once you get there and hop on the bus it's party time!! I def suggest this for any visit to Nashville no doubt.
Scottilyn L.
MUST DO!! I will recommend it to everyone who visits, especially for girls trips!! We got a private bus and had the best time!! Our bartender and driver were so fun and welcoming! We could have stayed on it all night!!
Hialyn M.
A blast here!!!! I wish we had this in the tri-state area. The best part is you can make your own playlist, bring snacks and your own booze!!! We enjoyed this very much!
Chloe S.
This was amazing and the most fun part of our weekend! Miss Sherri was the best driver - hilarious and so nice! 10/10 would do this again next time I'm in Nashville.
Renee H.
Kelly G is the best bartender, photographer and life of the party motivator! Ashley is the smoothest driver ever. I was concerned there would be jerk moves that would not allow for standing and dancing but that was not the case. Definitely a must due function when in Nashville! Our Bride to be loved it !
We had a BLAST on our private honky tonk bus experience with Kelly G for my friend's bachelorette! She made sure our drinks were constantly replenished and had some great tunes playing. We all lost our voices from singing along. She even took pictures and videos of us throughout so that we wouldn't have to! Would definitely request her again when we come back!!
Cindy W.
So much fun riding around Nashville and interacting with people on the street. Michelle was a great dj/bartender.
Kinsli H.
The party bus was one of the most fun experiences we had over the weekend!! I wish we had more time on the bus it was awesome!! Highly recommend
Angelica R.
I would recommend this for any party! My bachelorette crew loved this! Kelly G. And Ronnie the bus driver were the best duo!! They made our ride amazing!
Aleyda A.
Highly recommend!! Had such a great time, any bachelorette party would most certainly enjoy this tour. Our host took lots of pictures and videos of our group during the trip. 😁 I would totally do this again!
Jocelyn B.
This was an absolute blast! I would do this even with out having something to celebrate it was just an awesome time!
Haley B.
This was a great time. Our Bartender Austin made the whole trip. The music was fantastic! And an all around great way to dance and see the city!
Jennifer L.
This was honestly the best part of the entire trip and so glad we did it! Our bride had a blast and the 4pm tour was the best.
Marisa B.
This experience was well organized and super fun. Once you stop thinking about people looking at you and just let your hair down and have fun this was great. A couple drinks never helped more!!
Corynne H.
We had such a FUN experience!! I would 10/10 recommend this if you are looking for a fun time and a party vibe! We went for my Bachelorette party and wish we could've done it every night!
Ewelina
This was by far my favorite activity I've done on a bach trip! I love that you can just dance and drink without worrying about peddling. You provide the alcohol and chasers but they give you a bartender. The bartender will also play the music playlist you want! it's so nice.
Lauren S.
A MUST DO!!! It was THE MOST fun I've ever had in my whole life! Me and my girls were #livingourbestlives 💕 be sure you request Kelly G as your bartender, she made this experience AMAZING for us!
Rachel C.
RJ was great! I highly recommend honky Tonk for Bach!
Holly E.
Great way to have fun as a group and explore beautiful downtown Nashville!
Nicole H.
This was everyone's favorite experience the whole weekend! An amazing way to see Nashville and let loose!
Katie R.
It was the best thing we did the whole time!
Makayla
We LOVED the honky tonk party bus!! Soo muchh fun!
Cassadie
The best decision we made when planning our trip was booking the party bus! It was the best part of our trip!!!
Emma M.
Can't recommend this enough--the best thing we did this weeked. Everyone had a blast! The bartender was super funny and kept the drinks flowing. Also was an incredible DJ! Best part--having the crowds on Broadway cheer and gas us up while we let loose on the bus!
Alicen S.
SO much fun. We wish we could've done it 2 nights!
Isabel M.
Best time! Honestly the perfect Bach activity for anyone looking to bop around Nashville and have fun with your group!
Paige B.
Paige R.
This was honestly the best part of our weekend! Be ready to drink a lot, sing a lot, and make a fool of yourself. 100% recommend doing it at night and then going out!
Jayla W.
If your Bach party likes to party hard this is the perfect event for a sunny day in Nash
Emily M.
This was by far the best part of our trip!!!! We were in town for my bachelorette trip, and this was the highlight :) it was so fun riding around town and dancing in the open air bus!! Our bartender Cat and driver Kim were amazing! We would've booked twice in one week if it wasn't already fully booked! 10/10 would recommend!
Alex W.
So much fun! Our bartender was amazing and we had a total blast.
RaeAnn o.
We had the best time! The girl who worked on the bus was so fun and she played such a great playlist for a girls night out! Would 10/10 do it again!
Gabie A.
Best thing we did this weekend!!
Mike
Music gets loud and we could play whatever we want. You will be the center of attention on this thing
Megan M.
SO MUCH FUN. A must do if you are in Nashville with a group of friends
Morgan H.
This was so incredible! The girls in my bachelorette group truly had the BEST time. It was, by far, the most memorable part of our trip! We enjoyed it so much on our private ride the first time that we booked a public ride directly after, so that's two back-to-back trips out on the Honky Tonk bus! 12/10 recommend this to anyone looking to have a good time, don't miss out!
Book Your Experience
Choose a Booking Option
2 hour public (shared) party bus tour of Nashville. Up to 25 guests per bus.
See Availability
---
Private Party Bus (Monday-Wednesday before 8:50PM)
Weekday pricing includes Monday to Wednesday for reservations before 8:50PM.
2 hour private party bus tour of Nashville. Up to 25 guests per bus.
See Availability
---
Then Select Optional Add On's
The optional "Travel Protection" plan adds a layer of protection to our guests for a full 100% refund in the event you can not attend your reserved tour time due to extenuating circumstances.
The Travel Protection Plan ensures our guests a 100% refund up until 10-days prior to the reservation date/time. 
Cancelled Reservations are 100% NON REFUNDABLE without the Travel Protection Package.
Book Now
---
Why Book With Batch?
All Your Parties on One Account
With over 30 cities and counting, you can plan all your parties on Batch. We'll save your information and preferences to make booking a breeze.
Party Planning at Your Fingertips
Download our app for access to party planning tools like polls, shared itineraries, and expenses.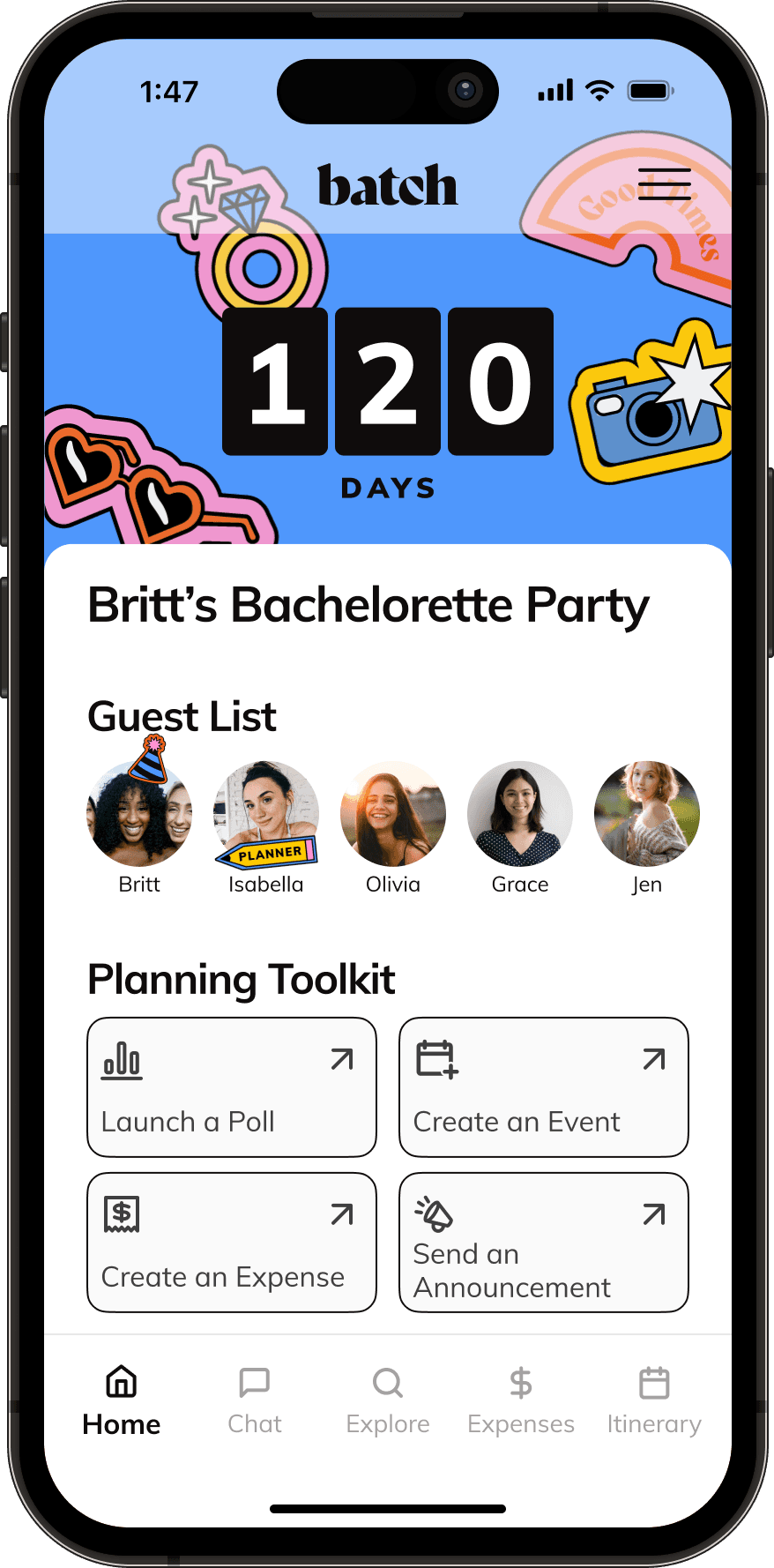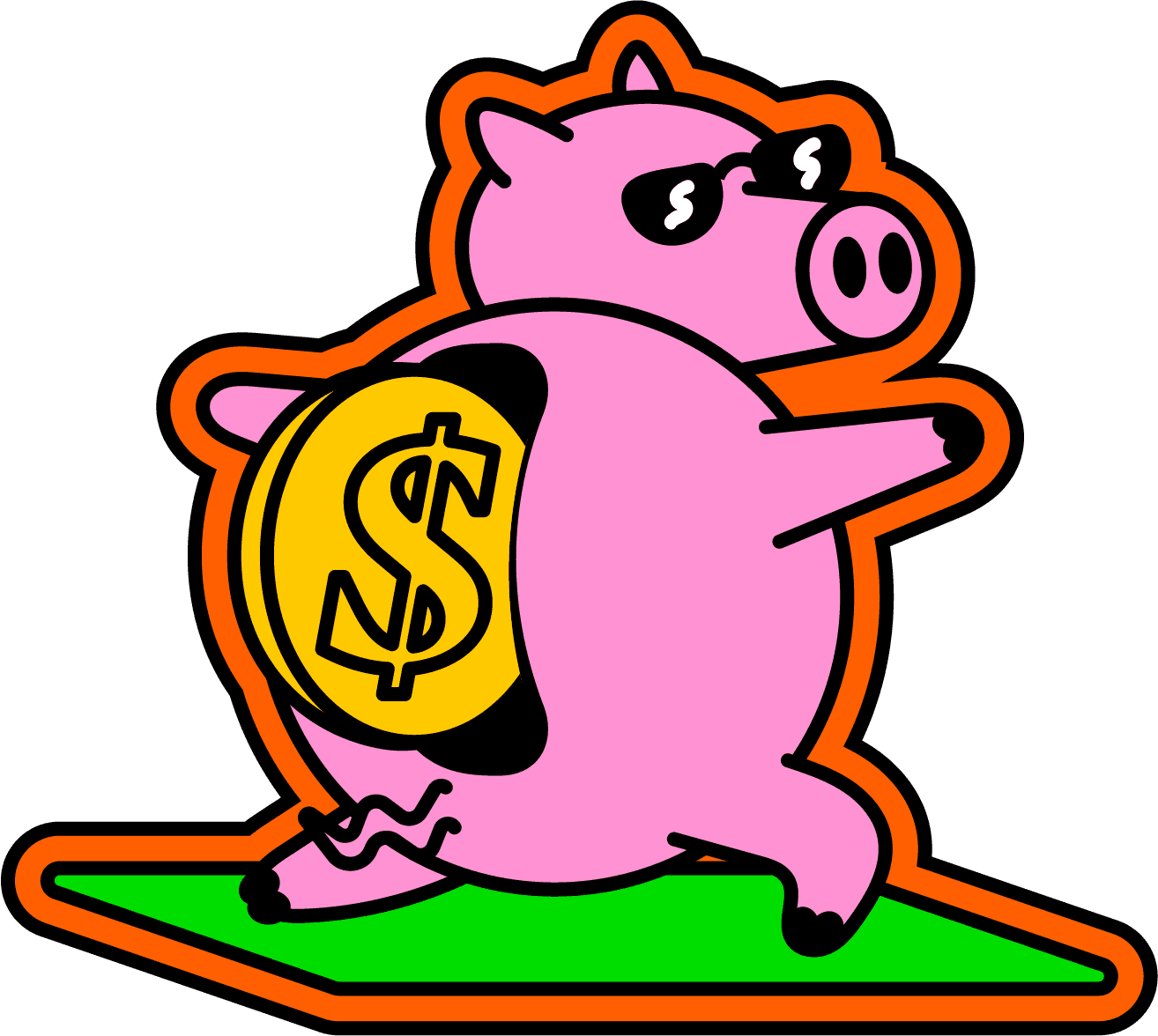 Book More, Save More
As a Batch member, receive exclusive discounts and first looks to our best party experiences! From transportation to private chefs, we're here to help.