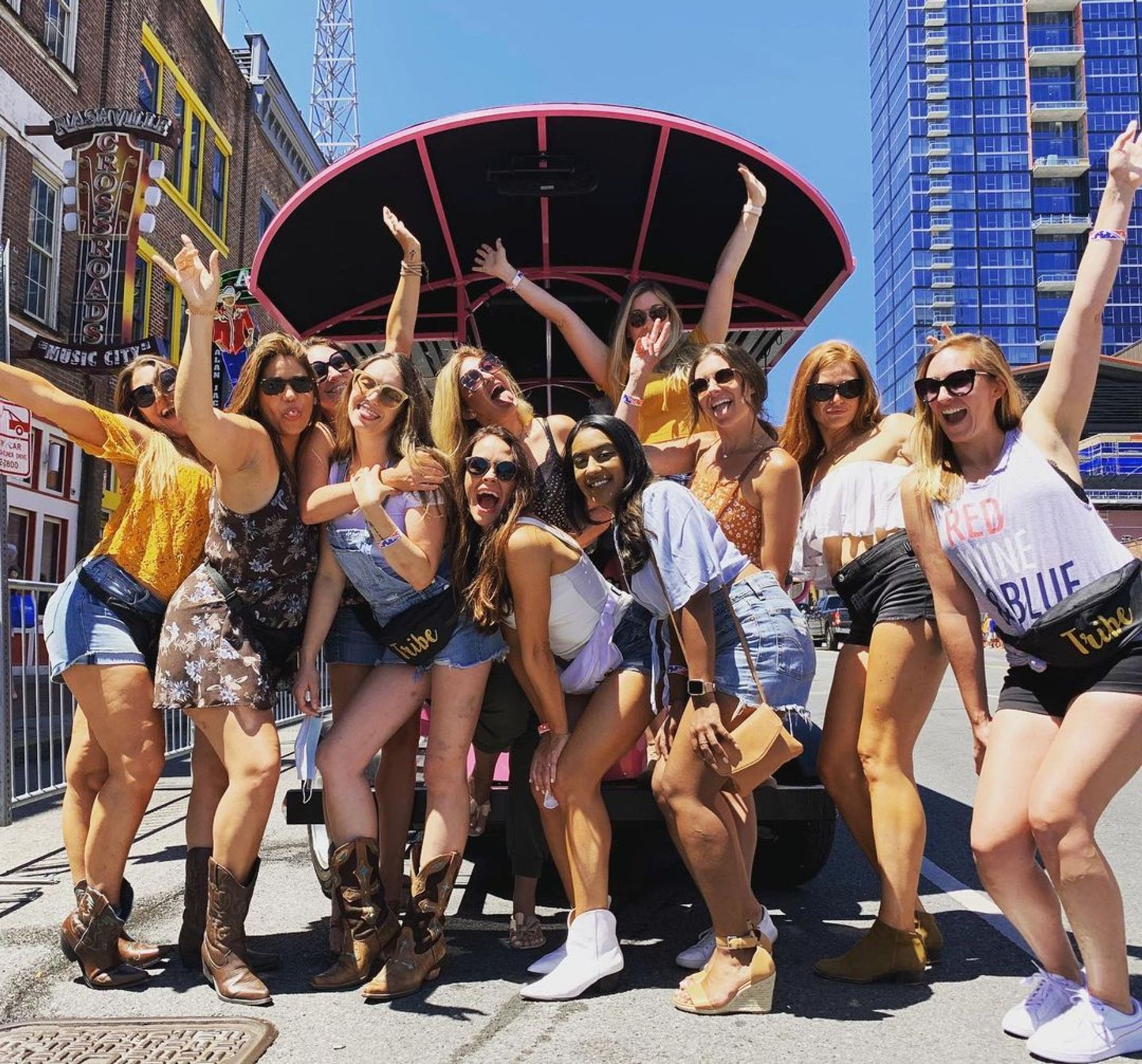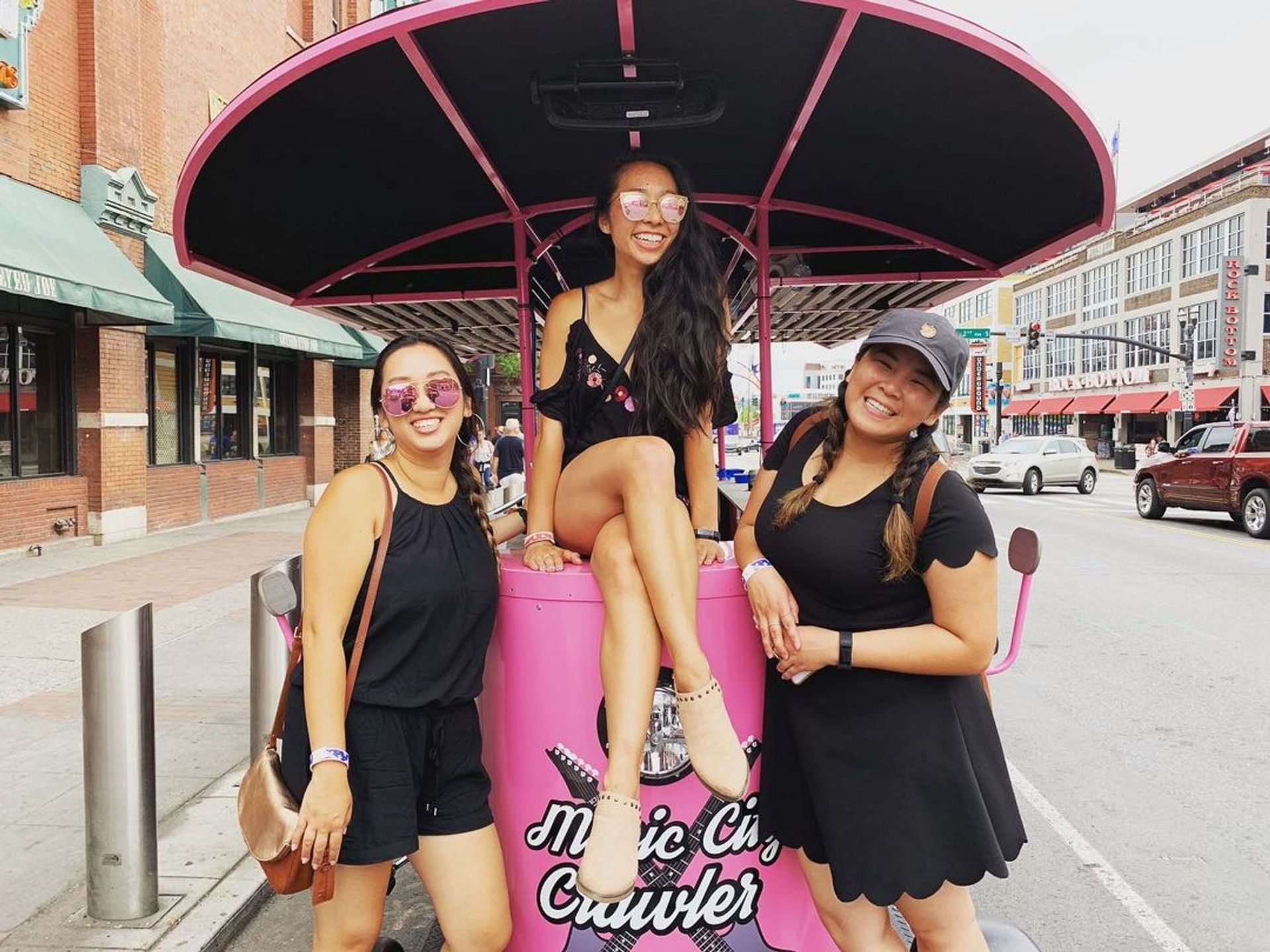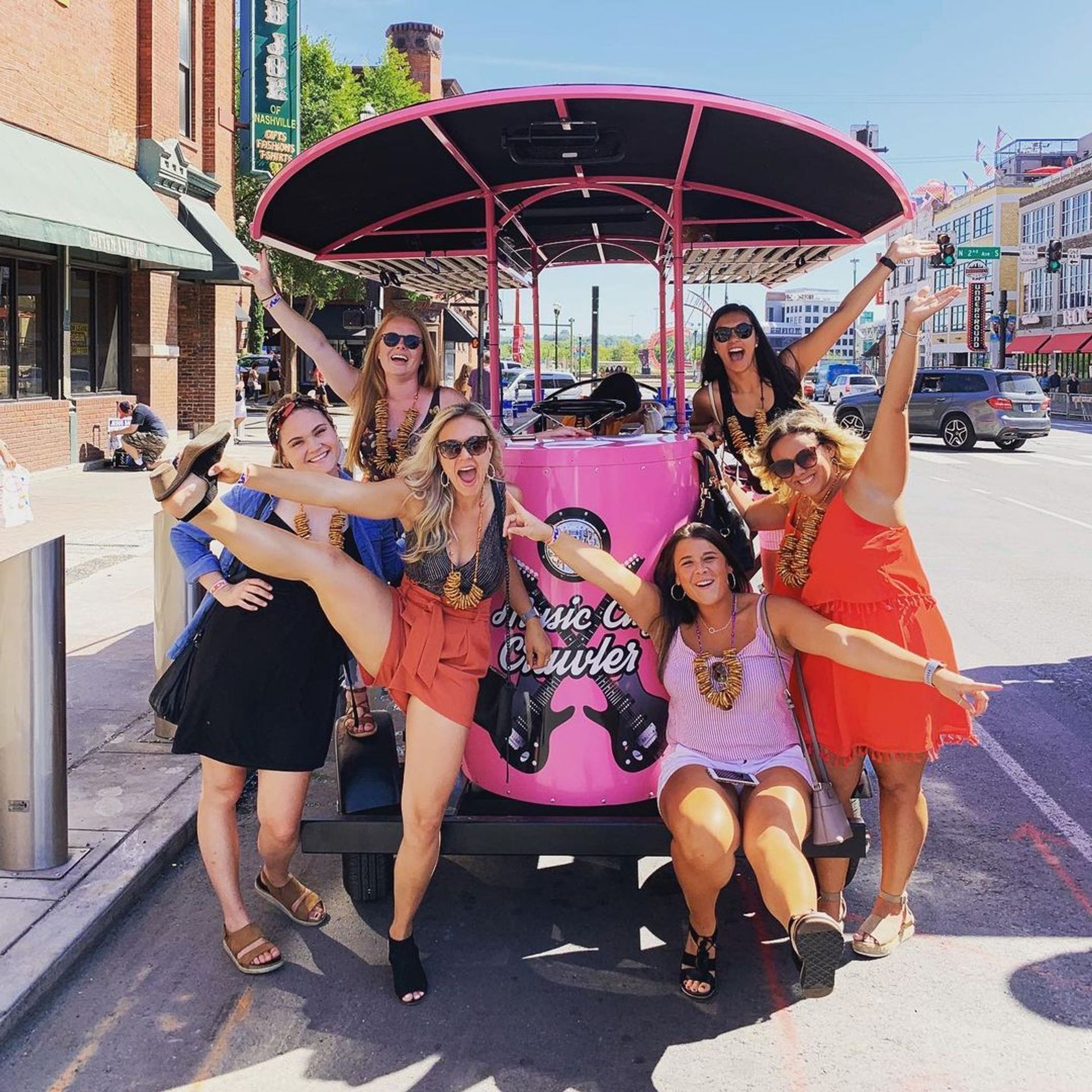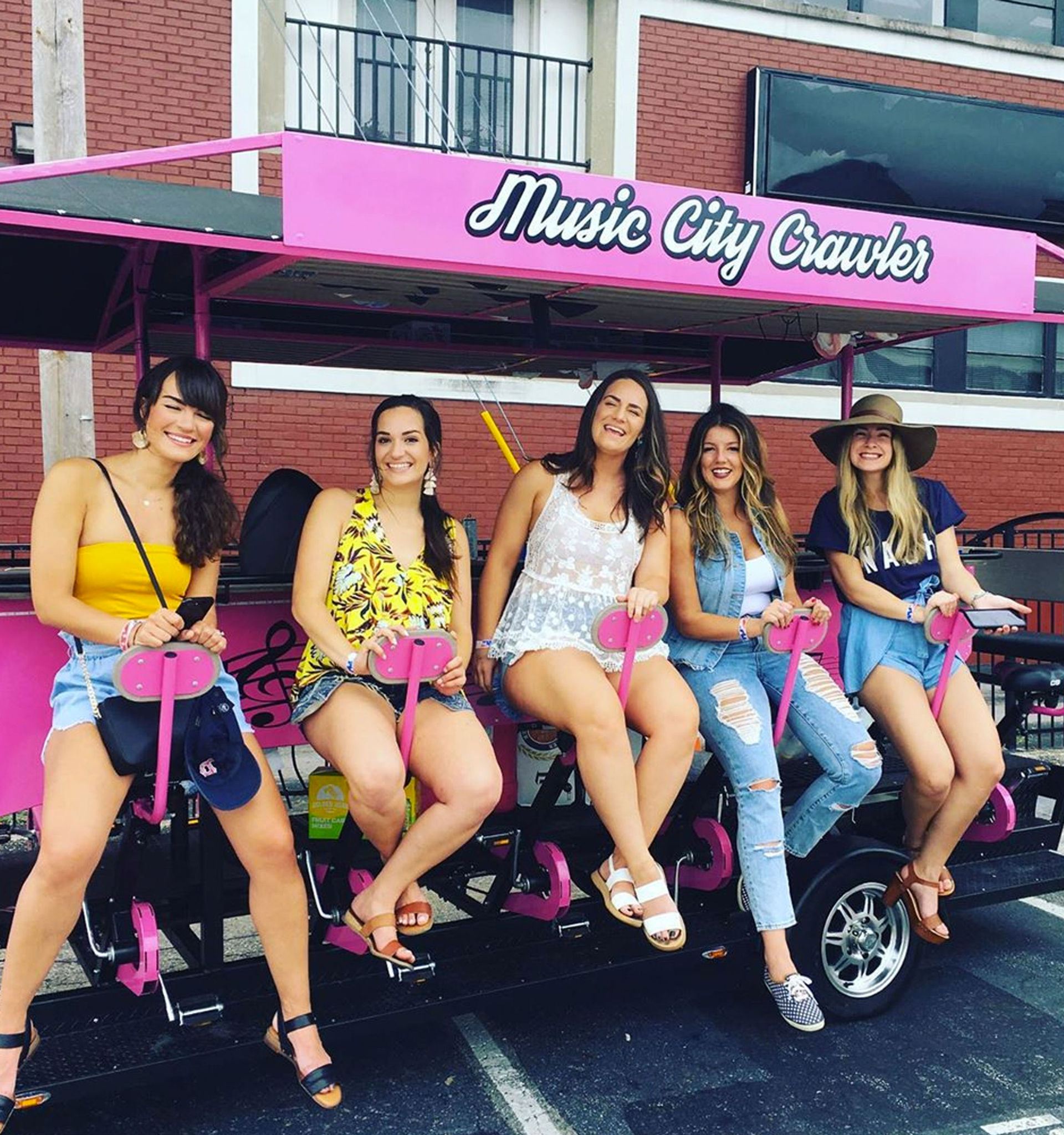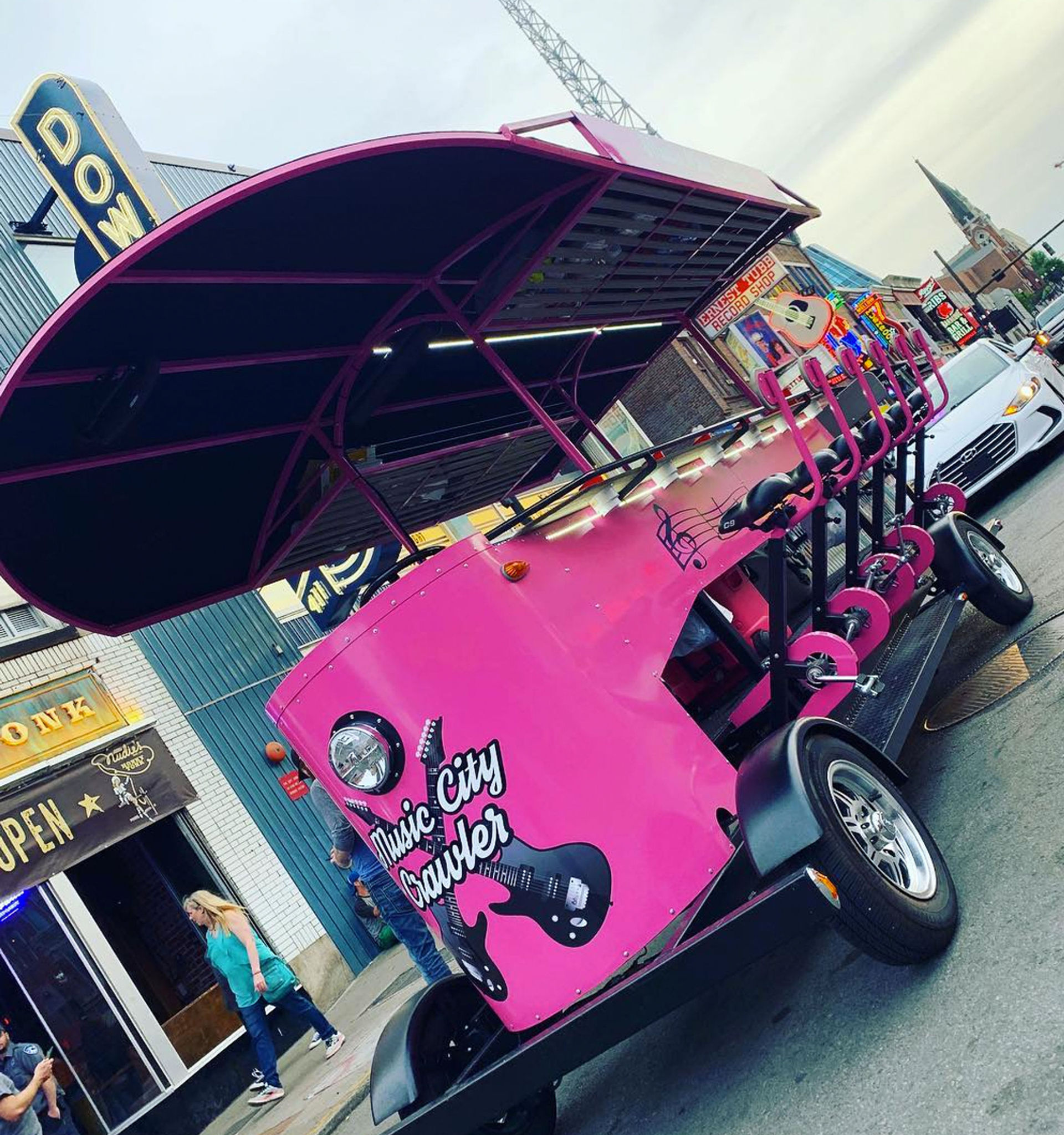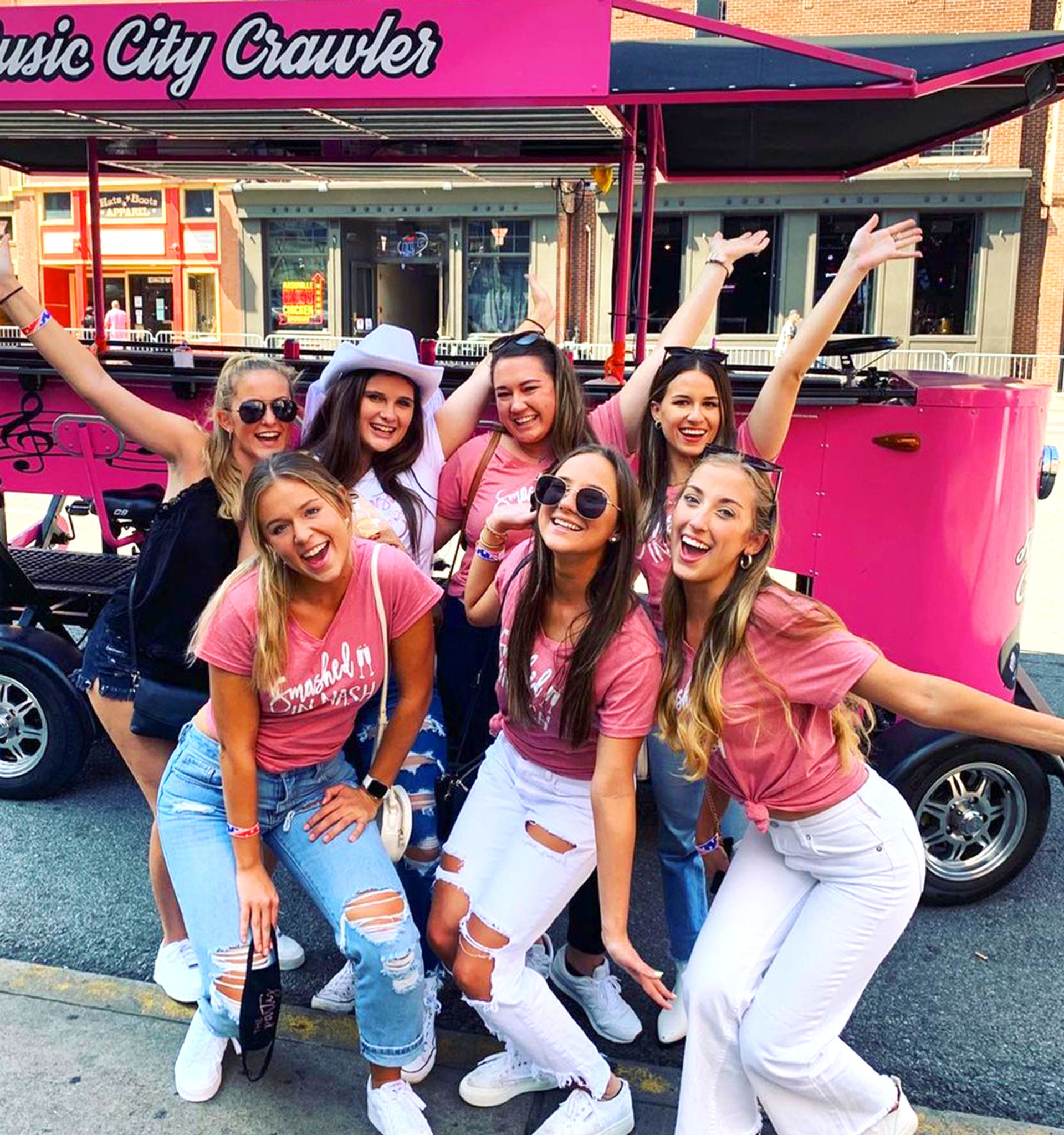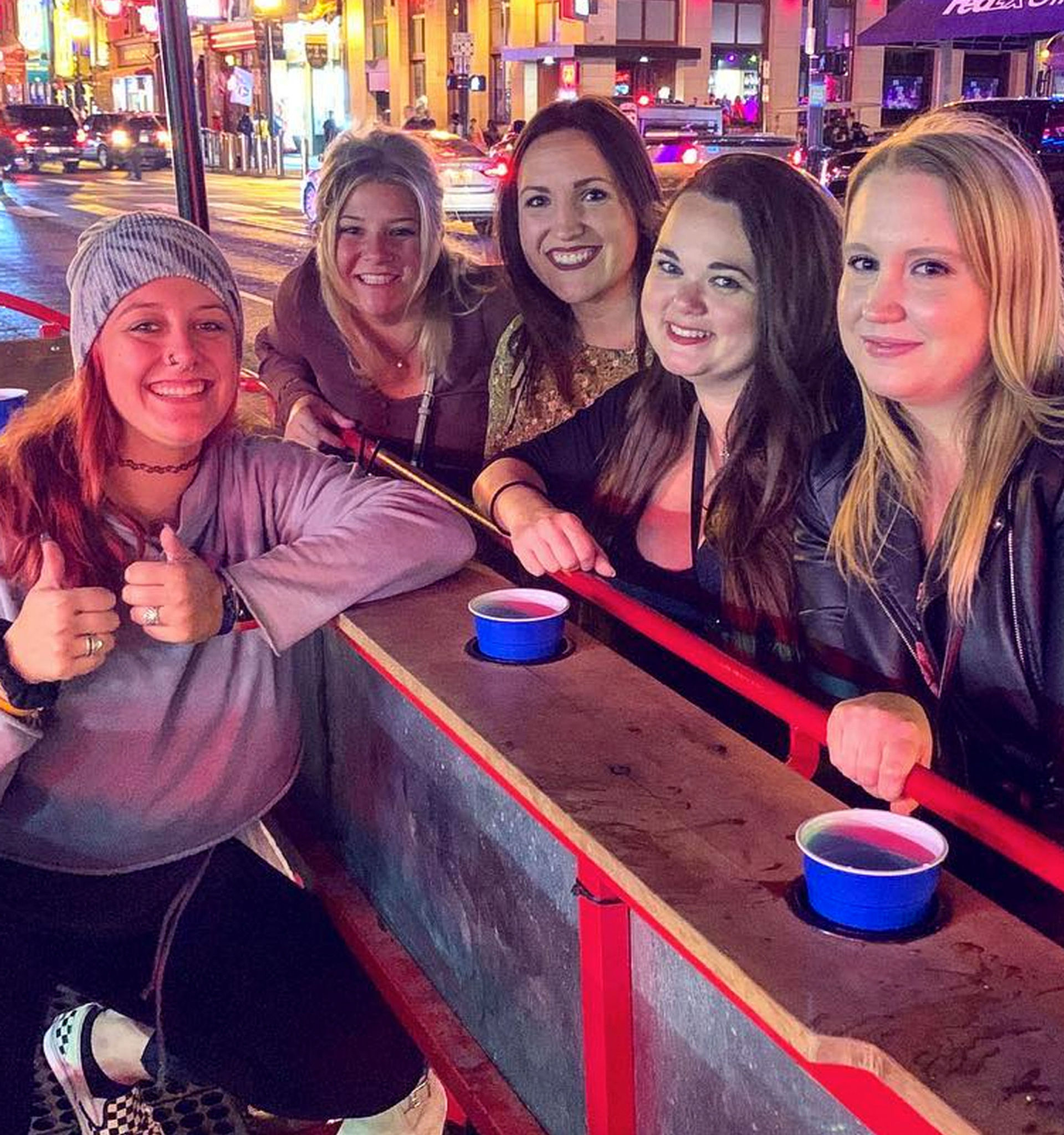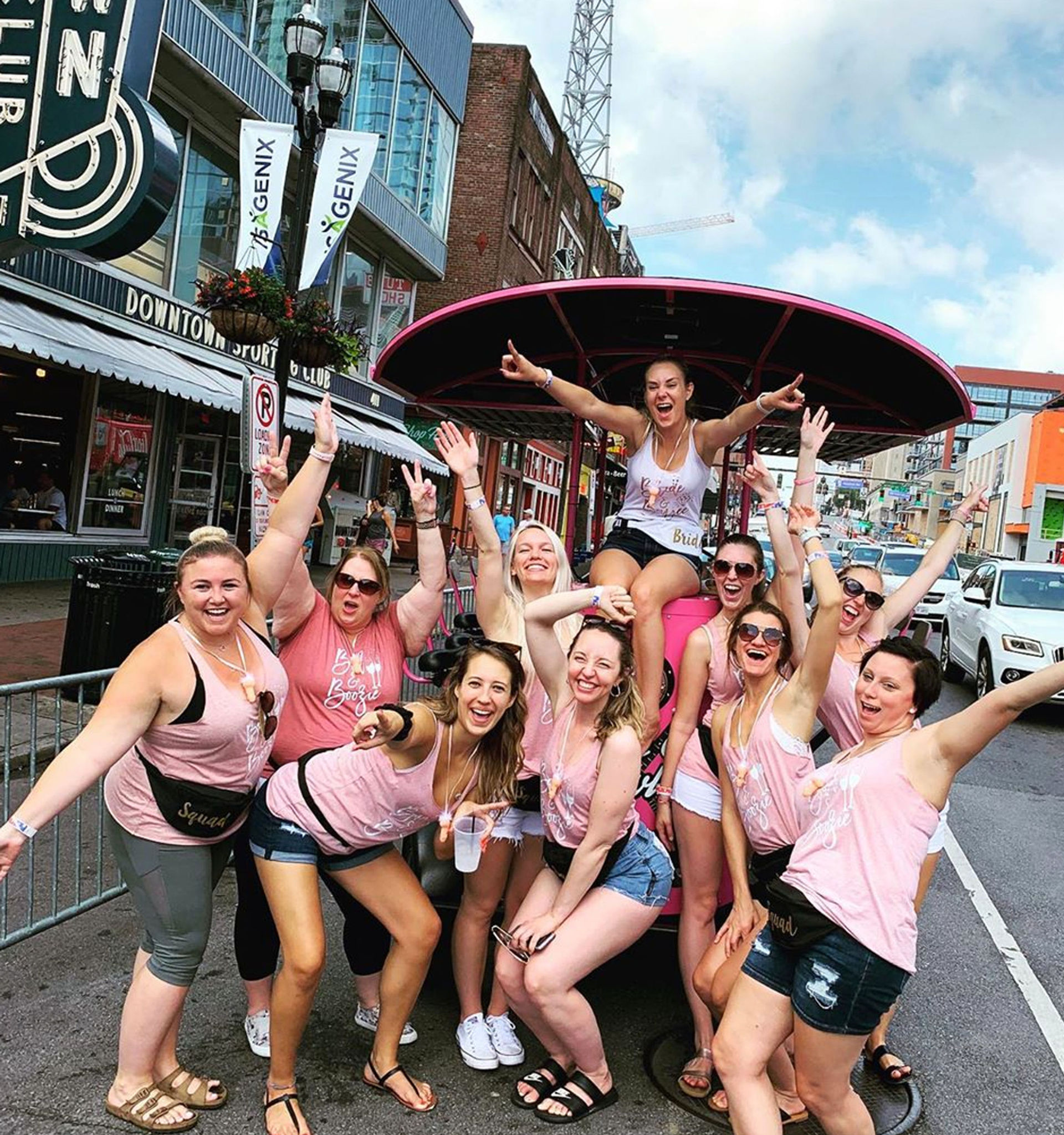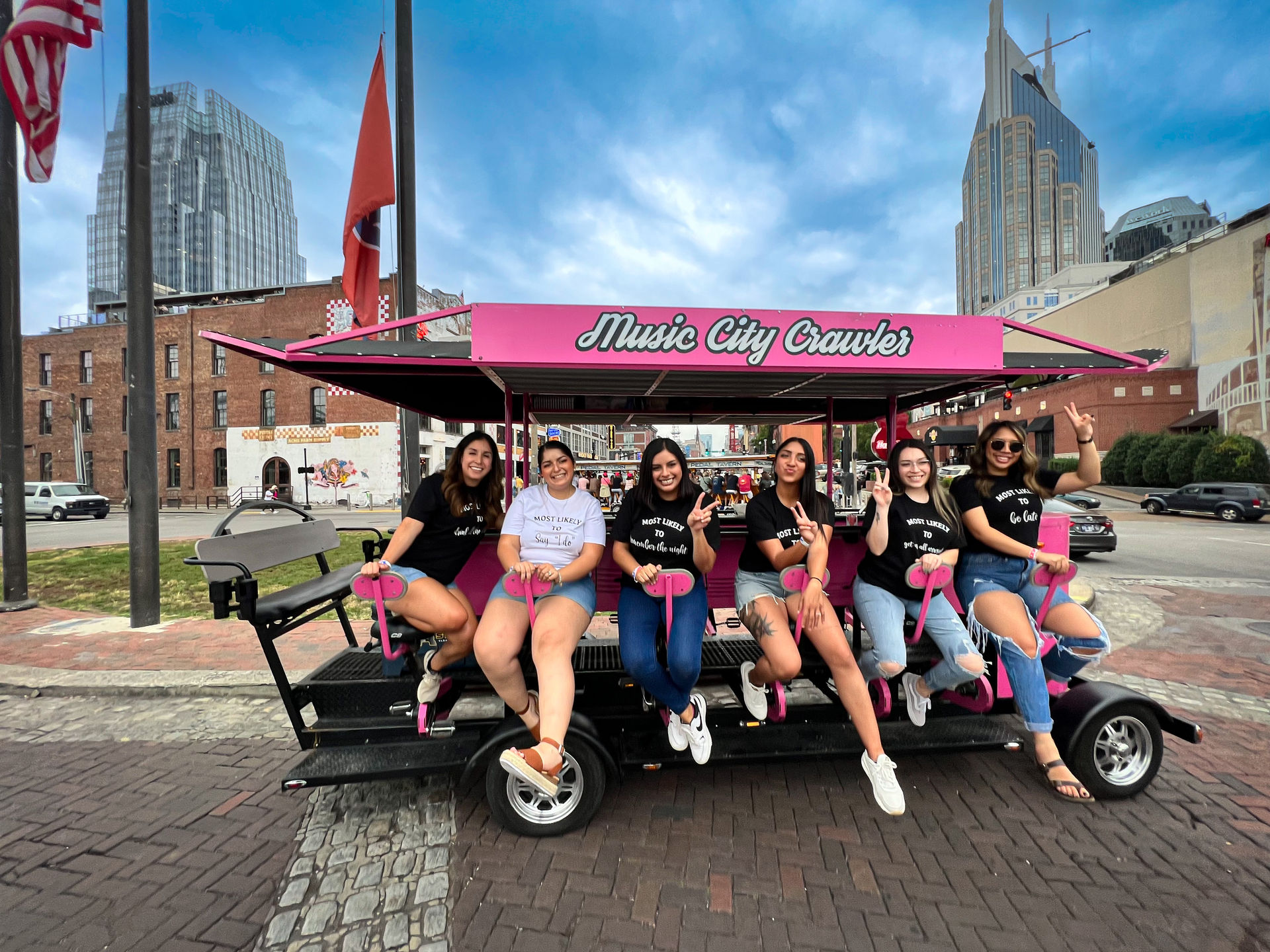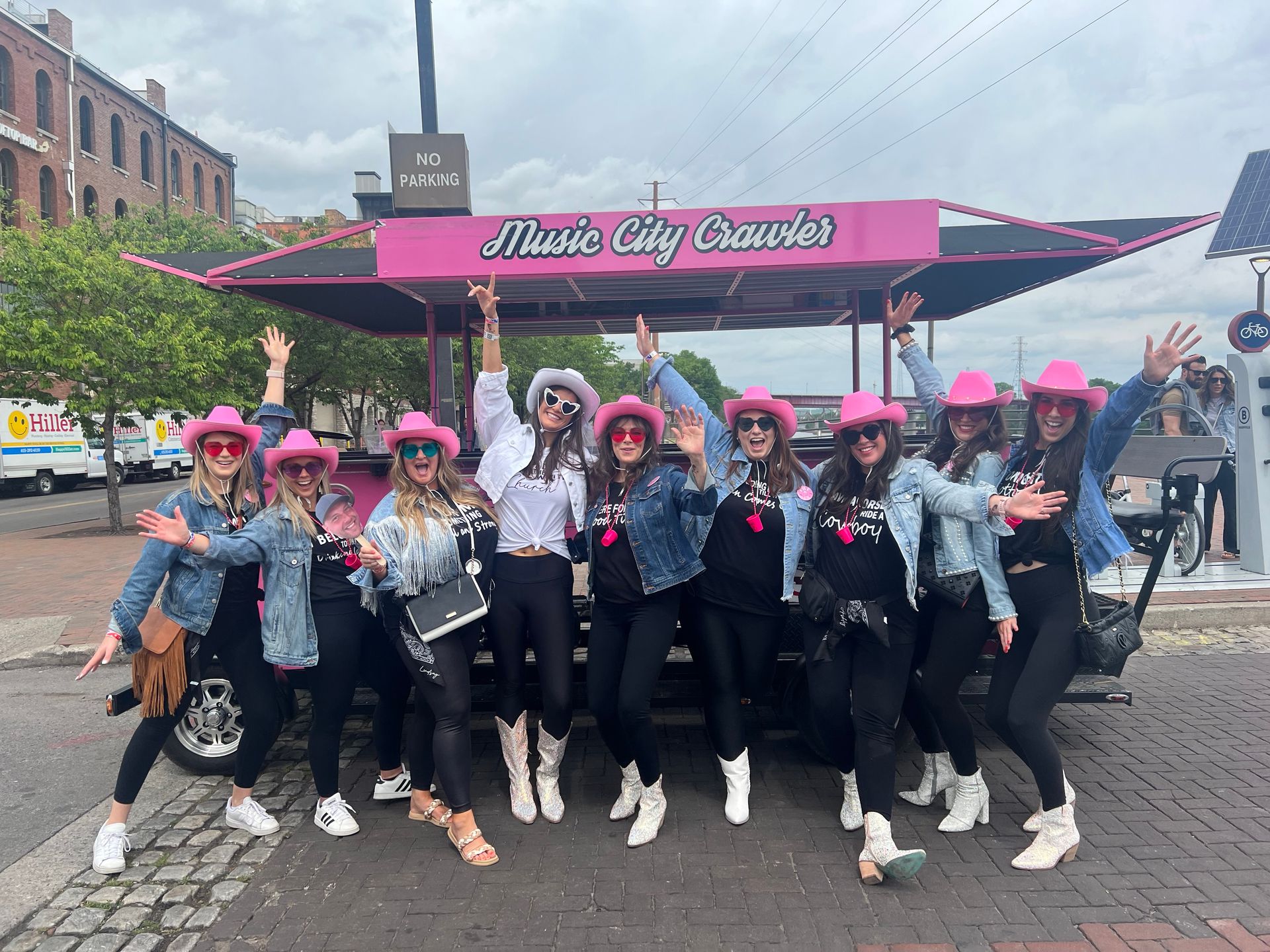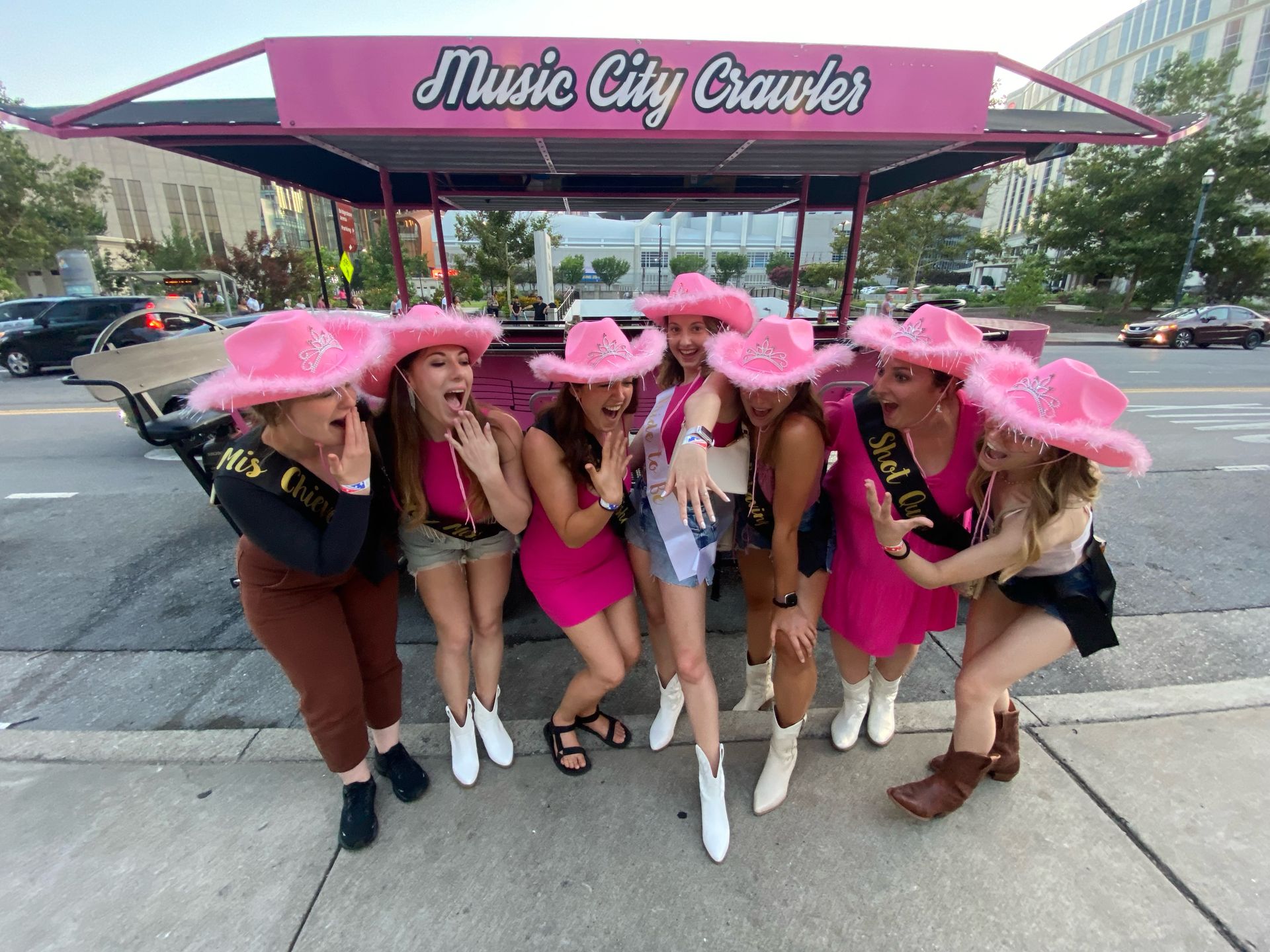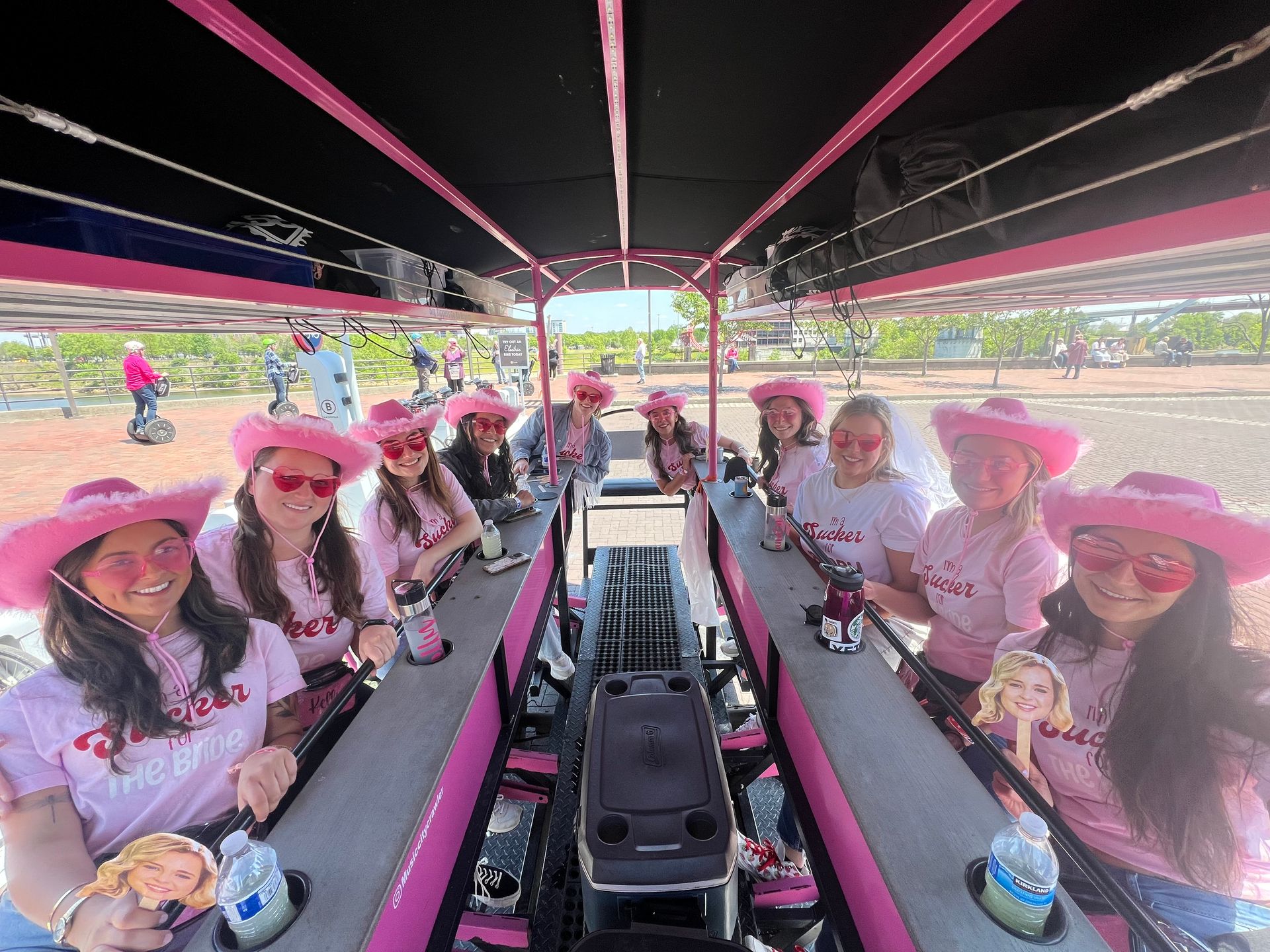 Music City Crawler: BYOB Party Bike Bar Crawl
About this experience
What you'll do:
Jump onboard and crawl through Nashville's hopping bar scene with your party crew on this hot pink party bike! Up to 15 guests can pedal through Music City on this bar crawl adventure as you move to the beat of the party crew's favorite tunes. This journey is BYOB, so make sure you pack everyone's favorite adult bevs for the onboard cooler (we'll supply the ice and cups, too). We'll take you by some of the greatest legendary bars in Nashville including Tootsies, Wild Horse Saloon, BB Kings, Honky Tonk Central, and Legends. Each crawler experience lasts 1 hour 30 minutes.
Why we love it for your party:
Why walk when you can crawl? (take your time checking out the bar scene)
Party crew's requests by Bluetooth (connect your phone to the sound system for instant customization)
Um, it's pink (this party bike gives the Barbie convertible a run for its money)
Drink specials (BYOB + discounted drinks at select bars = your group saving dough)
Party staple (go ahead, get those woo's! warmed up)
About this experience partner:
Nashville is known for country music, world-class honky-tonks, and pedal bars. The Music City Crawler gives your party crew an opportunity to enjoy these three passions, and create an experience you and fellow riders will never forget. It's the perfect way to share good times with friends as you pub crawl. Don't wait and miss all the fun—be sure to book your tour early!!
**No glass containers, please.**
Location
529 4th Ave S, Nashville, TN 37210, USA
Cancellation Policy
strict Cancellation Policy
This experience partner offers no refunds once the reservation is confirmed.
Julia W.
Haleigh B.
We had the best time on our ride! Our tour guides/bartenders were so much fun!!
Mandy G.
This was such a fun experience, shoutout Rachel and Danny, THEY WERE AMAZING and created super fun vibes for us. 10/10 recommend this!
Jamie S.
We had such an amazing time!! Paige and McKayla were so much fun! Definitely recommend this as something to do!!
Lily l.
One of the best events we went on during our bachelorette party.
nina a.
Piff F.
Definitely a great experience! Drew had us drunk and dancing the whole time!
Brianna F.
If I could've picked anything to do again it would hands down have been this. Danny was the best driver/dj/hype man/bartender we could've asked for. Best experience by far! We didn't wanna leave.
Taryn P.
THIS IS A MUST!! So much fun!! And everyone's favorite part of the trip!!
Carli C.
Malorie W.
THE BEST EXPERIENCE OF OUR ENTIRE TRIP! We rode with a couple named Danny and Rachel and they truly made this the best time for our group. The music was great and the bars we stopped at along the way were very fun! We also got some shot and drink specials too! We loved this so much and were sad when the time ended!
Tammy D.
This experience was so… much fun. Danny was our guide and he was so enthusiastic! Would highly recommend for a pregame before going out for the night🤠
Christine B.
Nicole b.
Hayden C.
We had an absolute blast! It was the perfect way to start off my bachelorette trip!
Anna L.
Jordana
Kelly w.
Would highly suggest using Music City Crawler. Danny and Rachel were a blast and made the ride so much fun!
Carlie H.
This was our favorite thing! Our driver and bartender were so fun!
Chantel F.
Julia P.
Jess W.
This was a highlight of our trip!
Christine I.
Jessica T.
Can I give more stars? Because this deserves more stars. My only complaint was that it ended too soon! If you're in Nash, give this a go and ask for Joe and Kristen! Too much fun
Kelly R.
This was the best time ever! Our driver Paige had the music blasting and was bopping along with us- the vibes were immaculate. You HAVE to book this for your trip!
Dani W.
Had an amazing time!!! The driver and bartender made it such a fun experience! Also loved the bars we stopped at!
Emily S.
We had THE best time!!! Paige was the best host and took such great care of us! We would 100 percent do it again!!!
Kasey T.
Paige was amazing! This was so much fun and would do it again! Perfect way to start your night
Ashley D.
Literally the best part of the trip! We had a BLAST! Would 10/10 recommend!
Kortnie D.
The best experience ever. Definitely add this to the itinerary! All the guides are great but ask for drew!
Meggan C.
We had the BEST time! Our driver and bartender were great and so personable. They had music, and games planned and made sure we made great memories. Highly suggest it for your group!
McKena A.
Jenny M.
We had an amazing time, legit the highlight of our trip. Paige was AMAZING!!!! The best!!!
Charity
The staff was amazing and so much fun to be around. I believe there names were Joe and Kristin and even after some complications they still tried to make it a great experience! I would highly recommend them
Brooke Z.
Favorite part of our trip! So much fun!
Heather p.
Music city crawlers was amazing! McKenna and Paige were absolutely amazing and we all had a blast!
Renee a.
The best time ever with them!!!! So entertaining. Highly recommend!!!
Jairyn R.
Paige and Kristen were AMAZING!!!! If I could give them a million stars, I would! They gave us the best deals and played the best music for everybody to enjoy! We were even able to become friends with the other party with us through them!
Alicia T.
This was one of the two most fun things we did while in Nashville. 100% would recommend. The "number game" was so great that we kept playing it long after the pedal pub was over! If possible, probably worth it to book your own private bike for your party so that everyone is able to sit where they want and is able to get a pedal seat.
Jo
This was such a fun experience! Easily the highlight of our bachelorette activities!!!
Bianca D.
the highlight of my sister's bach weekend. danny & rachel made this such a fun experience!!
Lexy G.
Kristen & Paige made our experience AMAZINING! Highly recommend for any bachelorettes going to Nashville
Sarah B.
SO MUCH FUN, couldn't recommend more.
Rebecca c.
They were amazing. Had an fabulous time!! Will never look at a ManBun the same way ever again!! Took pics for us! Great memories
Loren M.
Absolutely incredible! Best part of our trip !!!
Madison S.
BOOK THIS!!! This was the absolute highlight of our weekend and no one can stop talking about how much fun this was! Danny and Rachel are THE ABSOLUTE BEST!
Charlcie H.
The girls were great! Very fun and helpful. Would definitely recommend!
Savannah W.
Amazing ! We had so much fun and McKenna and Paige made our experience so much better! Love them and highly recommend
Lindsay
Brit H.
Great crew, good stops, would definitely recommend!
Jacquie b.
The girls had the best time, their driver was phenomenal - totally worth it!
Taylor D.
Joe was great at keeping us all engaged and having the best time!
Carson W.
Great way to see Broadway. The hosts were amazing and our group had so much fun. Definitely recommend
Rachel R.
Maggie and Page were amazing! 12/10 recommended doing the Music City Crawler, Maggie and Page were so much fun and had us laughing! I honestly couldn't recommend this enough. By far the highlight of our bachelorette trip!
Mariah K.
So much fun! Definitely one of the highlights of our weekend! This is definitely fun for bach parties who are looking to get a little lit 🔥
Peyton K.
This was my second one and if you're a party group this is a must-do!!! Kristen and Steven were amazing and danced along with us the whole time.
Allie H.
This was the best time of our entire weekend! I think anyone would love to do this from city to country girls I loved every minute!
Danielle S.
We booked this tour and it was SO much freakin fun!!! Request Maggie and Paige cause they were the shit! Played fun music, brought us to bars with discount shots, had the best time!!!
Abbey D.
Paige and Maggie were AMAZING!!!!!! This tour is so much fun! My group wanted to ride around all day! Definitely a MUST DO when in Nashville!!
Toni C.
This was the most fun we had on the ENTIRE trip!!
Madison K.
Loved it! So fun and our girls were awesome!
Katie W.
Our tour guide was so awesome and really set the tone for our bike bar entertainment. We loved the ride, the games, and the stops along the way! Recommend if you like to burn your calories while you drink them and if you like unique tours.
Laken P.
Rachel E.
Maggie - our bartender was absolutely AMAZING. She had a huge impact on our trip to Nashville for my bachelorette weekend. 11/10 recommended this bike bar crawl, I PROMISE you won't be disappointed! All around the best value considering how many similar services there are available.
Taylor W.
Don't even think about it, book it!! Great experience!
Karlee M.
I can't stress booking this enough! We wanted to stay on it all day long. It was so much fun!
Why Book With Batch?
All Your Parties on One Account
With over 30 cities and counting, you can plan all your parties on Batch. We'll save your information and preferences to make booking a breeze.
Party Planning at Your Fingertips
Download our app for access to party planning tools like polls, shared itineraries, and expenses.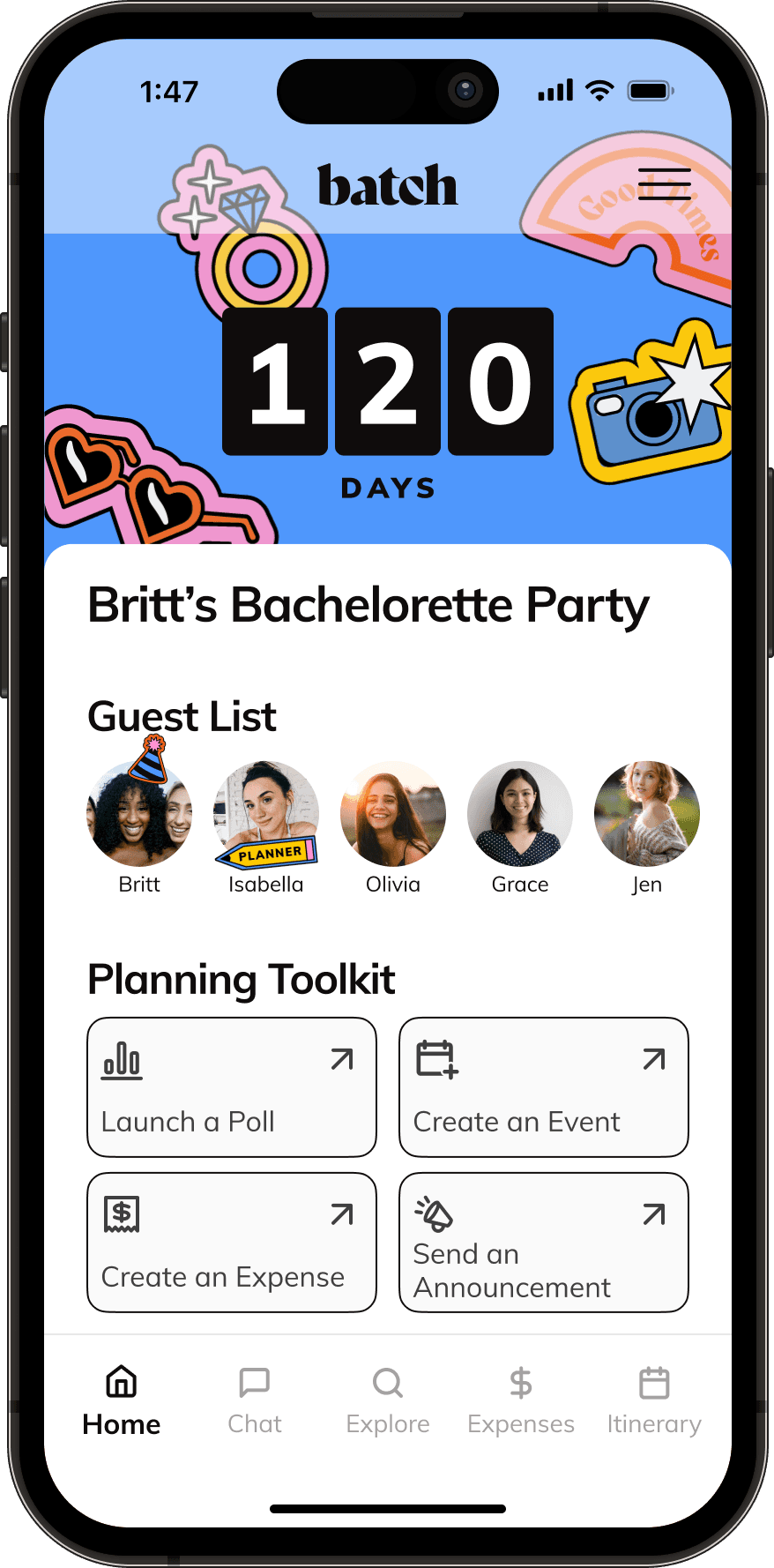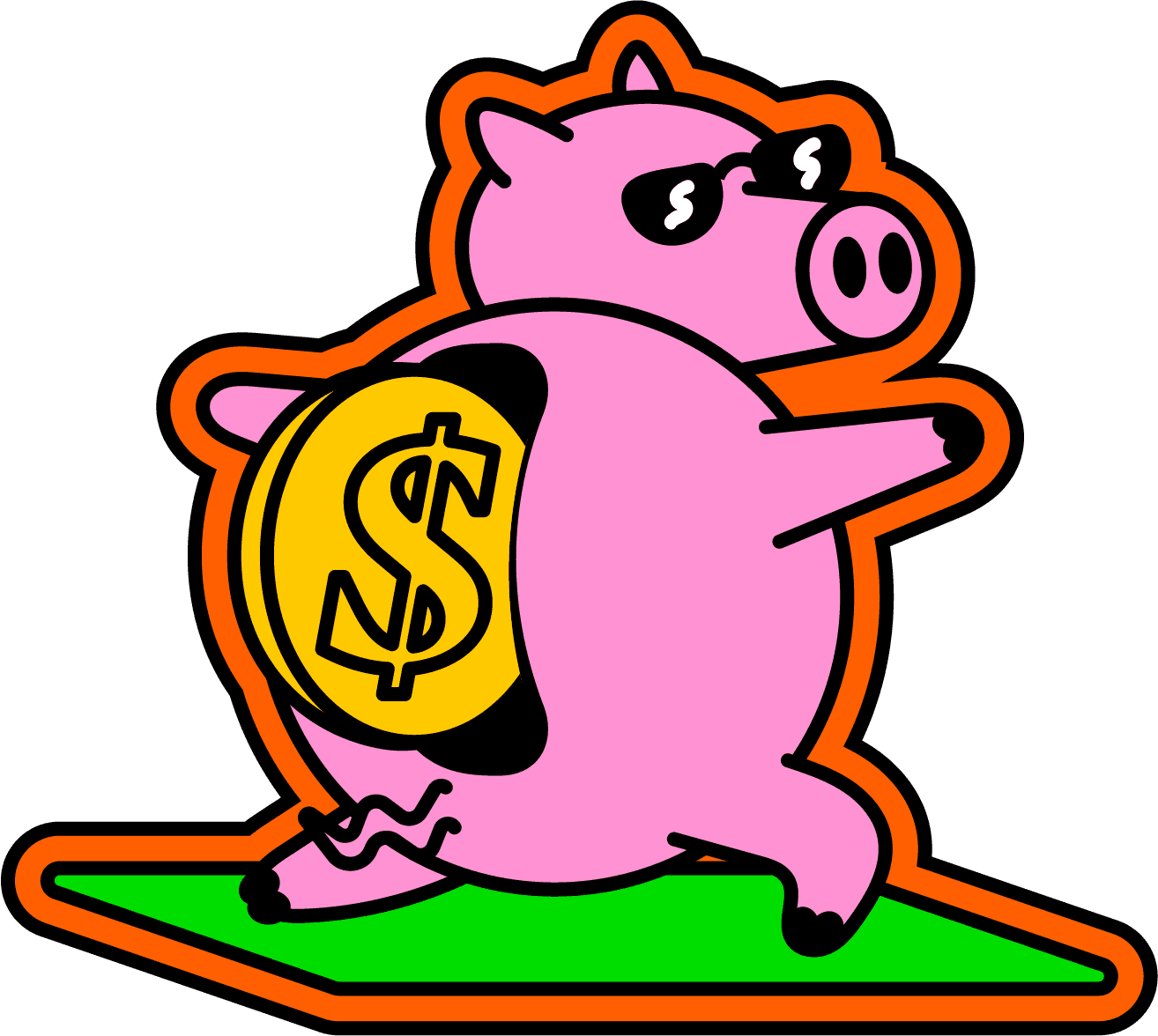 Book More, Save More
As a Batch member, receive exclusive discounts and first looks to our best party experiences! From transportation to private chefs, we're here to help.